Welcome to Japanese language studies at Mount Allison!
Japanese is known to be one of the most unique and complex languages in the world — with a high degree of inflections, three sets of scripts in its writing system, etc. At Mount Allison University students are guided step by step to study this language with clear instruction and materials.
Cultural aspects are also explored through films/TV dramas, music, fine arts and so on. Studying Japanese certainly requires hard work, but no doubt it is rewarding.
Let's work together and enjoy exploring Japan and its language!
Program
An interdisciplinary minor program in Japanese studies includes the language courses noted below and courses in geography, economics, history, and religious studies. 
For more details on program requirements, see the Academic Calendar.
Courses
The following Japanese courses will be offered during the 2021-22 academic year. For full course listings and course descriptions, visit the Academic Calendar.
Fall 2021

Introductory Japanese I
JAPA1001 A MWF 11:30-12:20

Intermediate Japanese II
JAPA2001 A MW 3:00-4:20
Winter 2022

Introductory Japanese II
JAPA1011 A MWF 11:30-12:20

Intermediate Japanese II
JAPA2011 A MW 3:00-4:20
Japanese speech contests
Japanese speech contests are an annual series of events sponsored by the Japan Foundation and organized by universities across Canada. Students studying Japanese at universities are eligible to participate. Contests usually take place in March each year.
There are currently seven regional contests including the Atlantic Canada Japanese Speech Contest (ACJSC) in which four universities participate — St. Mary's, UNB, St. Thomas, and Mount Allison.
The 23rd Atlantic Canada Japanese Speech Contest (ACJSC) was held on Sunday, March 14, 2021, hosted by Saint Mary's University. Seven students from Mount Allison participated in the contest.
Congratulations to our award winners!
Beginner Category
2nd place Xiahanwei Xu "My encounter with singing"
Special Prize Angela Thibodeau "Wings and Ocean"
Intermediate Category
3rd place Oorja Gonepavaram "The festival of light and family, Diwali"
Special Prize Sylvie LeBlanc "A Bridge of Language"
Advanced Category
1st place  Dylan Kim "Courage to let it go"
Open Category
1st place Amy Heo "Covid-19 in the history"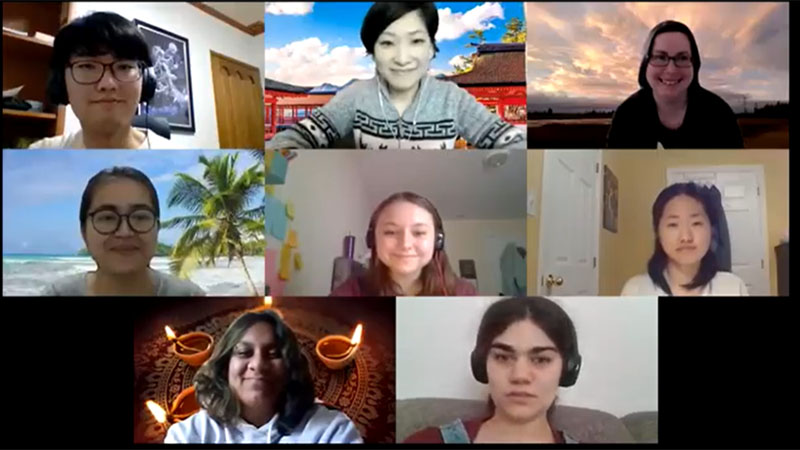 The two first-place winners in the Advanced Category and Open Category participated in the 32nd Canadian National Japanese Speech Contest held virtually on Sunday, March 28, 2021, hosted by The University of British Colombia.
We are pleased to announce that both of Mount Allison's participants received prizes! Congratulations to them! 
Dylan Kim, First Place in the Advanced category 
Amy Heo, 3rd Place in the Open category
Speeches are available to watch at the Canadian Association for Japanese Language Education (CAJLE) site.
---
Becoming a Japanese course lab tutor
Each academic year, approximately five to seven native Japanese speakers studying at MtA are appointed to be lab tutors for the Japanese courses.
Lab tutors are expected to instruct students in oral exercises by using course materials.
Orientation sessions will be given to tutors before they start to work.
Call for applications
Once the lab schedule is settled in mid-September, a call for applications is sent out by e-mail to all Japanese students (in some years excluding first year students).
If you are interested in working as a tutor, please apply by responding to the e-mail in mid-September.
For inquiries, contact:
Prof. Akiko Yoshizawa | ayoshizawa@mta.ca  
---
Useful links for Japanese Studies students
Check out these great sites!
JLPT (Japanese-Language Proficiency Test): JLPT  is a standardized test administered by the Ministry of Education and the Japan Foundation to evaluate and certify Japanese language proficiency for non-native speakers.
JET Program (Japan Exchange and Teaching Program): JET Program is a Japanese government initiative that brings university graduates—mostly native speakers of English—to Japan as Assistant Language Teachers in Japanese kindergartens, elementary, junior high and high schools.
The Japan Foundation: The Japan Foundation promotes international cultural exchange and Japanese language education. Its website provides learning tools among other programs/information.
Ministry of Foreign Affairs of Japan
Newspapers: