The study of philosophy improves how we think and changes how we live.
At its core a search for understanding, philosophy helps students recognize their deep-rooted beliefs and ideas and challenges them to examine these ideas in detail.
We often make certain assumptions about the world around us without even realizing it. Philosophy helps us uncover and analyze these assumptions.
This process helps us better understand our world. It promotes progress by helping us see which of our assumptions can be justified and which cannot. It multiplies our freedoms, promotes equality, rids us of superstitions, and better equips us to live good and useful lives. It helps us develop into thoughtful, engaged, global citizens.
---
Want a little taste of an upper-year philosophy course?
Watch Dr. Jane Dryden discuss one of her specialties, the philosophy of disability! For more on this general topic, students can take PHIL 3741: Philosophy of Disability. The video was created in August 2020 to engage students who self-isolated as a precautionary measure during the Covid-19 pandemic.
---
Feb 4th Phoenix with Heidi Northwood is POSTPONED. New date TBA.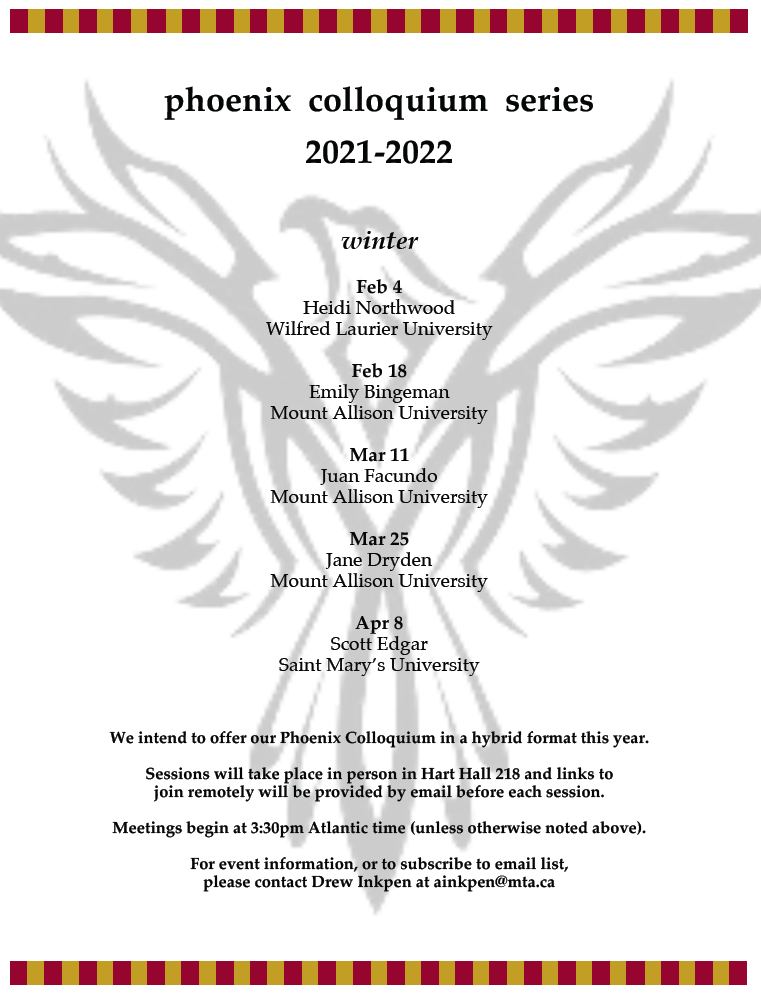 Phoenix Colloquium - Winter 2022
(Postponed - New date TBA) Feb 4 - Heidi Northwood, Wilfred Laurier
Feb 18 - Emily Bingeman, Mount Allison
Mar 11 - Juan Facundo, Mount Allison
Mar 25 - Jane Dryden, Mount Allison
Apr 8 - Scott Edgar, Saint Mary's
Meeting begin at 3:30pm Atlantic time. Contact Dr. Drew Inkpen (ainkpen@mta.ca) for the Zoom link or to join the email list.
Contact us
---
Location
Hart Hall 112
63D York St. Sackville, NB