Classics offers the unique opportunity to gain new perspective on our language, literature, culture, and political structure by examining their roots in ancient Greece and Rome.
These classical civilizations provided the cultural foundations of the western world, as well as the basis of many other elements of our modern life.
Guided by a supportive faculty, students explore all aspects of ancient Greek and Roman civilization and are introduced to Latin and Greek, which provides the ability to study ancient texts in their original language.
The study of classics helps students develop a broad perspective. It also cultivates the capacity to write clearly, an ability to balance different viewpoints, and a talent for critical analysis.
---
Pompeii Field School Info Session
Information session for students who are interested in the Archaeological Field School at the Sanctuary of Venus in Pompeii is happening on Tuesday, January 11 at 5-6pm on Teams.

If you want to learn more about this program, join our information session.
***Pre-registration is required.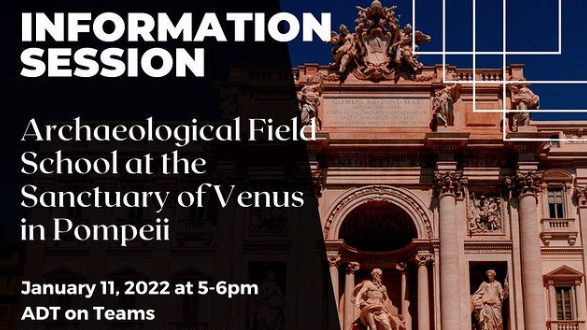 Contact us
---
Location
Hart Hall 414
63D York St. Sackville, NB