Upcoming Events
Virtual Speakers 2023-24
Thanks to generous funding from the McKenna School of PPE, we are able to invite the general public to attend virtual lectures given by guest speakers in some of our classes. Please contact philosophy@mta.ca to join us on Zoom. All times Atlantic.
Dr. Ken Dorter (Guelph) on "Why Does Plato Think We are Like Prisoners in a Cave?" on Wednesday, October 11th at 3pm. 
 
Dr. Christiana Olfert (Tufts) on "Sextus Empiricus on the Nature and Meaning of Equipollence" on Wednesday, October 25th at 3pm.
 
Dr. Tamara Albertini (Hawai'i at Mānoa) on "Introduction to Medieval Islamic Philosophy" on Tuesday, October 31st at 7pm.
 
Dr. Paul Richard Blum (Loyola University Maryland) on "Giordano Bruno" on Thursday, November 23rd at 2:30pm.
---
Hybrid Speakers
With thanks to the Marjorie Hastings Memorial Fund. Please scroll down to read about the Hastings family's contribution to Philosophy at Mount Allison University.
Elis Jones presents to the Phoenix Colloquium
This colloquium will take place in Dunn 106 (because Hart Hall is closed in the evenings this week). Elis Jones (Ocean Frontier Institute, Dalhousie) will give us a talk titled: "Philosophy of marine science? Coral reefs and ocean metabolism."  The talk will take place from 3:30pm-5:30pm and will again be a hybrid event. BUT: the online session will take place on MS TEAMS (rather than Zoom). Email ainkpen@mta.ca for the link.
Title:
Philosophy of marine science? Coral reefs and ocean metabolism
Abstract:
In this talk I explore some ways in which philosophy and marine science can be fruitfully combined. I first present some of the results from my recently-completed PhD project, which involved interviews with coral reef scientists and conceptual analysis of the resulting data. A key philosophical question arising from this was how coral scientists decide to characterise coral reefs as either healthy or degraded, something related to the infamous problem of shifting baselines. In answering this question, I offer a view of science as fundamentally aimed at producing multispecies flourishing, as opposed to being simply a dispassionate investigative process, that is, I argue that science does (and should) factor in the value of the systems it studies. After presenting this work, I then talk briefly about my current project, which seeks to understand the philosophical implications of the concept of 'ocean metabolism', which is employed by biogeochemists when studying large-scale cycles of chemical compounds in the ocean.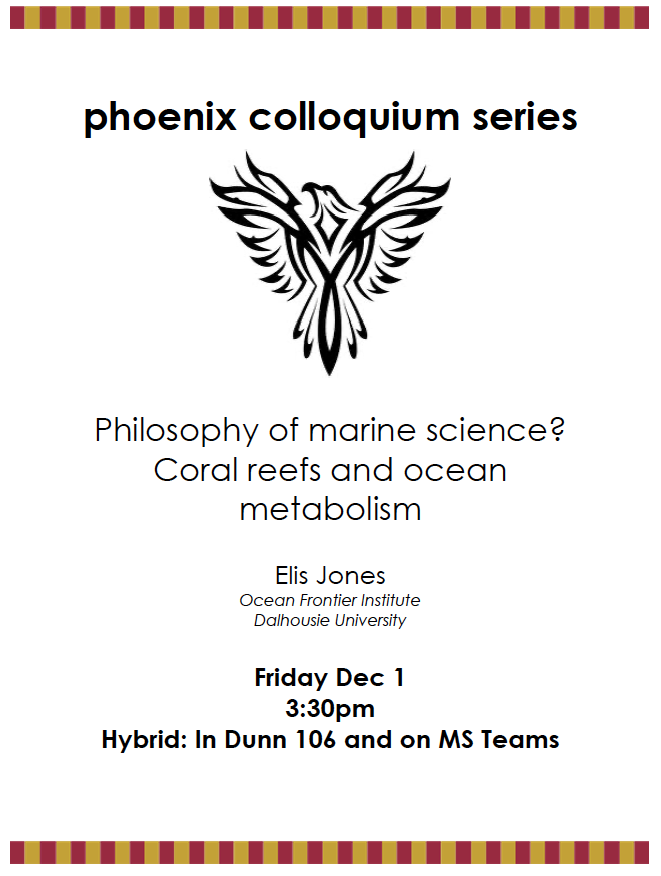 ---
Phoenix Colloquium Series 2023-24
(updated)
Fall 2023
Oct 20
Dani Inkpen
Mount Allison University
Nov 17
Doug Al-Maini
St. Francis Xavier University
Dec 1
Elis Jones
University of Exeter
Winter 2024
Jan 29
4:30pm, location TBA
Catherine Stinson
Queen's University
*note change of speaker
Feb 9
Mike Doan
Oakland University
Mar 8
Suzanne Beiweis
Mount Allison University
Mar 22
Lacey Decker-Hawthorne
Mount  Allison University
Hybrid meetings begin at 3:30pm Atlantic time. Contact Dr. Drew Inkpen (ainkpen@mta.ca) for the Teams or Zoom link, room info or to join the email list. 
Past events

 

Doug Al-Maini (Philosophy, St. Francis Xavier) gave a talk Friday, November 17th, at 3:30pm titled: "The Consolation of (Stoic) Philosophy." An abstract for the talk can be found below. 

Title:
The Consolation of (Stoic) Philosophy

Abstract:
The Stoics are sometimes caricatured as a school of philosophers who suppress their emotions and try to live an emotionless life. Reasons for this caricature gaining currency are not hard to find: for example, the Stoics are famous for advocating the view that emotions are actually just beliefs, no different in essence from other beliefs such as the view that there is no largest prime number or that the earth is a sphere. To modern eyes, such an intellectualist approach looks profoundly out of touch with the lived experience of emotions. But the Stoics had their reasons for this weird attitude, and one area that their views seem to pay off is in the field of emotional therapy. Stoics hold that their intellectualist view establishes a viable therapeutic agenda, especially in the case of consolation. Consolation is a difficult undertaking, susceptible to a pair of faults in particular: on the one hand, there is a temptation to dismiss some causes of the emotional suffering as not really being that bad. Belittling the evil in this way often does not have the intended effect of consolation but rather its reverse: it causes distress to worsen. Inversely, one needs to be alert not to take the evil involved so seriously as to leave the one suffering with no hope of rehabilitation. So how do Stoics chart a course between this Scylla of belittling and Charybdis of hopelessness when trying to console someone suffering? This talk will describe and then assess the Stoic agenda for consolation as it tries to navigate between these two concerns.

---

Dani Inkpen (History, MtA) gave a talk titled: "Footprints in the Snow." The hybrid talk took place on Friday, October 20th,from 3:30pm-5:30pm in Hart 218.

Abstract
I'm going to share some new work on the history of searches for The Yeti, which considers an incident on Chomolungma (Mount Everest) in 1921. My analysis will draw on recent critical perspectives in the history of science to give an account of how The Yeti as an object of Western fascination and pursuit took it's first steps down from the Himalaya.

 
Marjorie Hastings Memorial Fund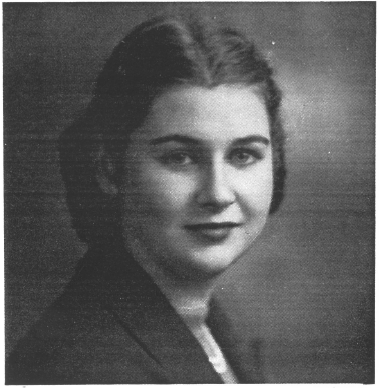 For almost four decades, visiting lecturers in the Department of Philosophy, including some of our Phoenix Colloquium speakers, have been generously supported by the Hastings Fund. This endowment was established in 1985 in memory of the late Marjorie Hastings with a gift from her widow, Mr. Jack Hastings.
Marjorie Hastings was born in Bath, N.B., on September 6, 1919, the eldest daughter of the late Harry C. and Mary (Haggerman) Price. Most of her younger years were spent in Amherst and after high school there, she attended Normal College in Truro, followed by a term at Acadia University. She taught in the Amherst area for several years before moving to Moncton. Here again, she taught for several years before she became Secretary-Treasurer of J .E. Hastings Ltd. working with her husband, J.E. (Jack) Hastings to build a thriving candy business.
However, she never forgot her studies and completed her B.A. and B.Ed. at Mount Allison University in 1968 and 1969 respectively. She then continued her studies in English, History, Religion and Philosophy through Mount Allison's Extension Department. She was always an avid student, taking any and every opportunity for learning that presented itself. For her, the search for knowledge was a desire that never ended and the rewards of that search she keenly enjoyed.