The Bragg Women Music Opportunities Fund was established in 2017 by John Bragg, Mount Allison alumnus and past Chancellor, and his wife Judy, also a Mount Allison graduate.
The fund honours five women in the Bragg family who made significant contributions to music education including:
Zillah Bragg
Sylvia Bragg
Kathleen (Bragg) Sherman (Class of 1952)
Carolyn (Bragg) Glennie (Class of 1958)
Lorraine (Bragg) Moore (Class of 1970)
The Bragg Fund provides funding in three main areas:
The fund supports the visit of an artist-in-residence of national or international stature every year. The residency may include concerts, master classes, workshops, and mentoring of students.
The fund supports student summer programs and touring opportunities, including summer programs in music.
The fund supports music technology purchases, including advanced music-related software and hardware which will allow students to explore new ways of creating, recording, developing, and sharing their musical ideas.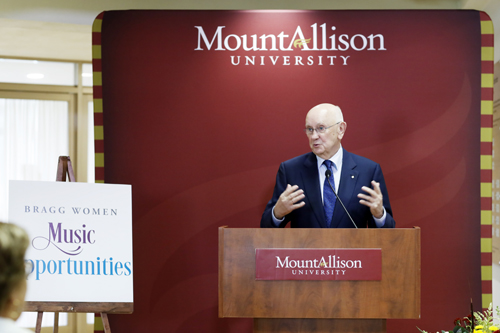 "Music and music education have always played an important role in my family. I am pleased to recognize Bragg Women in my family who have made lasting contributions to music education."
— John Bragg
---
Bragg Artist-in-Residence
We are pleased to announce that pianist Graham Johnson will join Mount Allison as the 3rd annual Bragg Artist-in-Residence from March 8 to 11, 2022.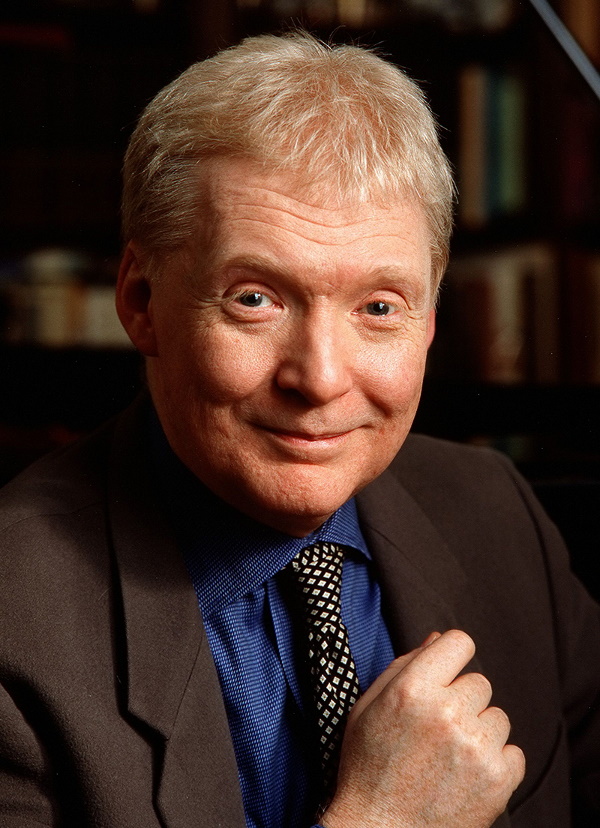 Described as "that peerless song accompanist" by the Daily Telegraph (November 2015), Graham Johnson is recognised as one of the world's leading vocal accompanists.
Biography

Born in Rhodesia, he came to London to study in 1967. His teachers included Gerald Moore and Geoffrey Parsons. In 1976 he formed the Songmakers' Almanac to explore neglected areas of piano-accompanied vocal music; the founder singers were Felicity Lott, Ann Murray, Anthony Rolfe-Johnson and Richard Jackson. Over a career of thirty years, Graham Johnson has also accompanied such distinguished singers as Sir Thomas Allen, Victoria de los Angeles, Elly Ameling, Arleen Auger, Brigitte Fassbaender, Matthias Goerne, Thomas Hampson, Simon Keenlyside, Philip Langridge, Serge Leiferkus, Marjana Lipovsek, Edith Matthis, Jessye Norman, Eva Podles, Lucia Popp, Christophe Prégardien, Margaret Price, Dorothea Röschmann, Peter Schreier, Elisabeth Schwarzkopf, Adrian Thompson, and Sarah Walker. 

Apart from devising and accompanying some two hundred and fifty Songmakers' programmes for London audiences, he has presented a number of recital cycles in other world centres. He has been Song Advisor to the Wigmore Hall Song Competition since its inception. He is author of The Songmakers' Almanac: Twenty Years of Recitals in London, The French Song Companion (2000), Gabriel Fauré - the Songs and their Poets (2009), and Franz Schubert: The Complete Songs (2014). His latest book, Poulenc - The Life in the Songs, was published in August 2020 to great critical acclaim.

Graham Johnson has had a long and fruitful link with Hyperion Records, for whom he has devised and accompanied a set of the complete Schubert Lieder on 37 discs, a milestone in the history of recording, and a complete Schumann series. There is an ongoing French Song series including the complete songs of such composers as Chausson, Chabrier, Fauré and Poulenc. All these discs are issued with Graham Johnson's own programme notes which set new standards for CD annotations.  Awards include the Gramophone solo vocal award in 1989 (with Janet Baker); 1996 (Die schöne Müllerin with Ian Bostridge); 1997 (for the inauguration of the Schumann series with Christine Schäfer), and 2001 (with Magdalena Kozena). He was made an OBE in the 1994 Queen's Birthday Honours list, the Royal Philharmonic Society made him Instrumentalist of the Year in 1998, and in June 2000 he was elected a member of the Royal Swedish Academy of Music.

In April 2013, Graham Johnson was awarded the Wigmore Hall Medal "in recognition of his unstinting championing of Song and his extraordinary achievements on the concert platform and in the recording studio." The Wigmore Hall Medal, inaugurated in 2007, recognises major international artists and significant figures in the classical music world. He is currently Senior Professor of Accompaniment at the Guildhall School of Music & Drama in London, England.
Bragg Artist Residency public events

As part of the 2022 Bragg Artist Residency, Graham Johnson will take part in several public events:

TUESDAY, MARCH 8 - Graham Johnson presents a master class for voice and piano duos from the Department of Music. Brunton, 4:00 p.m.

WEDNESDAY, MARCH 9 - Colloquium musicum: "My Life in Music." Graham Johnson discussed his long and varied career as collaborative pianist, recording artist, and scholar. Brunton, 4:00 p.m.

THURSDAY, MARCH 10 - Graham Johnson presents a master class focusing on Schubert's Lieder for voice and piano duos from the Department of Music. Brunton, 12:30 p.m.

THURSDAY, MARCH 10 – Public talk: "Schubert in Love, in Sickness and in Health."  Pianist and scholar Graham Johnson shares his thoughts on various elusive aspects of the composer's private life that have been much-debated among scholars and music-lovers for many years, and never more so than in the last decades. Dr. Johnson will offer his interpretation of the available evidence and describe how Schubert's friendships impacted the composition of his songs. Brunton, 7:00 p.m. 

FRIDAY, MARCH 11 - "Collaboration at the Piano." In this informal talk, Dr. Johnson will discuss the joys and challenges of collaborating at the piano, with a particular focus on the art song repertoire. Brunton, 1:30 p.m. 

FRIDAY, MARCH 11 - "Franz Schubert: Night and Day." Pianist and scholar Graham Johnson presents a lecture-recital, contextualizing some of Schubert's most beloved songs, joined by Dory Hayley (soprano) and Vicki St. Pierre (contralto). Brunton, 7:30pm 
 
Previous Bragg Artists-in-Residence

 

 
---
Bragg Summer Programs and Touring Awards
Each year the Bragg Fund invites applications from students to support high-level off-campus training and mentorship opportunities. In many cases, these will be programs with a competitive application process. The Fund will assist with program fees, travel and accommodation, and other costs. In addition, the Fund will also support performance tours of student musicians.
Supported performance programs may include, for example:
Orford Arts Centre summer programs
Opera NUOVA summer opera program
an independent mentorship with a film composer or conductor in major urban centre
Supported touring programs might include, for example:
an opera workshop, band, or choir tour of regional schools
a solo or chamber ensemble tour (e.g., a student brass quintet)
2022 Bragg Summer Program and Touring Applications
Applications for the 2022 round of funding are due by 4 p.m. on Monday, Feb. 21, 2022. Completed applications should be e-mailed to Dr. Elizabeth Wells (ewells@mta.ca) as a single PDF. 
Note that a faculty signature is required for both applications. Faculty may either sign the final PDF electronically or may submit the PDF on behalf of the student along with a short e-mail indicating their support.
Students may find it helpful to consult this guide to creating effective resumes and CVs for musicians from the Eastman School of Music. 
Please contact Dr. Wells (ewells@mta.ca) with questions.