Providing support for students with disabilities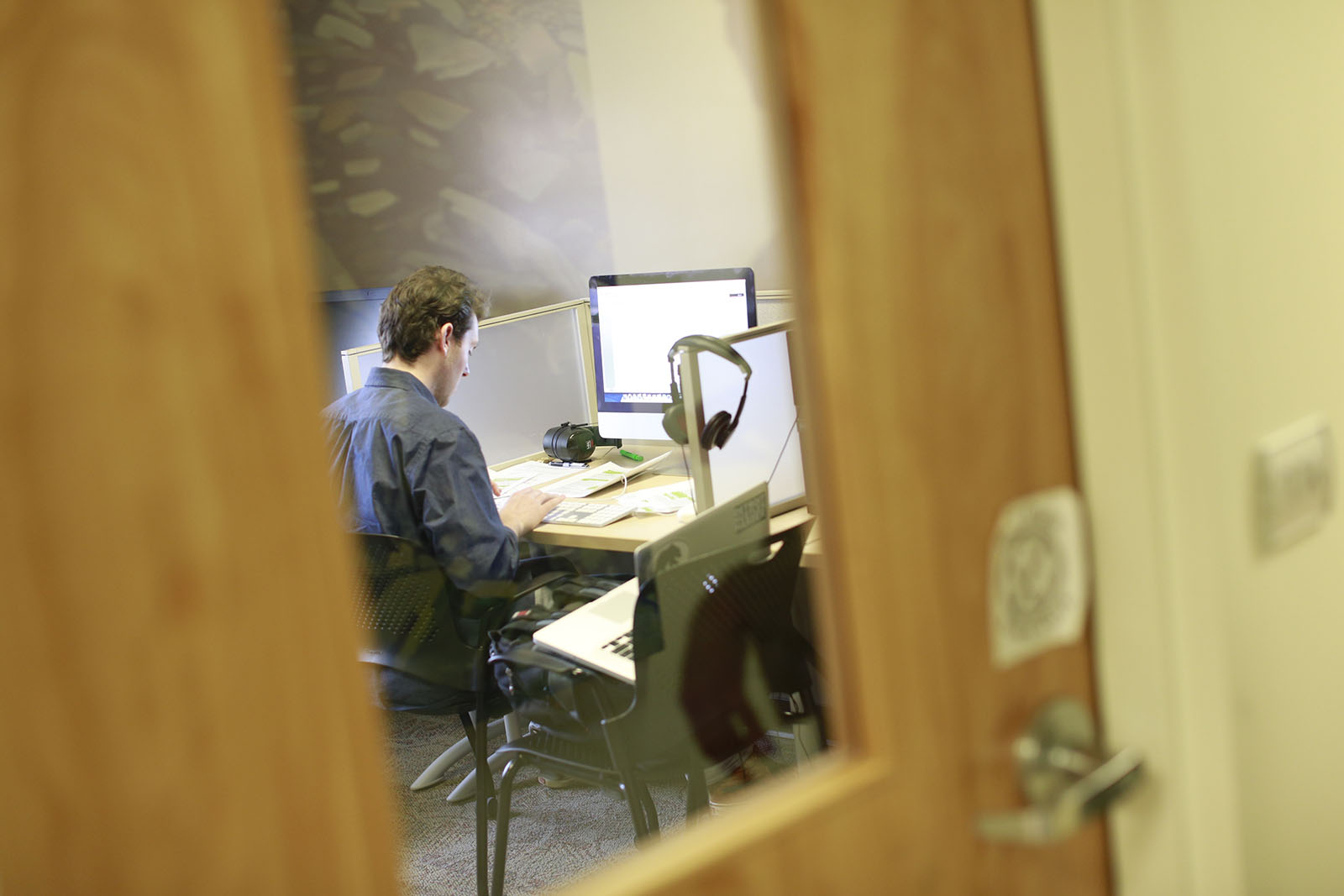 Academic accommodations
Academic accommodations may be provided to a student when a disability creates functional limitations in their academic pursuits.
An accommodation other than that requested may be provided if it is considered the most appropriate and reasonable. Accommodations are only provided if they are considered reasonable.
List of available academic accommodations

Although unique to each student, some typical accommodations include: 

Note-taking services
Tutors
Distraction free rooms for exam and test writing
Extra time to write tests and exams
Voice-to-text
Non-networked computer use for test or exam writing
Allowance for recording of lectures
Assistive technologies in the classroom
(smart pens/recording devices, FM transmitters)     
Assistive technologies outside of the classroom
(electronic textbooks, text-to-speech/voice-to-text software)
Reduced course load
How to request academic accommodations

REQUEST YOUR ACCOMMODATIONS FOR THE SEMESTER

You'll need to request all the accommodations you'll need for all classes during the current semester. Accommodation requests should only be made once you've attended your first day of classes and have received your syllabus/course outline.

Submit your request through Accommodate > Semester Request once you know what accommodations you'll need.

Your request will be processed by the Meighen Centre. Once approved, an email will be sent to you and your instructor explaining your accommodation needs.
Test and exam accommodations

Once your 'Semester Request' has been processed by the Meighen Centre, you will be able to log into Accommodate and book your test dates.

Go to Accommodate > Test and Exam Accommodations.

Important! Requests for test accommodations must be made 7 days in advance of your test date. Requests received later than this may not be processed in time for you to receive your accommodations.  

Once your test dates have been confirmed, simply show up at the Meighen Centre at your scheduled time. We will have your test and accommodations ready for you.

Options for test and exam accommodations include:

Extra time

Quiet room

Use of computer/spell checker

Reader service or test-to-voice software

Scribe service or voice-to-text software

Please do not book test dates unless you need accommodations for the test.

 
Note taking

Students who are eligible to receive note-taking services can sign up through Accommodate > Semester Request.

Important! Please only request notes in the classes where you actually need them, as you may be charged a fee for each class that you have requested notes.

Once processed, notes will be made available through Accommodate > Class Notes.
---
Programs and resources
Advising services

Meighen Centre students have access to Accessibility Advisors who can offer support or refer as needed. This can include:

Academic — course & program selection
Personal — referrals
Financial — assistance with Canada Student Loans, Canada Access Grants, Grants for Services & Equipment for Students with Disabilities
Career and post-graduation — issues dealing with employment and graduate schools
Financial aid and grants for students with disabilities

GOVERNMENT GRANTS

Canadian students with disabilities may be eligible for grant funding through the provincial government of their home province.

It is highly recommended that students registering (or registered) with the Meighen Centre apply for available government grants. Available grants can provide funding for services (such as tutoring and note taking) and equipment (such as computers, printers, smart pens, software, and other assistive technologies).

To apply for these grants, apply through your province or territory.

You may be required to submit supplemental forms (in consultation with the Meighen Centre and your healthcare professional).

 

DISABILITY TAX CREDIT (DTC)

Students may also be interested in the Disability Tax Credit (DTC), which is a non-refundable tax credit that helps persons with disabilities or their supporting persons reduce the amount of income tax they may have to pay.

Being eligible for the DTC can also open the door to other government programs such as the registered disability savings plan, the working income tax benefit disability supplement, and the child disability benefit.
Lending library

The Meighen Centre has several smart pens, iPads, and laptops available to loan to students on a per semester basis.

If you want to try smart pen to see if you like it, you can sign it out for a semester.

Students must take care of all equipment and return it in good working condition at the end of the semester.

Please contact Matt Kalichuk at mkalichuk@mta.ca, or in person at the Meighen Centre room #331, to see if you qualify for the smart pen lending program or other assistive technology loans.
Text-to-speech software — Kurzweil 3000

The Meighen Centre has a site license of Kurzweil 3000 reading software.

This software is, in our opinion, the best text-to-speech software available on the market today. This software would typically cost $1,500 for a single user license. Thanks to the generous support of the Scotiabank Innovations Fund, this software is available to all students, staff and faculty at MtA.

This means that you can download a copy of Kurzweil to your computer for free as long as you are a Mount A student or staff member.

The license we purchased gives you access to the following:

Full version of Kurzweil 3000 for download on your computer.
Firefly web software available at www.kurzweil3000.com (this is a version of Kurzweil with basic features that can be used in a web browser when connected to the Internet - e.g., Chrome, Firefox, Safari, etc.)
Firefly mobile app (a basic version of Kurzweil for use on Apple iPad devices. You can download the app from the iTunes App Store. Please note: if you wish to use Firefly on an Android device, this can be done through Firefly web software in a web browser on your Android device).

To register to use Kurzweil please go to the Kurzweil 3000 page on Moodle, where you will find the registration link and instructions:

Navigate to the Moodle > Miscellaneous
Scroll down and click on "Meighen Centre" and log into Moodle with your MtA username & password, if you haven't done so already.
Scroll down to the topic "Kurzweil 3000 Registration" and click on "Instructions for Kurzweil 3000 Registration"
Follow the instructions to complete your registration
Under "Kurzweil 3000 Registration" you may also wish to download a copy of the user installation guide for Windows or Apple OSX

Once you have registered please follow these links to download a copy of Kurzweil 3000 to your computer (Note: Please choose the "web license" option):

If you have questions or would like to schedule a training session on how to use Kurzweil + Firefly please contact accessibility@mta.ca.
Tutoring

Tutoring is available to all Meighen Centre students through the Nimbus tutoring app.

To request a tutor: accessibility@mta.ca.

Paying for your tutor: Many students can access the Canada Study Grant to receive funding to help pay for their tutoring. To find out if you may be eligible, contact accessibility@mta.ca.

Students who are not eligible for grant funding are responsible to pay for their own tutoring services. Students with financial need may be eligible for some assistance through the Meighen Centre.

Credits for non-grant students can be requested directly through the Nimbus app.
Transition to employment

In April 2016 Mount Allison was proud to host the Intersections and Connections conference on transition to employment for students with disabilities. The conference brought together students, employers, service providers, practitioners, and scholars from around the Atlantic region. They discussed the latest research and explored best practices in expanding accessibility from post-secondary education into the workforce for students with disabilities.

The planning committee felt it was important to focus on practical and effective solutions that benefit both graduates and employers. We wanted to put resources into the hands of our students that would empower them as they enter the workforce. Therefore, at the conclusion of Intersections and Connections we announced that, as an outcome of the conference, we would create a guide to help post-secondary students with disabilities navigate the world of employment.

We are proud to release the completed publication, Transition to Employment for University Graduates with Disabilities (pdf). 

This 75-page booklet is divided into three sections that address such topics as:

Job search
Application and interview process
Disclosure
Legal rights and obligations
Employment support resources for persons with disabilities

Limited quantities are available in print upon request.

For more information, please contact the Meighen Centre's Matt Kalichuk at mkalichuk@mta.ca.
Questions? Email accessibility@mta.ca or reach out to a staff member.
---
FAQs
What is the process for using a recording device in class?

Students approved to use a recording device in class must have documentation from a licensed medical/mental health professional specifically recommending the recording device as an approved accommodation.

Prior to using a recording device in class, students must sign a recording agreement form and inform their instructors of their accommodation. The recording agreement form is available upon request from any Meighen Centre staff member.
How can I get approved for an emotional support animal (ESA)?

To be approved for an emotional support animal (ESA), students must complete ALL of the following steps PRIOR to bringing their ESA into residence:

Students must complete registration with the Meighen Centre by submitting documentation to a staff member for review and approval.
 
Have the Emotional Support Animal Questionnaire form completed by a licensed medical/mental health professional (e.g., psychologist, psychiatrist, family physician, social worker, etc.)
 
Submit documentation from a licensed veterinarian addressing each of the items on the Veterinarian Checklist form.
 
The student must carefully review, sign, and submit the ESA Housing Contract to the Meighen Centre.
 
Once the ESA Housing Contract has been reviewed by the Meighen Centre, it will be sent to Housing for final approval. Once the request has been approved by Housing, the student will be notified and the ESA may enter residence.

*In most cases, students seeking renewal of their ESA for subsequent years need only to submit updated veterinarian documentation and an updated ESA Housing Contract.

Forms are available upon request.

For further information about the ESA approval process, please contact:

Matt Kalichuk
Accessibility Services Advisor
Email: mkalichuk@mta.ca
Phone: (506) 364-2604
Fax: (506) 364-2263
How can I maintain my scholarship while taking a reduced course load?

Students approved to take a reduced course load are eligible for scholarship renewal if they have:

completed at least 24 credits distributed across the fall and winter semester
have maintained all other requirements of the scholarship (e.g., GPA requirement)
What is the University's policy on students with disabilities?

Mount Allison is proud to be an institution that welcomes and supports a diverse student body.

To this end, Mount Allison is committed to providing support for students with disabilities, and, where warranted and without compromising academic standards, will provide reasonable accommodations.

Learn more about Policy 1201 — Policy on Students with Disabilities.
How can I get involved? Are there volunteer opportunities?

All Mount Allison students can get involved with the Meighen Centre through student employment and volunteering.

The Centre hires assistants, tutors, and note takers.

Please contact us for more information about these opportunities.
Questions? Email accessibility@mta.ca or reach out to a staff member.