Science Atlantic Mathematics, Statistics, and Computer Science Conference 2022
Oct. 14-15, 2022

About the conference
The Science Atlantic Mathematics, Statistics, and Computer Science Conference is an annual regional event. It provides a platform for undergraduate students in computer science, mathematics, and statistics at Atlantic Canadian universities to disseminate their research projects, participate in contests, and network with other students in the region. It also serves as a networking event for faculty members of Atlantic Canadian universities.
Conference organizers
---
Program
Includes Contributed Talks Schedule
Friday October 14th

10:00-7:00: Check-in — Sir James Dunn building- Foyer
11:30-12:00: Programming competition briefing — Dunn 102
12:00-5:00: Programming competition — Dunn 102
1:00-4:00: Math competition — Avard Dixon G10
2:30-3:30: Science Atlantic joint Math/CS meeting — Dunn 106
3:30-4:30: Science Atlantic Math meeting — Dunn 106
3:30-4:30: Science Atlantic CS meeting — Dunn 111
5:30-7:00: Pizza party for all students — Jennings Hall Mezzanine level
7:00-8:00: Field Lecture (Dr. Jude Kong) — Dunn 113 The Wu Centre
8:00-9:30: Reception — Purdy Crawford Arts Centre Foyer
Saturday October 15th

8:30-11:00: Check-in — Sir James Dunn building Foyer

9:00-10:40: Contributed student talks — Dunn 106 and 113

10:40-11:00: Coffee Break — Dunn Foyer

11:00-12:00: Blundon Lecture (Dr. Peter Selinger) — Dunn 113 The Wu Centre

12:00-2:00: Lunch — Jennings Hall

2:00-4:00: Contributed student talks — Dunn 106 and 113

4:00-4:30: Coffee Break — Dunn Foyer

4:30-5:30: Sedgewick Lecture (Dr. Amber Simpson)— Dunn 113 The Wu Centre

5:30-6:00: Prizes and wrap-up — Dunn 113 The Wu Centre

Tweedie Hall (McCain Student Center) Open all day Saturday as a get-away space.

 
---
Plenary speakers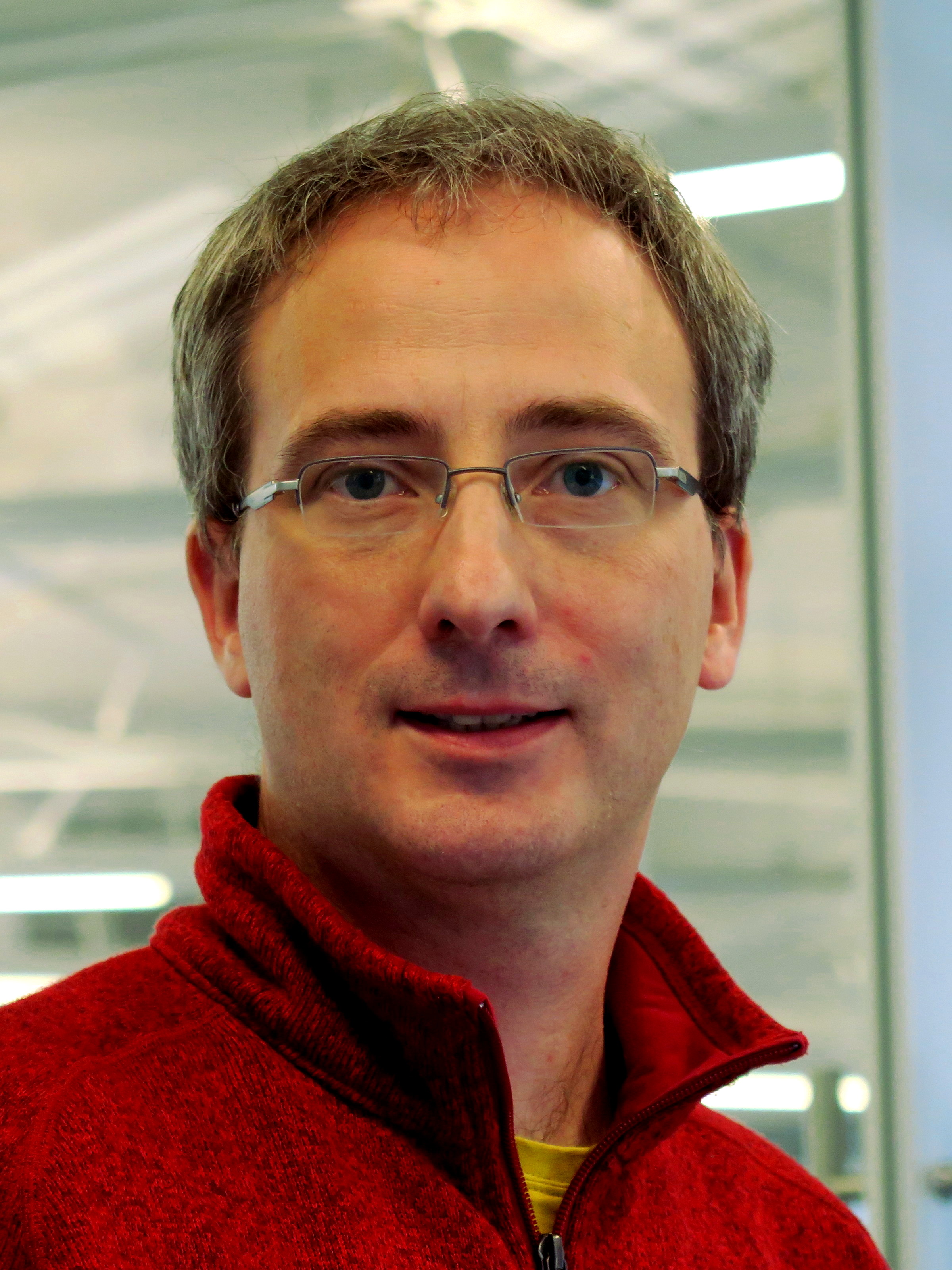 Blundon Lecture — Dr. Peter Selinger
Bio

Dr. Peter Selinger is a Professor of Mathematics and Computer Science at Dalhousie University.

He received his PhD from the University of Pennsylvania in 1997.

His research interests include the semantics of quantum programming languages, the theory of quantum circuits, and most recently, combinatorial game theory.

He is an editor of the journal Logical Methods in Computer Science and a founder of the workshop series Quantum Physics and Logic.

He has served on numerous program committees, and has given invited plenary lectures at international conferences including MFPS, TLCA, CTCS, FLOPS, TYPES, WoLLIC, FSCD, QPL, POPL, and LICS.
Lecture Abstract

Hex as a combinatorial game

Hex is a strategy game for two players, invented in 1942 by Piet Hein and later rediscovered by John Nash. It is characterized by extremely simple rules that give rise to surprisingly complex strategies. Combinatorial game theory is a formalism for the study of sequential perfect information games, introduced by Conway, Berlekamp, and Guy in the 1970s and 1980s. In this talk, I will introduce the basic definitions and properties of combinatorial game theory, as it applies to the game of Hex. I'll give some examples of how this theory can be applied to play Hex better, and to solve some previously unsolved problems.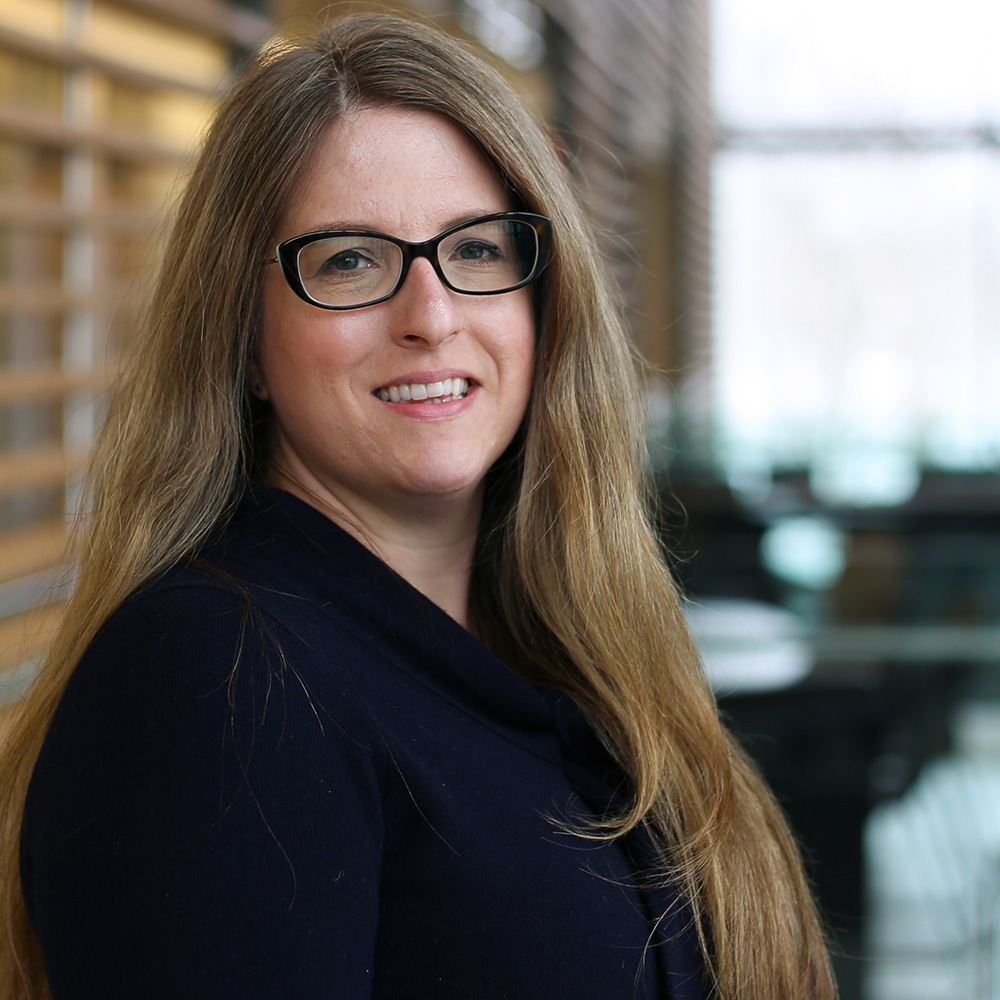 Sedgewick Lecture — Dr. Amber Simpson
Bio

Dr. Amber Simpson is the Canada Research Chair in Biomedical Computing and Informatics, and Associate Professor jointly appointed in the Department of Biomedical and Molecular Sciences and School of Computing at Queen's University.

She is an Affiliate of the Vector Institute for AI as well as a Senior Investigator at the Canadian Cancer Trials Group.

Dr. Simpson is the Director of the Centre for Health Innovation, a joint venture with Kingston Health Sciences Centre and Queen's, which will launch in Spring 2022.

She received her PhD in Computer Science from Queen's and was a postdoctoral fellow in the Department of Biomedical Engineering at Vanderbilt University.

Recently recruited from a faculty position at Memorial Sloan Kettering Cancer Center in New York, she holds research funding from the National Institutes of Health as well funding from all three Canadian research councils.

Dr. Simpson is an American Association of Cancer Research and Pancreatic Cancer Action Network award holder and a charter member of NIH study section, which recognizes her innovations in biomedical research.

She specializes in biomedical data science with a focus on developing novel computational strategies for improving human health.
Lecture Abstract

Solving Fundamental Cancer Problems with AI

Precision medicine is an approach to patient care that considers individual differences in a patient's genetic and molecular makeup to predict disease progression and optimize treatment response — and one of the greatest opportunities, and challenges, in modern cancer care. There is currently no way to predict how cancer may spread. We address this by creating a cancer digital twin, a digital replica of a cancer patient using state-of-the-art artificial intelligence (AI) techniques. Predicting metastatic progression at early stages would radically transform our approach to cancer treatment, but promises substantial implications for patients and society that must be considered. For example, would you want to know a dismal prognosis predicted by your digital twin? How would you act on this information — would you regard the choice as yours, or your fate as given by your twin? In a world where AI is increasingly biased, how do we ensure that AI doesn't create further inequities? Dr. Simpson will present new work on the development of a cancer twin for predicting metastatic progression as well as provide some discussion of the social ramifications of such technology.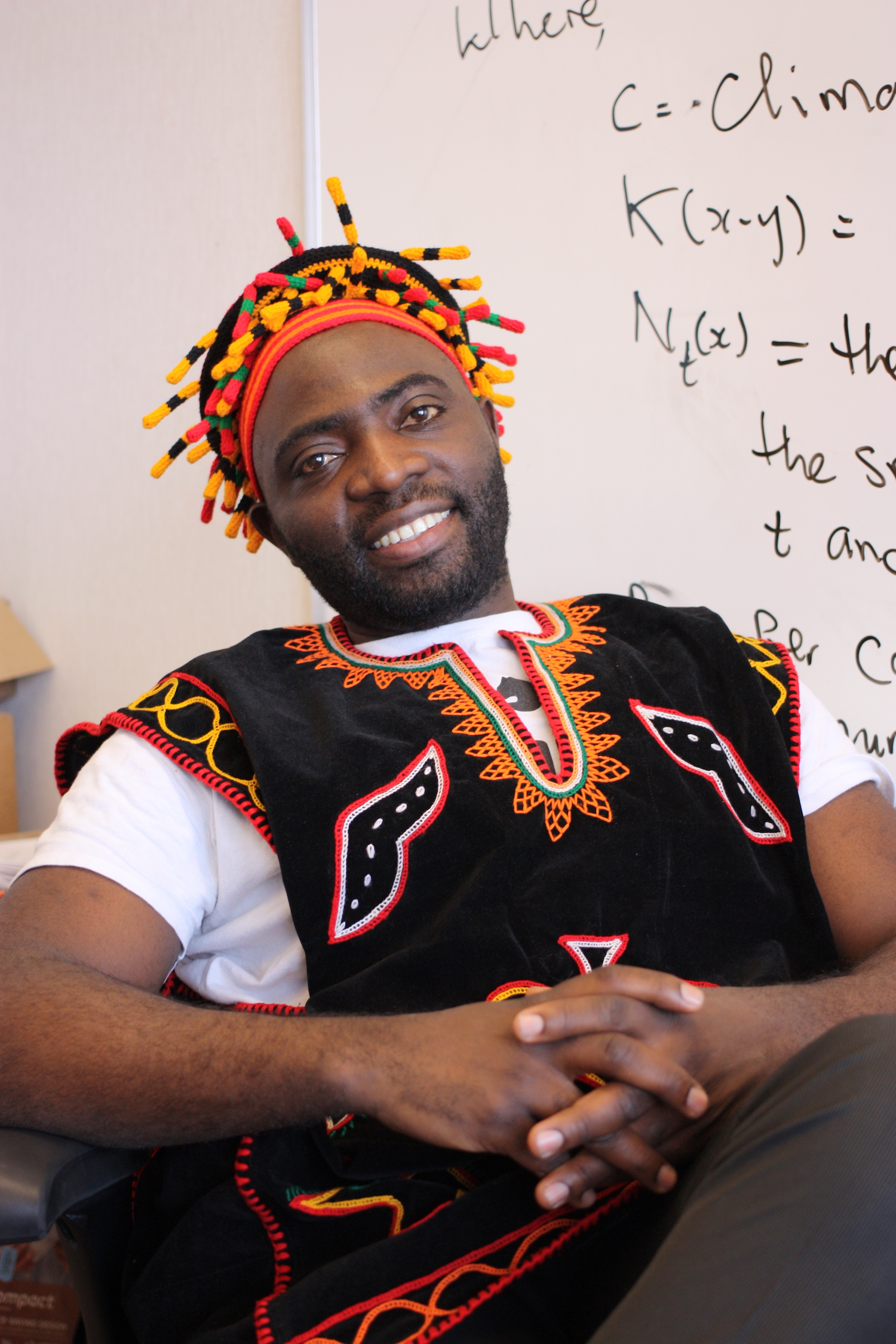 Field Lecture — Dr. Jude Kong
Bio

Dr. Jude Kong is a professor in the Mathematics & Statistics Department at York University and the founding Director of the Africa-Canada Artificial Intelligence and Data Innovation Consortium (ACADIC).

Additionally, he is the Regional Node Liaison to the steering committee of the Canadian Black Scientist Network (CBSN), a member of the Scientific Advisory Committee of the Mathematics for Public Health Network, a member of the National COVID-19 Modelling Rapid Response Task Force and a member of the Canadian Centre for Disease Modelling.

He obtained his Ph.D. in Mathematics from the University of Alberta, his MSc. in Mathematical Modelling from the University of Hamburg-Germany and the University of L'Aquila-Italy.

His B.Sc. in Mathematics and Computer Science was acquired at the University of Buea-Cameroon and his Bachelor of Education (B.Ed) degree in Mathematics was earned at the University of Yaounde-Cameroon.

Before joining York University, he did 2-years of postdoc at Princeton University and Rutgers University.

Dr. Kong is an expert in mathematical modelling,  artificial intelligence, infectious disease modelling and mathematics education.

His principal research program focuses on the use of mathematical modelling and other quantitative methods to improve decision-making for epidemic and pandemic prevention, preparedness and response.

During the COVID-19 pandemic, he has been leading an interdisciplinary team of more than 52 researchers from key academic and government institutions in nine African countries that have been using Artificial intelligence to help government and local communities to contain and manage the spread of COVID-19.

In 2020, he won a York Research Leader Award. In 2021 he was spotlighted among Canadian Innovation Research Leaders 2021 for his work with ACADIC.

In 2022, he was spotlighted as a Change Maker by People of YU for his work in helping others learn mathematical concepts and encouraging them to find their passion and achieve more than they thought was possible.

He is an Area Editor of the Data & Policy Journal where he focuses on Data Technologies and Analytics for Policy and Governance.
Lecture Abstract

Harnessing the power of mathematical models to inform disease outbreak policies.

The increasing need for informed policy and decision-making to address the unprecedented nature of the COVID-19 pandemic has brought mathematicians and infectious disease modelling to the centre stage of public health. 
 Mathematicians and mathematical models are playing a key role in real-time delivery of reliable and comprehensive information to predict the spread of COVID-19 and its impact, and in guiding governmental policies and best practice. So, HOW do we design a mathematical model of an infectious disease outbreak?  HOW can models be harnessed to inform public health measures at different stages of an outbreak? In this talk, I will provide answers to these questions.
---
Abstracts
We invite abstract submissions from undergraduate students of Atlantic Canadian universities for oral presentations. We encourage submissions from all areas of mathematics, statistics, and computer science.
Accepted abstracts will be presented at MSCS 2022 and published in the proceedings of the Science Atlantic MSCS 2022 conference.
 
MSCS represents an excellent platform for students to develop their presentation skills and to get valuable feedback from Atlantic university professors. Each student talk (abstract) should be registered by a faculty member or SA representative (or designate) of the respective university via email. Oral presentations will be 15 minutes long (with 5 minutes between each presentation for questions and setup of next speaker).
 
Please send to mscs22@mta.ca.
The body of the email should contain the following.
Name and email of student (presenter)
University name
Field: Math, Stats or CS
Title and abstract of talk (in TeX or plain text)
Name of supervisor if applicable
Name(s) of the collaborators, if any
We are now accepting the abstracts. The deadline for abstract submissions is October 7th, 2022, 11:59 PM ADT.
---
Competitions
Atlantic Canadian Programming Competition 2022
Contact Liam Keliher — lkeliher@mta.ca if you have any questions about the programming competition.
For coaches/faculty only
To register a team in the competition, email the following information to lkeliher@mta.ca:
- Name of team
- Name of each student on team
- Email address of each student on team (this should be an email address associated with the student's Kattis account; if the student doesn't have a Kattis account, they should create one at open.kattis.com)
Mathematics competition
Contact Mark Hamilton — mhamilton@mta.ca if you have any questions about the math competition.
---
Registration
Registration and payment available through the link below.
| | |
| --- | --- |
| Undergraduate Student | $55.00 |
| Graduate Student | $70.00 |
| Faculty   | $90.00 |
Registration deadline is OCTOBER 10, 2022.
There is an additional registration process for the PROGRAMMING CONTEST (see the Competitions section above).
Please note that there will be no evening banquet at this year's conference.
For information or inquiries contact mscs22@mta.ca.
---
Accommodations
Blocks of rooms are being held at the hotels listed below until Oct. 10th. (unless otherwise noted)
Ensure that you mention 'Mount Allison Science Atlantic Conference' when booking.
Please note that some hotels are in Amherst NS, a quick 10 minute drive across the lovely Tantramar marshes!
If you are unable to book rooms from those listed below, please contact mscs22@mta.ca for more options.
Coastal Inn
15 Wright Street, Sackville NB
Doubles (2 double beds)
Singles (1 double bed)
All $105 + tax
Comfort Inn
143 South Albion Street, Amherst NS
Doubles (2 beds)
Queen (2 beds)
Queen (I Queen, 1 pullout Sofa)
All $102 + tax
(Please note that Comfort Inn block is only guaranteed to be available for booking until Sunday October 9th.)
Wandlyn Inn
1539 Southhampton Road, Amherst NS
Queen (1 bed)  $99 + tax
Queen standard (2 beds)  $109 +tax
King (1 bed)  $129 + tax
Queen large (2 beds)  $119 + tax
---
Campus map
Through our interactive campus map you can explore our historic campus and see photos and descriptions of all our buildings, including all residences.
Download a campus map (pdf)
---
Campus accessibility
Our interactive campus map includes information on accessibility points on campus, including accessible entrances and accessible parking.
---
Parking
Please note that the Mount Allison Open house is also occurring on October 14th. Parking will be limited on campus.
We highly suggest parking at the Tantramar Veterans Memorial Civic Centre to ensure a spot.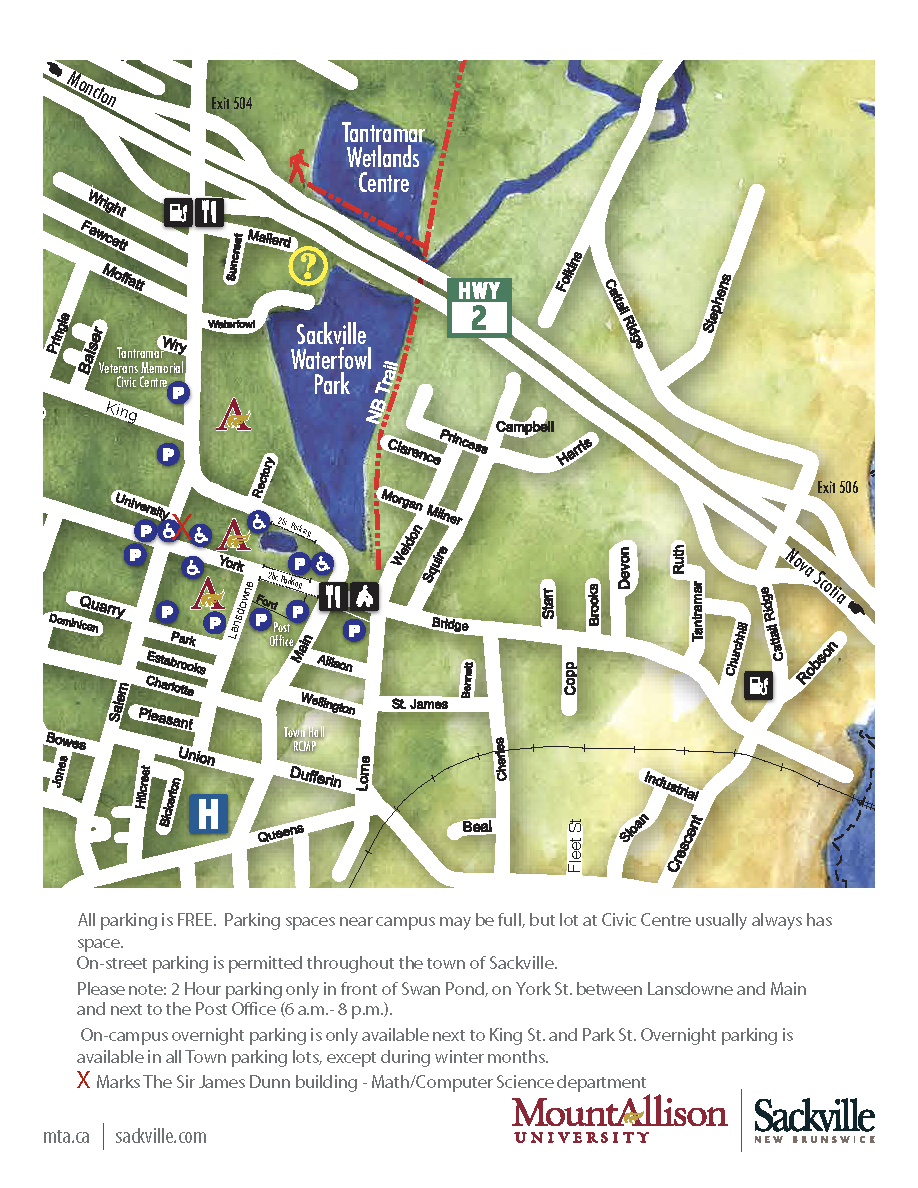 ---
Campus Covid Protocols
Masks are required indoors on campus. For further information please go to Campus Updates.
---