Mount Allison Gemini Observatory (MAGO) is a dual-dome astronomical observatory housing two identical 11" Schmidt-Cassegrain telescopes.
It is used extensively by the Physics department for hands-on astronomy classes, as well as being open to the public for special viewing nights and activities.
Some of the celestial objects viewed through our telescopes include planets and moons of our solar system, nebulae, star clusters, and galaxies.
---
Visiting the Observatory
The observatory has periodic public viewing sessions when the weather is clear.
These are usually coupled with an astronomy-related talk.
Visiting with a group
Any group can consider visiting the Observatory, either in the evening or during the day. This could be to meet an astronomer, learn how telescopes work, or explore the sky.
Previous group visitors include clubs, Brownies, air cadets, and school classes.
If you are interested in bringing your group for a visit, please contact us to tell us about your group, and when you would like to visit. If your group can not make it to the Observatory, but you are interested in having an astronomer visit you, please contact us, and we will see if we can make that happen.
Contact: gemini@mta.ca or (506) 364-2530
---
All dates below are tentative.
Confirmations and Cancellations will be posted here the day of.
December 1st- Confirmed.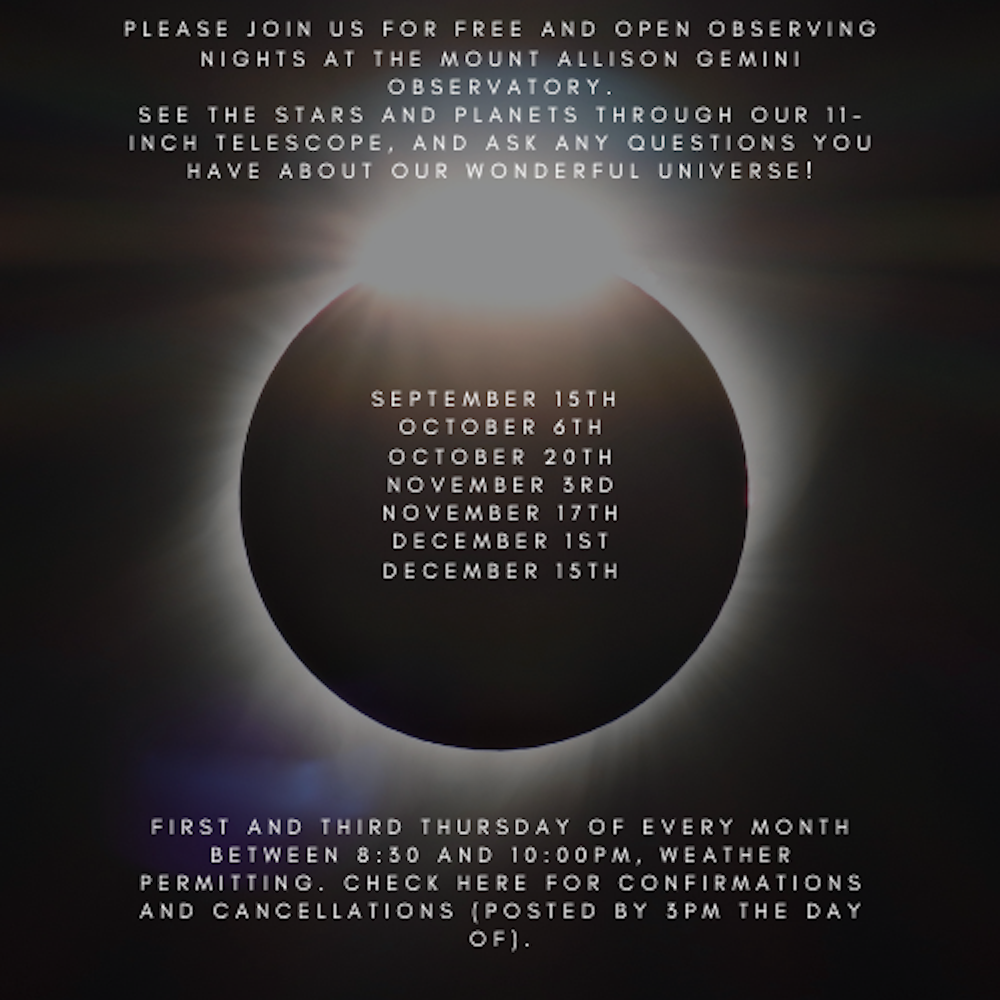 ---
Getting here
The Observatory is located at the southwest corner of York Street and Salem Street at Mount Allison University in Sackville, New Brunswick, Canada.
GPS: lat: 45.899 long: -64.375
---
Parking
Visitors should park in the parking lot across from the Dunn Building on Salem Street. If there is no space in this lot, there is also a dirt parking lot behind the Observatory. As well, there are paved parking lots in both directions along Salem Street.
---
Staying in touch
If you want to be added to our e-mail address list, so that you are informed of our upcoming events, please e-mail gemini@mta.ca and ask to be added to our contact list.
Contact us
---
Mount Allison Gemini Observatory
67 York St.
Sackville, NB
Canada E4L 1E6