Mount Allison's bookstore carries everything you need for classes.
The Mount Allison University Bookstore is committed to making all course material available to students at the lowest possible price.
We work hard to reduce the cost of providing learning materials to students with one of the lowest retail margins in Canadian university bookstores. You will find used and electronic copies for a selection of courses to reduce the cost even further.
In addition to textbooks we offer lab manuals, reading packages, study guides, dictionaries, dissecting kits, calculators approved for exams, rulers, model kits and a wide variety of fine art supplies.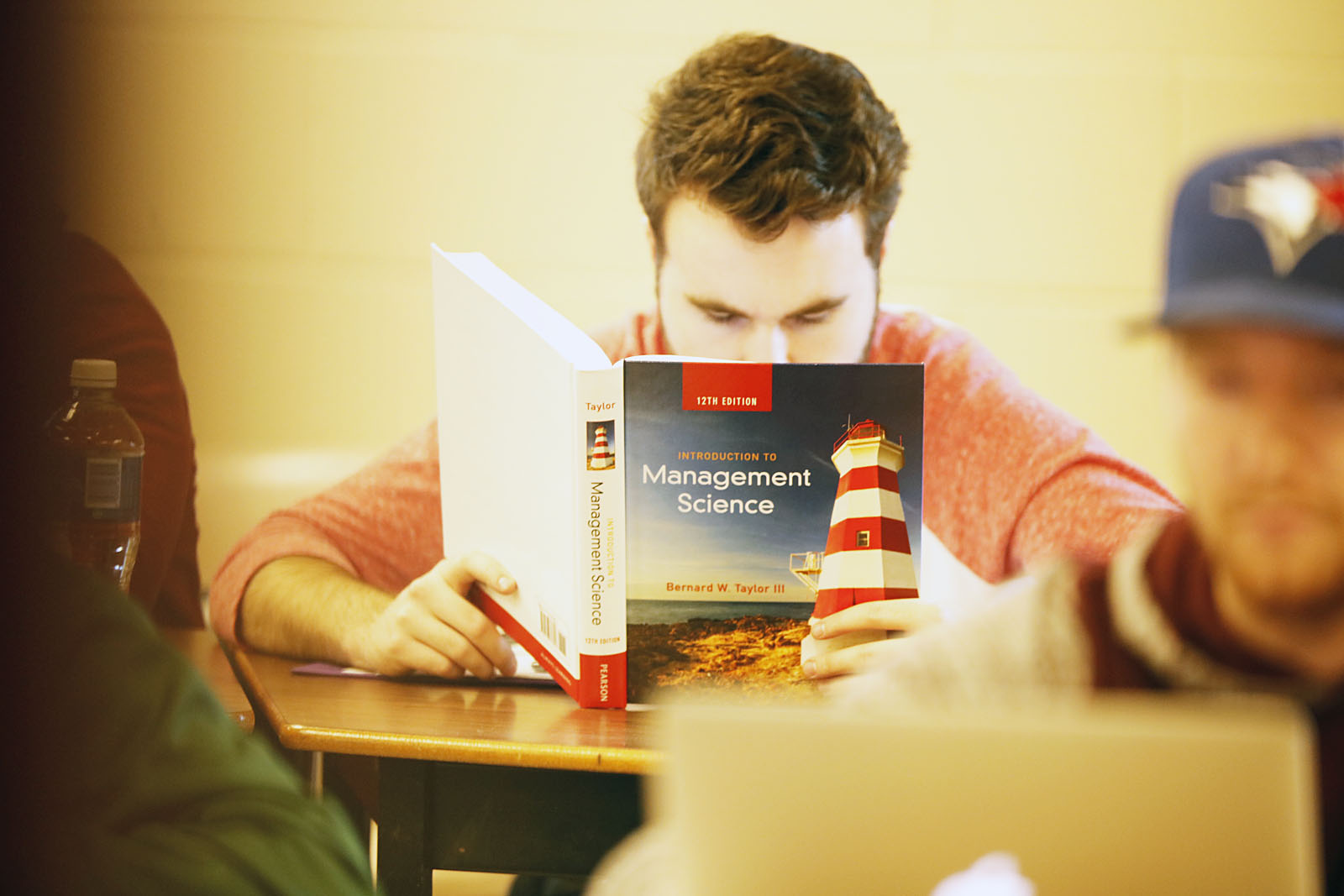 ---
Getting your course materials
Skip the line and buy your books ONLINE! Textbooks and other course materials are available as early as three weeks in advance of the start of a term. Textbooks are added to the list on the Bookstore website as soon as we receive details from instructors.
To see the list of course materials you'll need for your classes, visit the Bookstore website.
Once you've added your course materials to the cart, pay online and select pick up in-store, ship to an address, or select Books on Bed if you're living in residence.  
 
Can't pay online? Email bookstore@mta.ca a copy of your book list and you can pay in-store when you pick up your order.
Redeem access code for e-textbooks

If you purchase an e-textbook via the Bookstore, you will be sent an access code. Enter the code below to redeem and access your e-textbook.
Refunds and exchanges

Textbook Return Policy

Receipts are required for all refunds
Typically refunds for fall and winter will be accepted within the first two weeks of a term for the current term books.
Spring and summer will be within the first two days of classes, with proof of withdrawal
Course packs, calculators, and study guides are non-refundable
Textbooks must be in "purchased" condition
Refunds will not be accepted if the package or components (CD's/disks) have been opened
Defective books are replaced at the discretion of the bookstore

Merchandise Return Policy

Receipts are required for all refunds, if no receipt an exchange may be granted at the discretion of the campus store
Merchandise may be returned within 30 days if it is in new condition. After 30 days, refunds or exchanges for defective merchandise are at the discretion of the campus store
No refunds or exchanges on sale items
---
Books on Beds
For residence students only
Have your textbooks waiting in your residence room through our Books on Beds program.
Books on Beds opens about one month before the beginning of each term.
For every order placed online for fall orders we will add a $1.00 donation to Shinerama. If you do not wish to make this donation just let us know in the notes part of your order.
Books on Beds is simple and easy to use.
1) Order your books online
If the texts for your course aren't listed yet, select your course, choose the 'add all required texts' option, and your order will be automatically updated when the texts are chosen. Textbooks will be added to the website as soon as we receive the adoption from faculty.
2) Select 'Books on Beds' as your shipping option
Make sure to include your full name, room number, and residence. Your books will be delivered to your locked residence room before you arrive.
---
Books buy back
We have four buy backs per year. They are typically at the beginning and ending of each term.
This will allow you to sell the books you do not wish to keep and receive cash. Titles that have been confirmed for an upcoming term are bought back for 50 per cent of the price of a new book.
We do have an external company come in and purchase books as well to help expand the number of books you are able to sell back. This company will offer between five per cent and 30 per cent of the retail price of the book.
A few things to consider:
1) The book has to be in functional condition.
2) The higher the demand for the title the more money you will receive.
3) If there are components that came with your text, you will need to ensure they are with the text when you bring it to buy back.
Contact us
---
Bookstore
Email: bookstore@mta.ca
Phone: (506) 364-2225
Wallace McCain Student Centre (lower level)
Bookstore, 62 York St.
Hours
Monday-Friday
8:30 a.m.-4:30 p.m.
Summer hours: (Victoria Day-Labour Day)
8:30 a.m.-4:00 p.m.