Biology students have access to the following facilities, laboratories, and equipment.
---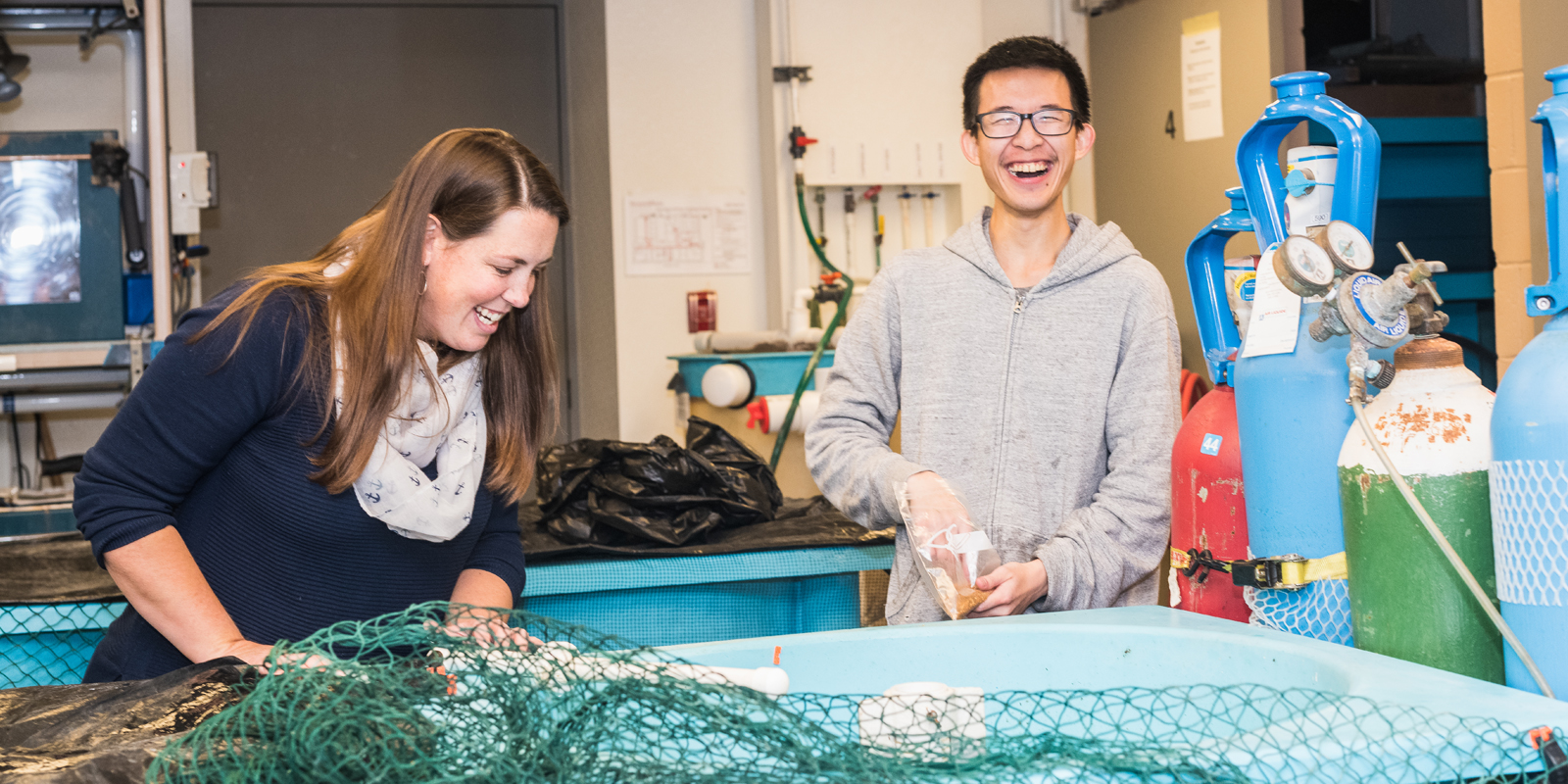 Harold Crabtree Aqualab: Centre for Aquatic Sciences
The Aqualab is a state-of-the-art aquatic facility marrying field-based aquatic research with lab-based studies reflecting real-world environmental conditions. The Aqualab gives us a unique opportunity to understand how aquatic animals cope with ecologically relevant changes in temperature, salinity, oxygen, and exposure to contaminants. Moreover, it provides a fertile training facility for students, faculty, and visiting scientists.
The $1.2-million lab opened in June 2012 and was funded through generous donations from the Harold Crabtree Foundation — a long-time benefactor of Mount Allison — as well as the Canada Foundation for Innovation (CFI), the Province of New Brunswick, and the New Brunswick Innovation Foundation (NBIF).
Research in the Aqualab is of both regional and national significance as scientists study the impacts of climate change and pollution on local species, including both fresh and saltwater fish and invertebrates. Ongoing experiments include measuring the effects of warming on Atlantic salmon and the impacts of toxins such as nanoparticles on white sucker fish — a common river species.
The Aqualab allows researchers to carefully manipulate water temperatures, salinity, and tidal cycles to essentially bring the field into the lab.
The facility is operated by our capable and dedicated Aqualab technician, Shelley LeBlanc. The Aqualab has a series of recirculating tank banks, equipped with biofilters, charcoal filtration, and UV light suitable for fresh and saltwater fishes as well as invertebrates. The lab is equipped with wet tables, tide chambers, and several environmental rooms.
For more information or for booking (both internal and external users), please contact Shelley LeBlanc (shleblanc@mta.ca).  
---
Digital Microscopy Facility
The Digital Microscopy Facility (DMF) houses microscopy and microanalysis instrumentation which is available for use by Mount Allison faculty and students as well as researchers outside the University on a cost recovery basis.
Equipment includes a newly installed Hitachi SU3500 variable pressure SEM with an Oxford Aztec x-ray microanalysis system and Zeiss AxioImager.Z2 structured illumination eipflourescence light microscope, in addition to a full range of support equipment and image processing software. For more information see http://www.mta.ca/dmf 
---
Molecular biology labs
One cellular and molecular suite provides:
communal facilities for vertebrate and invertebrate cell culturing (in biological safety cabinets and incubators)
thermocyclers
PCR hoods
imaging equipment for DNA analysis
A second molecular suite houses:
Biorad VersaDoc CCD imaging system
Biorad CFX96 RT-PCR machine
dedicated E.coli cloning hood
large laminar flow hood
small shaking growth chamber
several sonicators
MP Biomedicals FastPrep bead beater machine
-80C cryo freezer
two Avanti floor model centrifuges with several types of rotors
Users are trained on all equipment before use and carry out activities such as:
large scale liquid culturing (and concentrating) of either bacteria or algae
imaging of agarose gels, polyacrylamide gels, and western blots
quantitative PCR and protein, DNA and RNA extractions
---
Environmental Analytics and Stable Isotope Laboratory (EASIL)
The EASIL laboratory is located in room 307 of the Barclay building on the Mount Allison University Campus in Sackville, New Brunswick, Canada.  Our facility is equipped with an Elementar PyroCube Elemental Analyzer (EA), manufactured by Elementar Analysensysteme GmbH, Hanau, Germany, and an Isoprime Precision Isotope Ratio Mass Spectrometer (IRMS) manufactured by Elementar UK Ltd, Cheadle, UK.  Both were funded by Canadian Foundation for Innovation (CFI) and awarded in 2015.
The facility was launched in July 2019 and operates on a cost-recovery model, welcoming users both internal and external to Mount Allison University.
Currently, the lab is equipped to offer bulk δ2H, δ13C, and δ15N stable isotopes and elemental carbon and nitrogen analysis on solid samples.  δ18O and δ34S will be added to our suite of analysis in the very near future. 
The facility is managed by Mireille Savoie who is always available to answer questions or provide a quote.
msavoie@mta.ca
(506)224-1212