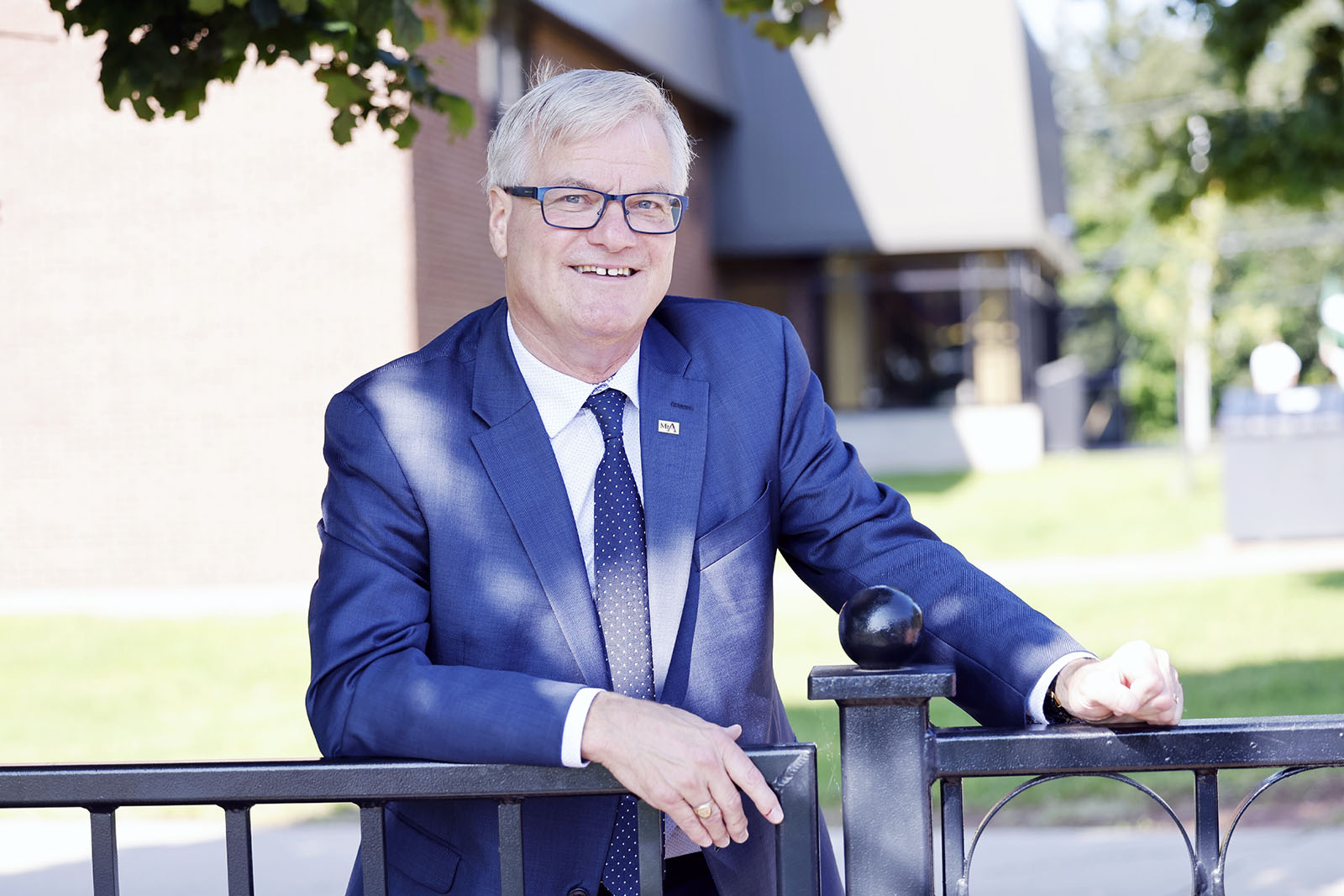 On Aug. 24, 2023, Mount Allison's Board of Regents announced that Dr. Robert MacKinnon ('78) was selected as Interim President and Vice-Chancellor of Mount Allison University for a year term, effective Sept. 1, 2023.
A proud alumnus, MacKinnon returns to Mount Allison after a 32-year career in academia and university administration beginning at Thompson Rivers University and the past 20 years at the University of New Brunswick in Saint John as a professor of geography, Dean of Arts, and Vice-President. His research interests are varied and include the broad areas of historical and regional geography of Atlantic Canada, rural and transportation history, and Canadian urban geography.
In his academic role, MacKinnon has contributed to regional and national journals and publications, including National Geographic Magazine, Acadiensis, Canadian Historical Review, Canadian Journal of Regional Science, and The Historical Atlas of Canada.
As an educator, he taught Regional and Cultural Geography at Memorial University and Thompson Rivers University. He has also held the positions of Visiting Professor at the University of Bonn and Visiting Teaching and Research Fellow at Obirin University in Tokyo.
As an administrator, MacKinnon has overseen the enhancement of UNBSJ's unique learning culture and environment with the completion of the Hans W. Klohn Commons building; the development of partnership relationships with Dalhousie Medicine New Brunswick (DMNB) and the New Brunswick Community College (NBCC), which co-located their programs at UNB's Saint John campus during his term as Vice-President Saint John; and the establishment of UNBSJ's unique experiential learning program, The Promise Partnership.
---
About the position of President and Vice-Chancellor
The President serves as the chief executive officer of the University and is appointed by the Board of Regents. The President is also the University's Vice-Chancellor and as such may perform any of the duties of the Chancellor in the Chancellor's absence.
The President is responsible for capturing, developing, and articulating the vision of the University community, and for ensuring academic and administrative policies are in place and implemented to support this overarching vision.
The President is the academic and administrative leader and will manage, motivate, and support the faculty, administration, staff, and students of the University.
Find out more about: