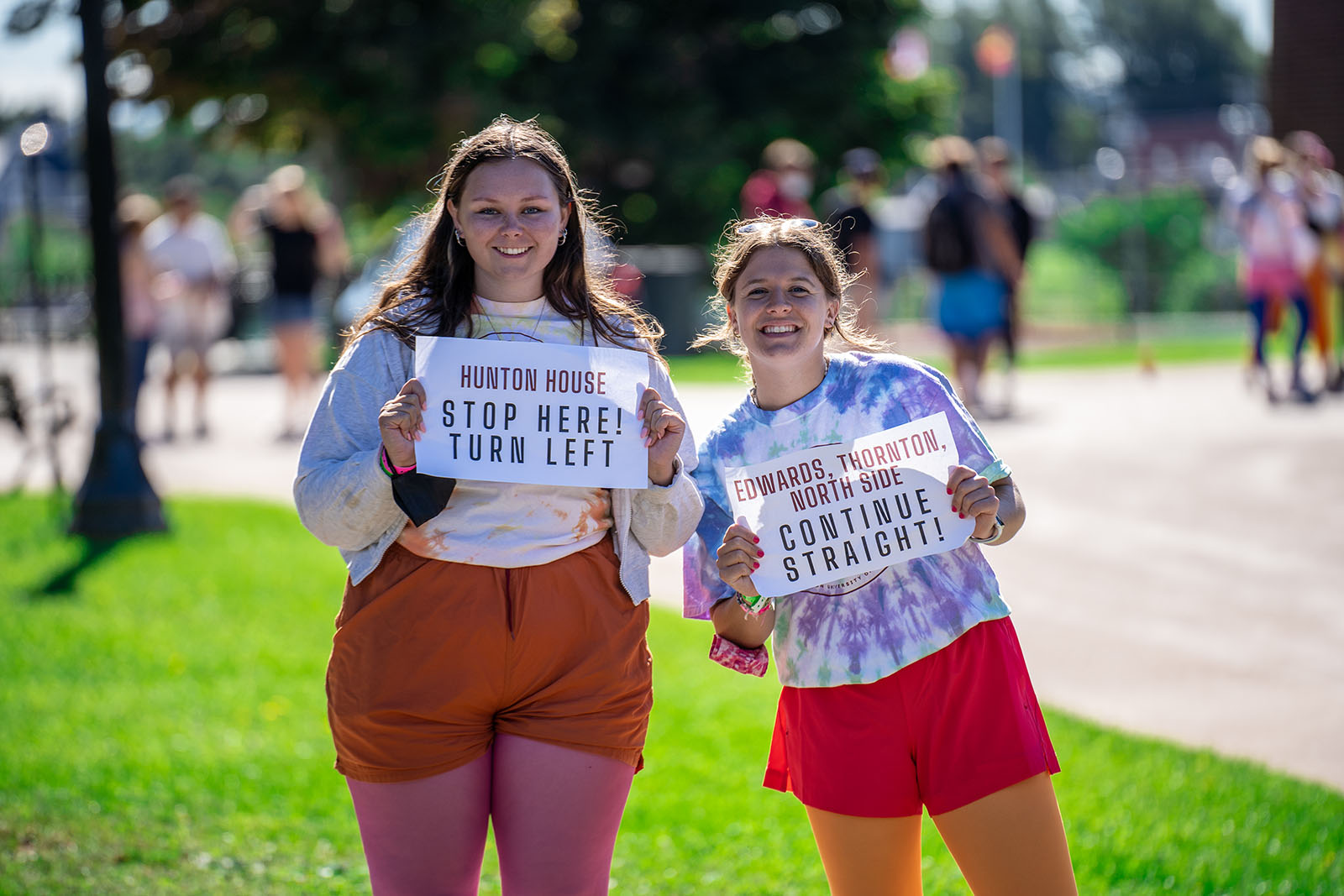 Before you arrive
Residence deposit and room assignment
Preview Day for new students

Preview Day, held in the summer every year, is a full-day of information and services for new students and their families, including visiting your residence room!
Prepare to move in
To help you prepare to move into residence, check your specific room and building amenities on your residence's profile.
The list of amenities will include your bed size, bathroom style, and what's provided in your room. These vary depending on your residence and room type. You can also find out what your house colours will be!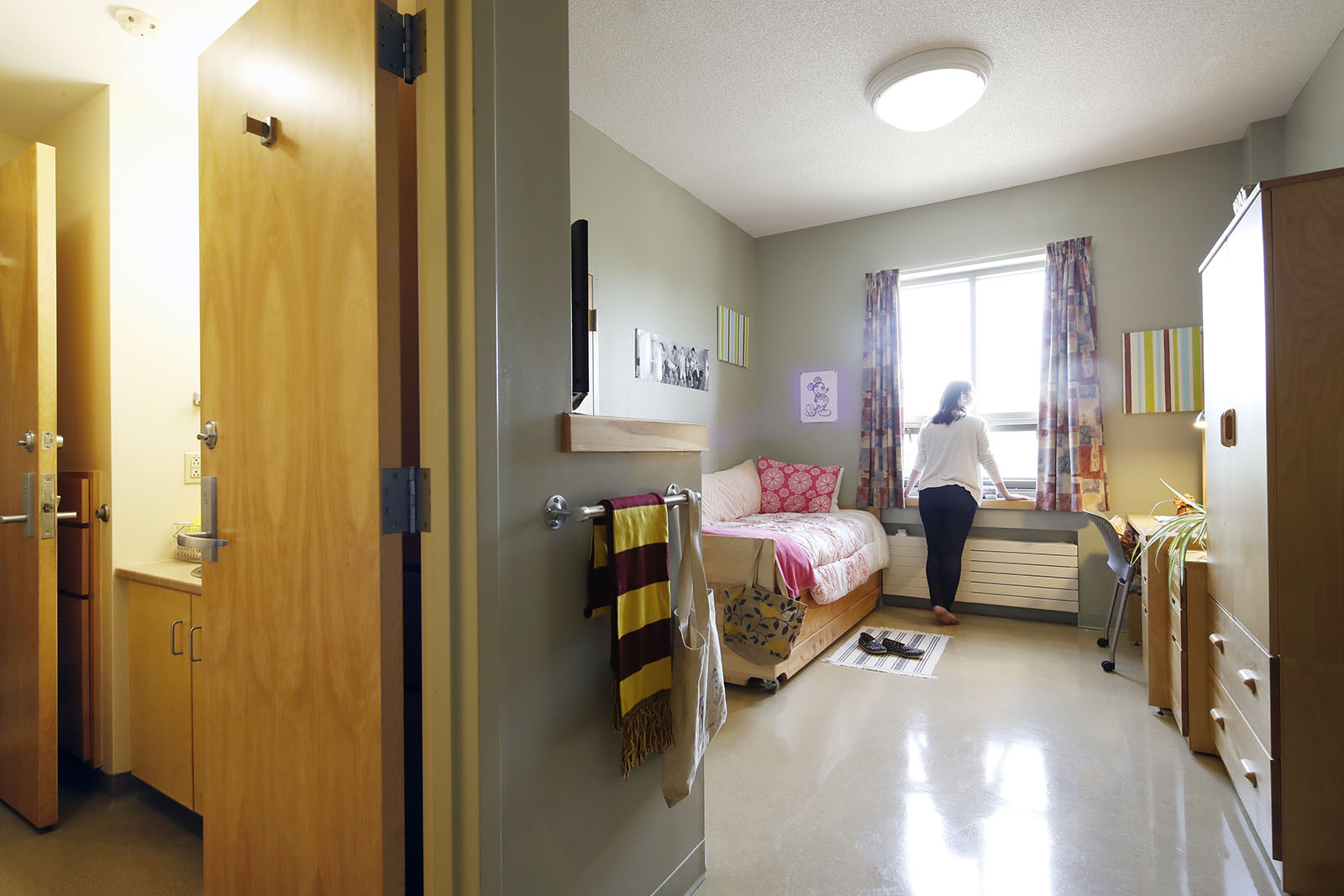 What do I bring to residence?

Here's a starter list of things that you should consider bringing:

Clothing (especially in your house colours)
Rain jacket and boots
Semi-formal clothing (there are a few events you can dress up for such as the first-year and holiday banquets)
Bedding (check your residence's profile for bed size)
Shower shoes or flip flops
Shower bucket/basket (to keep your shower supplies in one place)
Decorations to make your room your own
3M temporary hooks or painters tape to hang up posters and decorations
Laundry detergent and dryer sheets
Laundry basket
Cups, dishes and cutlery — plastic is preferred!
Travel mug
Dish soap
(Non-wireless) telephone for your room — each room has its own phone line for local calls
White board to hang on your door. Some residences have one built-in.
Hangers
Brita water filter
Alarm clock
CSA-approved power bar (North Side residences have them in each room)
Sports gear for intramurals
School supplies and stationery
Laptop or computer (however, there are computer labs on campus)
Personal hygiene products

For any specific questions, please contact the housing office at housing@mta.ca or (506) 364-2252.
Residence FAQs

Are there kitchen facilities in residence?
Yes, each house has at least one kitchenette with a fridge and stove and/or floor kitchens with a fridge and a microwave for making the occasional meal or snack. Dishes are not supplied by the University.

What appliances am I allowed to bring for my room?
Mini-fridges are in every residence room so you don't have to bring one. You can also bring other small appliances, such as a kettle; however, each house has kitchen amenities that you can use. Appliances with a hot or open element are not permitted (toaster ovens, toasters, hot plate, etc.)

Are extension cords permitted?
No, for safety reasons extension cords are not permitted. We recommend that you bring a CSA-rated power bar with you — there are some that have longer cords on the ends that are well suited to residence rooms.

What furnishings are provided in the rooms?
Each room comes furnished with a single bed and mattress, a wardrobe or closet, bureau, desk, mini-fridge, chair, and wastebasket. You may prefer to bring your own lamps from home for extra lighting. Please keep in mind that halogen lamps are not permitted in residence. You should also remember to bring hangers with you.

Is linen provided?
A mattress cover is provided, but students must supply their own sheets, pillows, and blankets.

Are window coverings provided?
Yes, each room has drapes or blinds.

Am I allowed to bring my own room furnishings?
We do not permit students to remove furniture from their rooms due to a lack of storage space. There are many smaller items that you can bring from home to personalize your room and make it your own.

Is there storage in residence for my personal items?
Each residence has a storage room where you can put extra boxes, suitcases, etc. during the academic year. The university endeavors to provide storage space for students, but cannot always guarantee that it will be available. Students returning to residence are permitted to store four boxes over the summer if they are properly labeled. There is no access to this storage room from May to August. It re-opens in September.

Can I bring or send items to my room early?
You can ship or mail some packages one week before your move in date. Due to a lack of storage space, we cannot accept any packages or belongings prior to that date.

Can I have a pet in residence?
No. Pets are not permitted in Mount Allison residences.

Can I use nails in the walls in my room to hang things?
You are permitted to use up to six thumbtacks to hang items in your room. You can also use 3M temporary hooks or 3M Painters Tape. Non-adhesive putty, such as blue 'Fun-Tak' and tape are not permitted in residence. Residents are not permitted to use 3M hooks or thumbtacks in hallways.

Are there laundry facilities on campus?
Yes, all residences have laundry facilities with washers and dryers that are available to everyone living in the house. Use of the laundry facilities is covered in your residence fees. The University does not supply irons and ironing boards.

Are there snack machines?
Yes, in the common areas of the larger residences there are snack and soft drink machines available for your use.

What is my mailing address?
All campus mail is received and processed through the Bookstore in the Wallace McCain Student Centre.

Your mailing address will be:
Your name
Mount Allison University
62A York Street
Sackville, NB E4L 1E2

Should I bring a telephone and computer?
Residences have a communication package for students — internet, cable, and local phone service is active in most student rooms. You just have to bring the proper hardware and plug it in. Please be advised Windsor Hall is not equipped with cable and phone lines; however, SmartTVs are provided.

What housekeeping services are offered in residence?
Custodians will clean the common areas of your residence on a regular basis. You are responsible for your own room. Additional room cleaning services are available for a fee. Please contact housing@mta.ca for details.

Can I burn candles in residence?
No. For safety reasons, candles and sparklers are not permitted in residence.

Do I need insurance on my belongings?
Yes, students are strongly urged to get insurance on their personal belongings. The University is not responsible for any damage to your belongings that may occur.

Are the residences open during the December holiday?
No, they are not. They are open long weekends and all other holidays throughout the academic year.
---
Move-In Days
Move-in dates for 2023
International students: Aug. 28
First-year students: Sept. 1
Returning students: Sept. 4
Moving in for first-year students
Most students will move into residence during Move-In Day for first-year students. With this simple guide, you'll know exactly what to expect, how to get here, where to go, and what to do on your first day in residence.
What time should I plan to arrive at Mount Allison?

Move in hours are 9 a.m.- 8 p.m., for late arrival arrangements, please email resroom@mta.ca.

A full orientation schedule is available for first year students. While it's best to arrive by 3 p.m. for Orientation and to receive assistance moving in, you are able to arrive as late as 8 p.m.
How do I get to campus and my residence?

To help with traffic flow, please enter Sackville via Exit 504 on the Trans-Canada Highway.

For more directions:

Once on campus, you can go directly to your assigned residence where you can register and move in.

Traffic guides will be available along the way to help give you directions on how to access campus and your residence. Depending on the time and route, traffic may be heavy and slow-moving.
What do I do once I get to my residence?

Once at your residence, our student volunteers will help you unload your vehicle at a spot close to the front entrance.

Our enthusiastic volunteers and house executives will help carry all items to your room.

Family members and friends may assist students moving into residence.

To keep things moving, please move your vehicle to a nearby parking lot immediately after unloading. MtA is a pedestrian campus. 

Once you're moved in, you can visit the Orientation Check-In Fair at the Wallace McCain Student Centre where you can pick up your student ID card, Orientation Welcome Pack, etc.
Welcome events begin on the first day. Our Orientation Team will make sure you know where to go!
---
What is Move-In Day like?