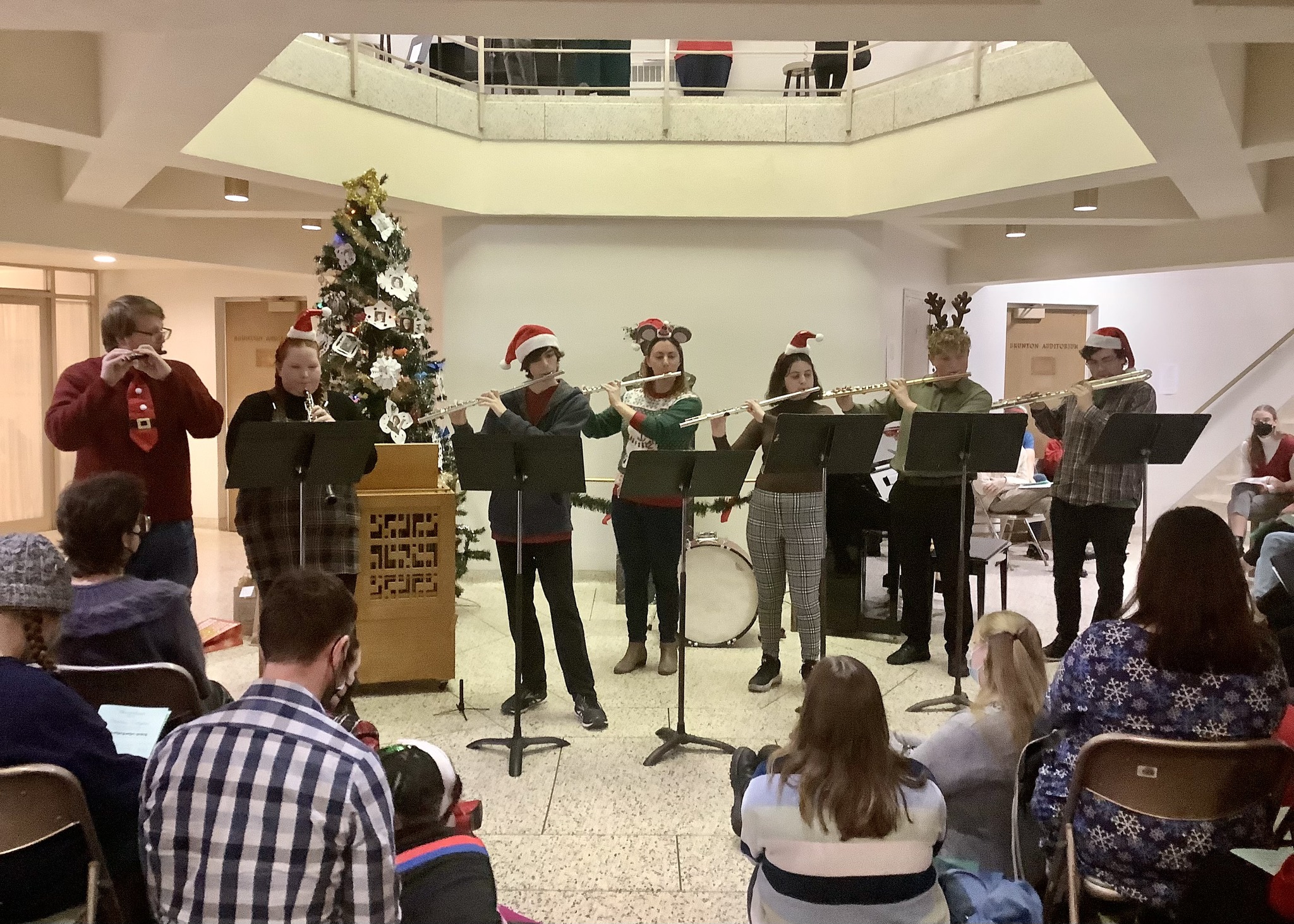 Season's Greetings from Dr. Stephen Runge, Head of Department of Music
Though it doesn't look like much of a "winter wonderland" outside, with very little snow in Sackville to begin the winter, the Conservatory is alive with the warm glow of the holiday season (and the stress of exams and juries, too!).
As songs of the season rang out through the foyer during the Christmas Collegium on December 8, I reflected on the busy Fall term that has just finished. From our annual Faculty Gala Concert that opened the new academic year in September and that same month's Sackville Festival of Early Music, to the large ensemble concerts that concluded the term over the past two weeks, Fall 2022 has been full of highlights.
The term began dramatically as Hurricane Fiona passed through the Maritime region, and while the storm spared Sackville from most severe damage, we did lose one of our favourite trees directly in front of the Conservatory.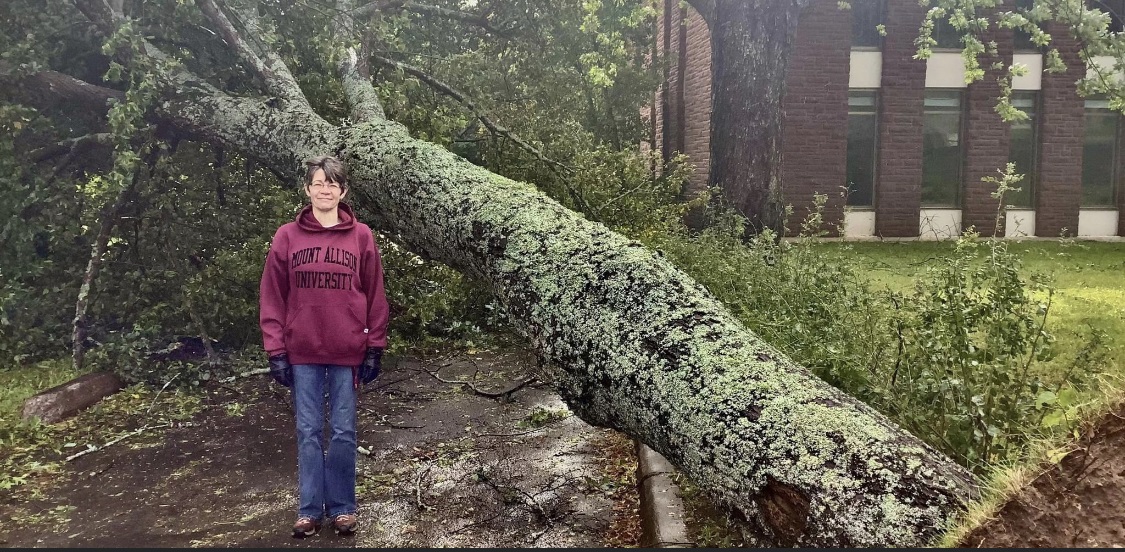 September also saw the arrival of a new harpsichord, made possible by a generous gift from friend of the Department Joanna Manning, about which you can read more below. Percussionist Martin Daigle visited with a fascinating program of music for solo percussion and electronics, Mount Allison Provost and Vice-President Jeff Hennessy presented a talk on his experiences performing traditional Gamelan music in Indonesia, and several faculty shared their talents on the Brunton stage, including clarinetist James Kalyn, oboist Christie Goodwin, bassoonist Patrick Bolduc, hornist Olivier Huebscher, and pianist Jennie Del Motte. I also presented a new solo program of music for solo piano inspired by water.
The term's highlight was surely the visit of New York-based composer Missy Mazzoli as the 4th annual Bragg Artist-in-Residence. For five days, Ms. Mazzoli was a guest in our composition and orchestration classes, worked with composition students as well as pianists and percussionists studying her music, gave two public talks on her chamber music and operatic works, and performed as pianist in a concert of her chamber music which included a performance of her Vespers for a New Dark Age, featuring an ensemble of faculty and guest musicians.
As we look forward to the holiday season ahead, I wish you all the best for you and your family in 2023. Happy holidays!
Dr. Stephen Runge
---
A New Harpsichord is Welcomed to the Conservatory
September's Sackville Early Music Festival saw the unveiling of a new harpsichord in Brunton Auditorium, made possible by generous donation from Joanna Manning. You can read all about the beautiful instrument  and watch our short, promotional video. See also these other articles about the gifted harpsichord from CHMA FM and CBC.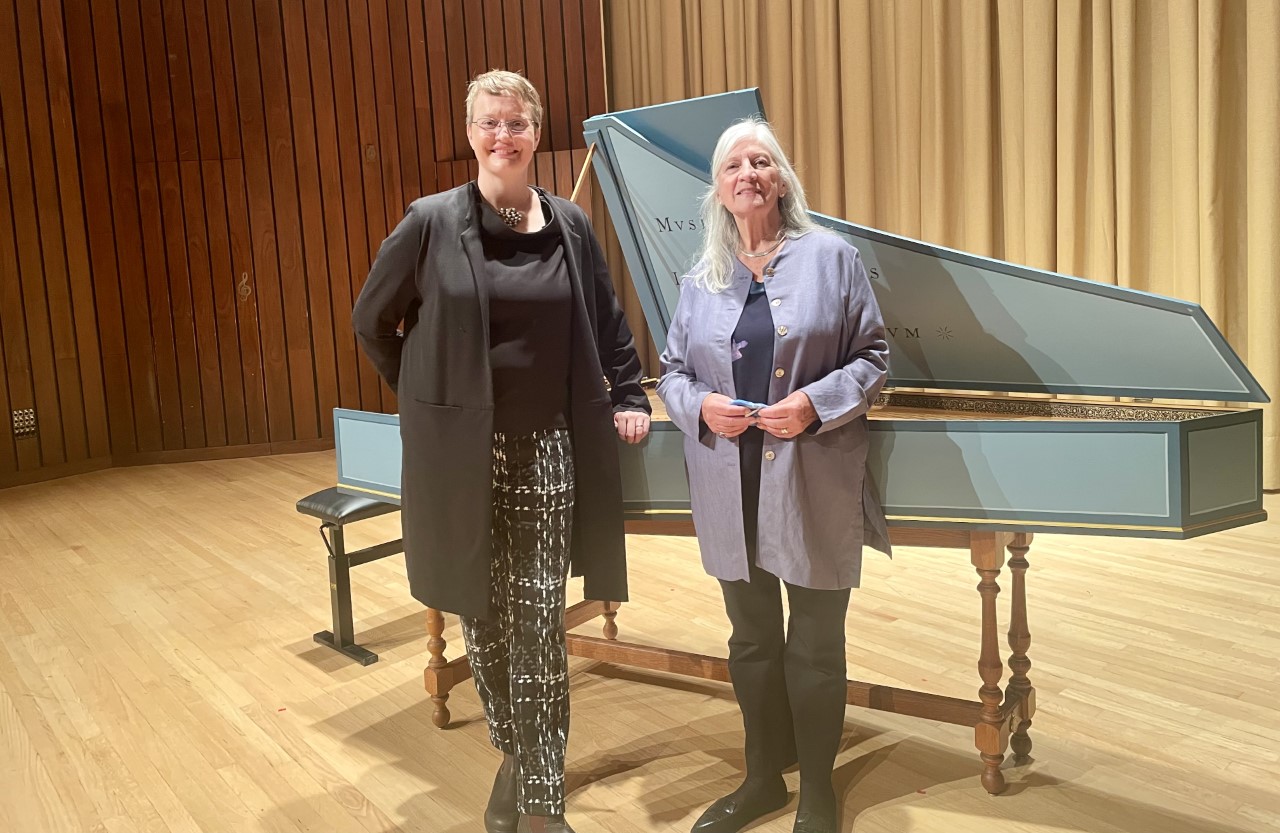 ---
Mount Allison Honour Band and Audition Preparation Day
On October 15 we were very happy to welcome 32 enthusiastic high school students to campus to take part in the 8th annual Mount Allison Honour Band. These students, nominated for the program by their music teachers, came together for a one-day intensive of rehearsals and sectionals with MtA faculty. Culminating in a performance conducted by Prof. James Kalyn in Convocation Hall, the day showcased the many talented high school participants from throughout New Brunswick, PEI, and Nova Scotia.
We are already planning for our annual Audition Preparation Day to be held on campus on Saturday, January 28, 2023. Intended for Grade 11 and 12 students considering Music studies at university, the day includes workshops and classes, tips on the audition process, and mini-lessons with MtA Music faculty. Please share the registration link above with any interested students.
---
Composition Update
Mount Allison continues to be a vibrant place for young composers to develop their craft, working with faculty composer Kevin Morse. Our New Music @ Mount Allison composition concert on December 5 featured 14 new works by student composers, with enthusiastic participation by student performers. Students also had an incredible week of classes, lessons, and workshops with Bragg Artist-in-Residence composer Missy Mazzoli in November.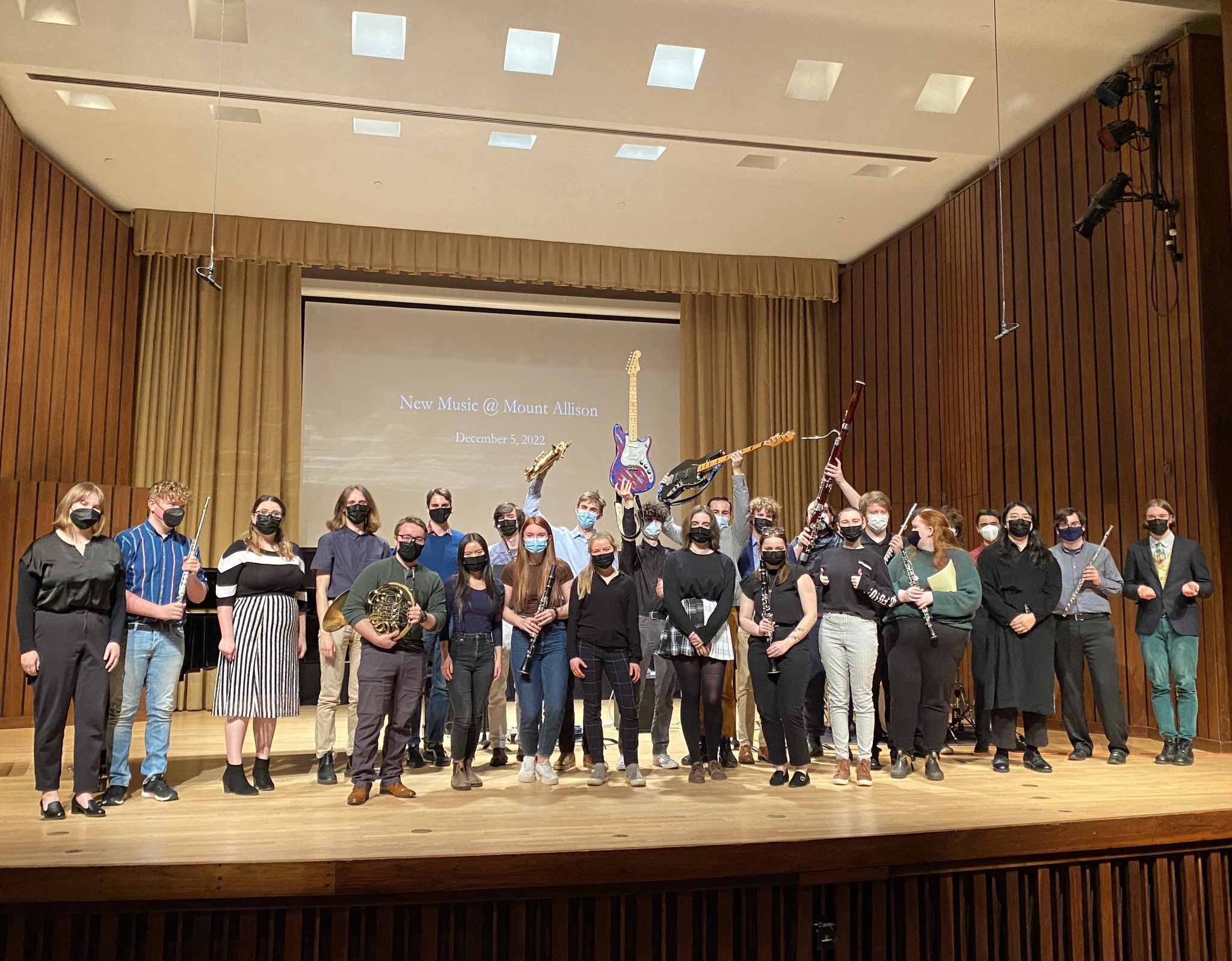 Dr. Morse also directs our New Music Creation Lab, which has been fully updated this year with brand-new iMacs, ergonomic chairs, MIDI keyboards, audio interfaces, and software.
The lab and our growing collection of recording gear support our music-creation courses, including two new courses this year, Sound Recording Techniques and Introduction to Electronic Music Creation, which are an important part of our new BA Joint Major in Computer Science and Music. 
 A New Choral Ensemble

The Mount Allison Children's Choir is an exciting community outreach initiative that brings young singers in the Sackville area (ages 5-11) together every week for an hour of choral singing, movement, and musical games. A true collaborative effort, the choir is co-facilitated by faculty member Dr. Kiera Galway, MtA Music student Sarah Workman ('23), and local Sackville teacher Ryan Slashinsky.
With about 25 members, the choir has already participated in two performances this fall, with plans for a great winter season in 2023!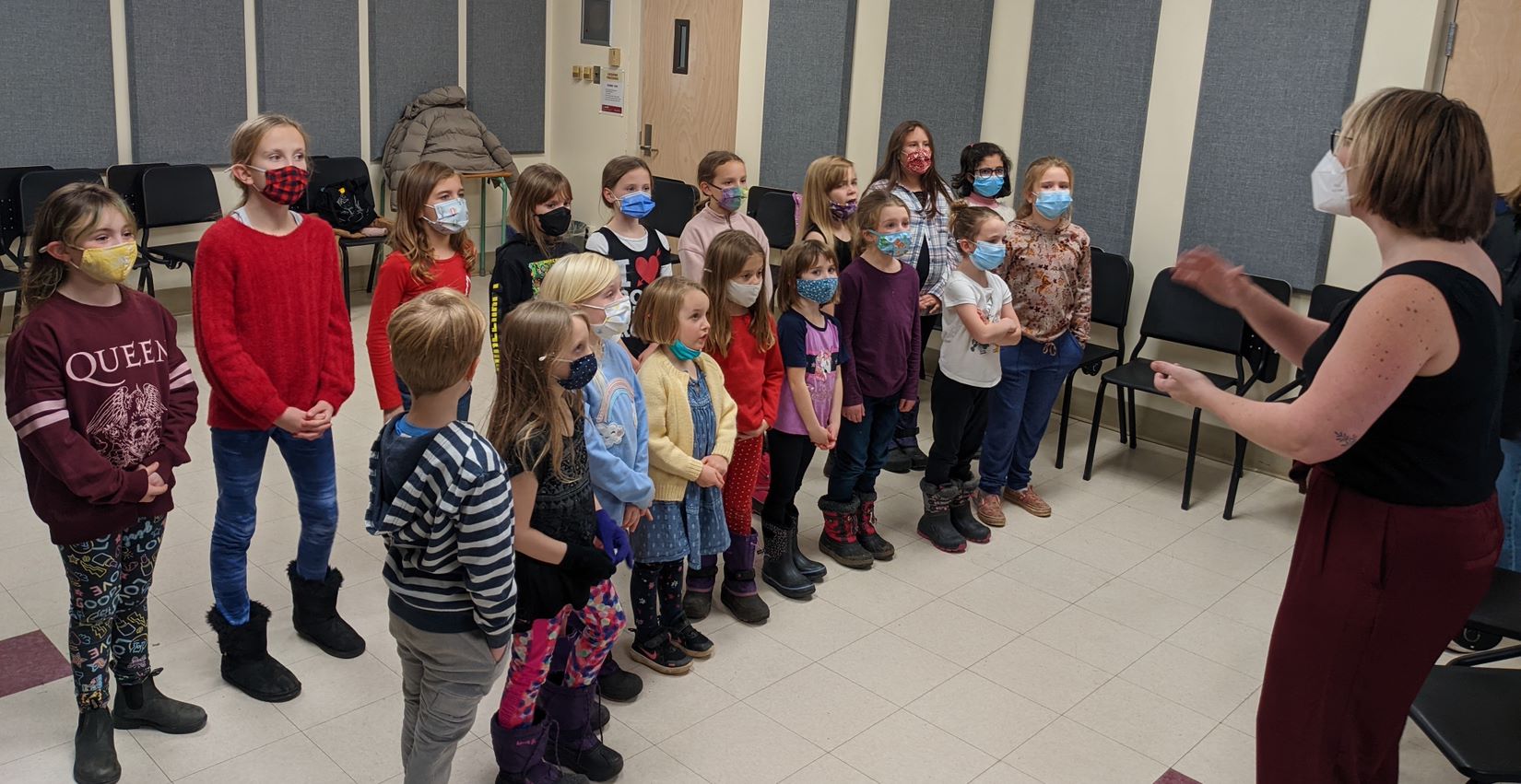 ---
Student News
From November 6 to 12, third-year BMus students Emma Yee ('24) and Kiran Steele ('24) assisted Dr. Linda Pearse in Vienna's archives, accumulating research material for Dr. Pearse's work on the Hapsburgs and Ottomans and music in the late 16th and early 17th centuries. Yee and Steele have worked for Dr. Pearse previously as members of the SUMR (Summer Undergraduate Music Research) Diversity Lab, studying intercultural exchange and music as part of the project "Changing Colonial Narratives in Music History" (SSHRC IDG 2021). This trip offered first-hand experience of working in archives and interacting with primary sources, as well as taking in the musical and cultural practices of the city.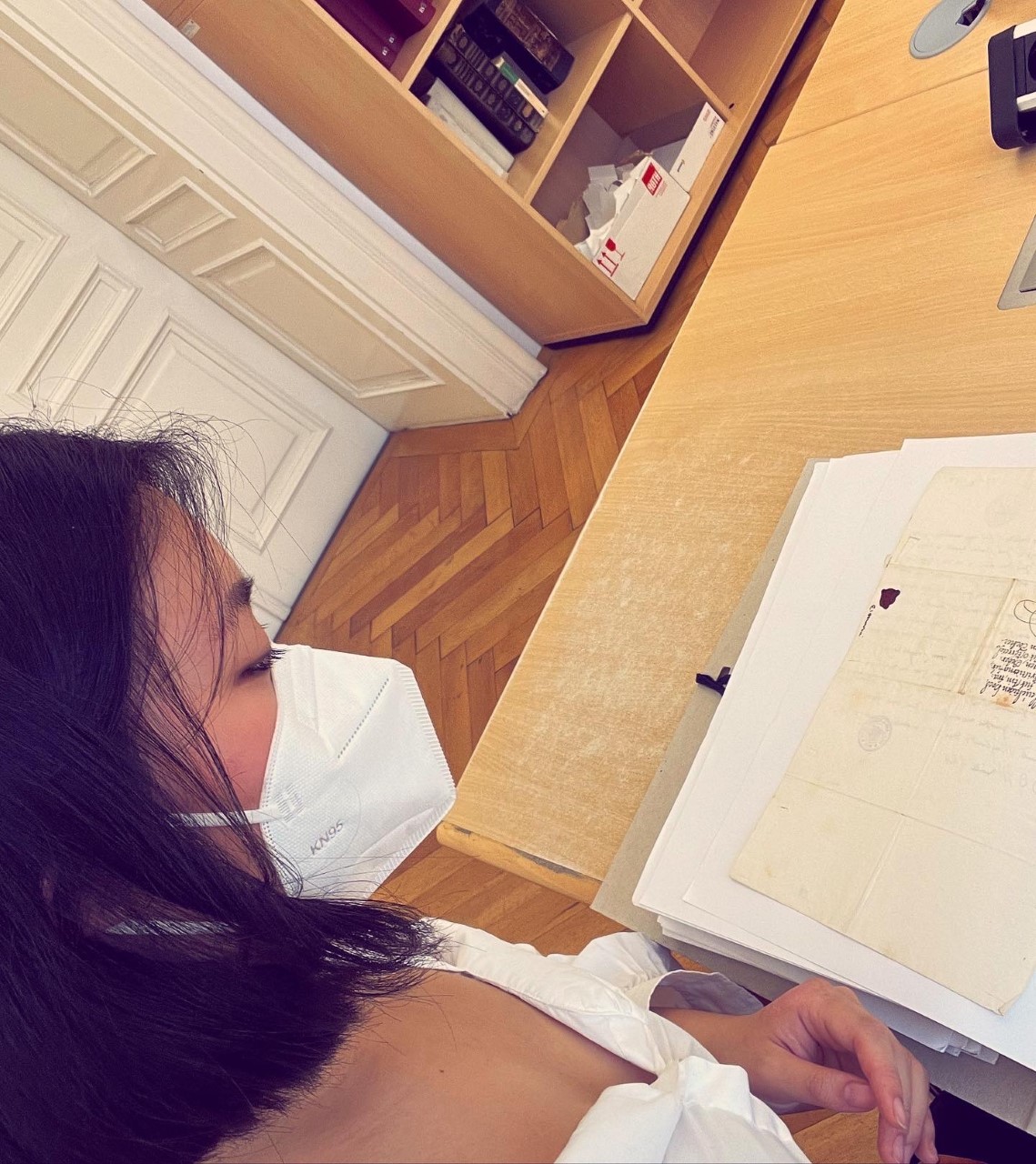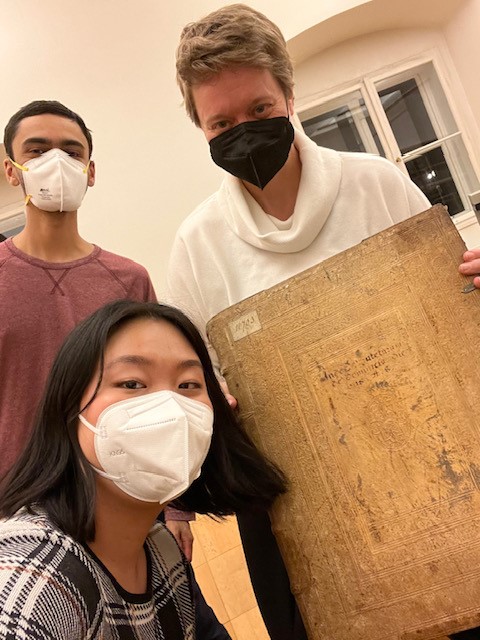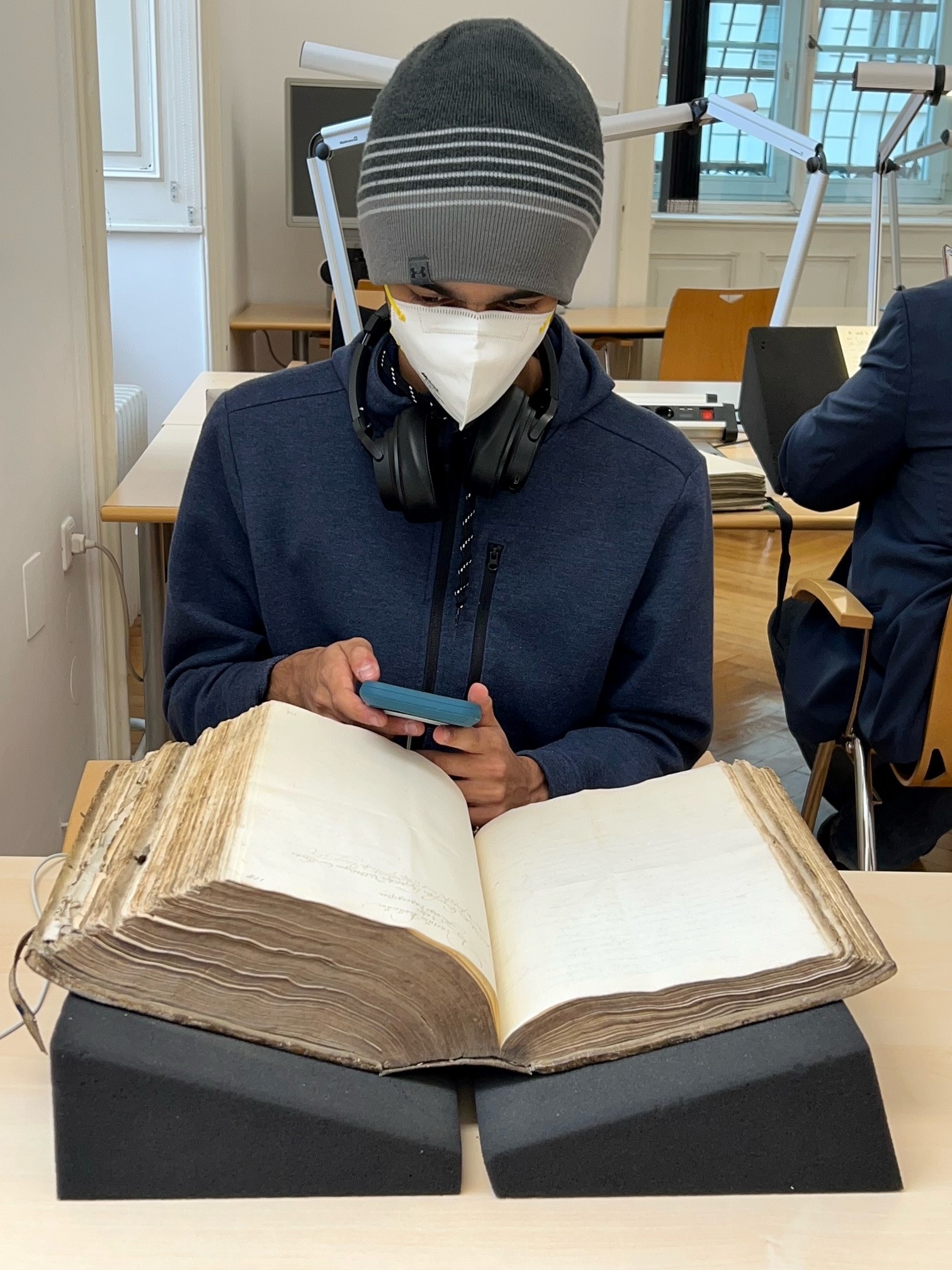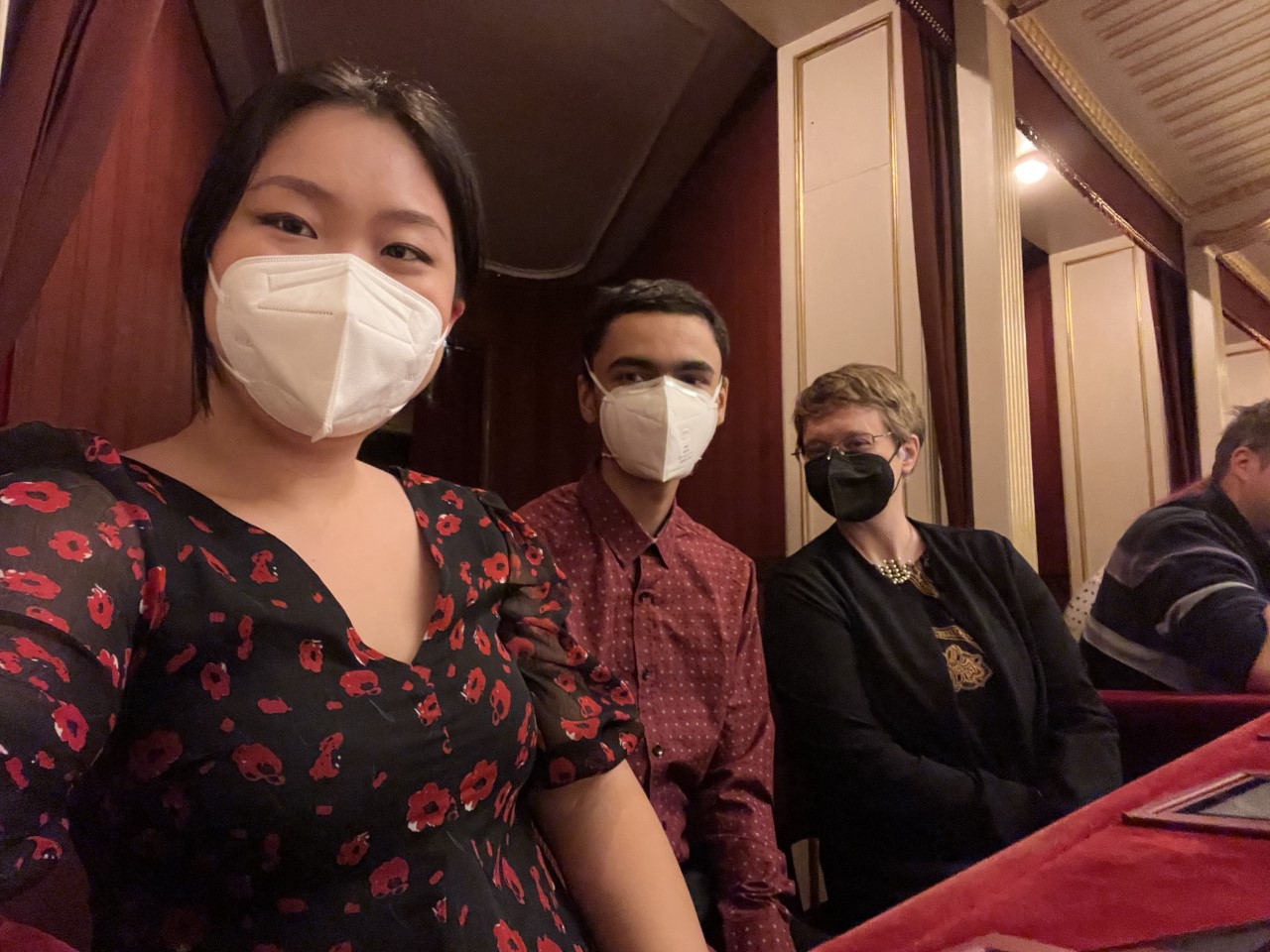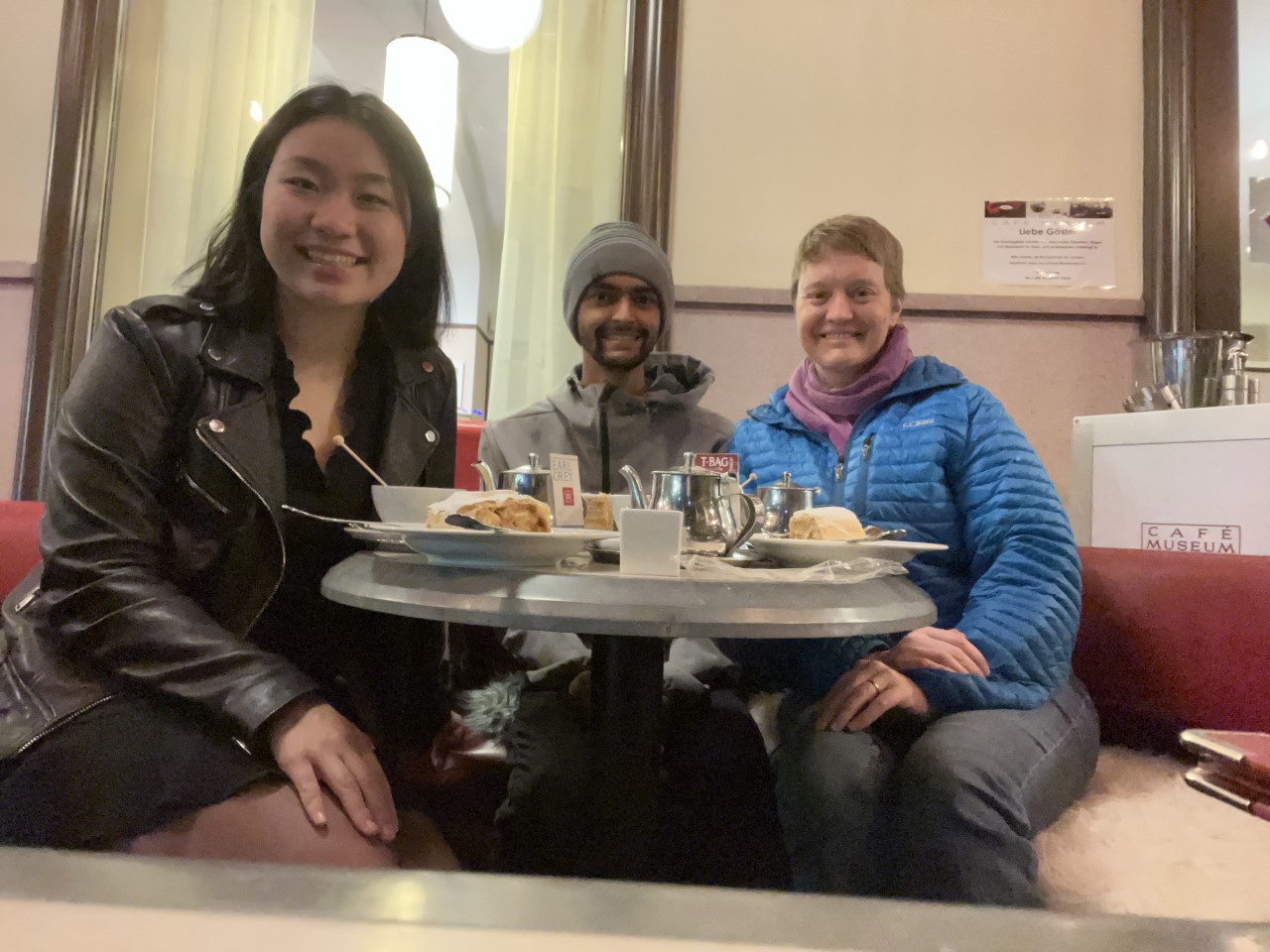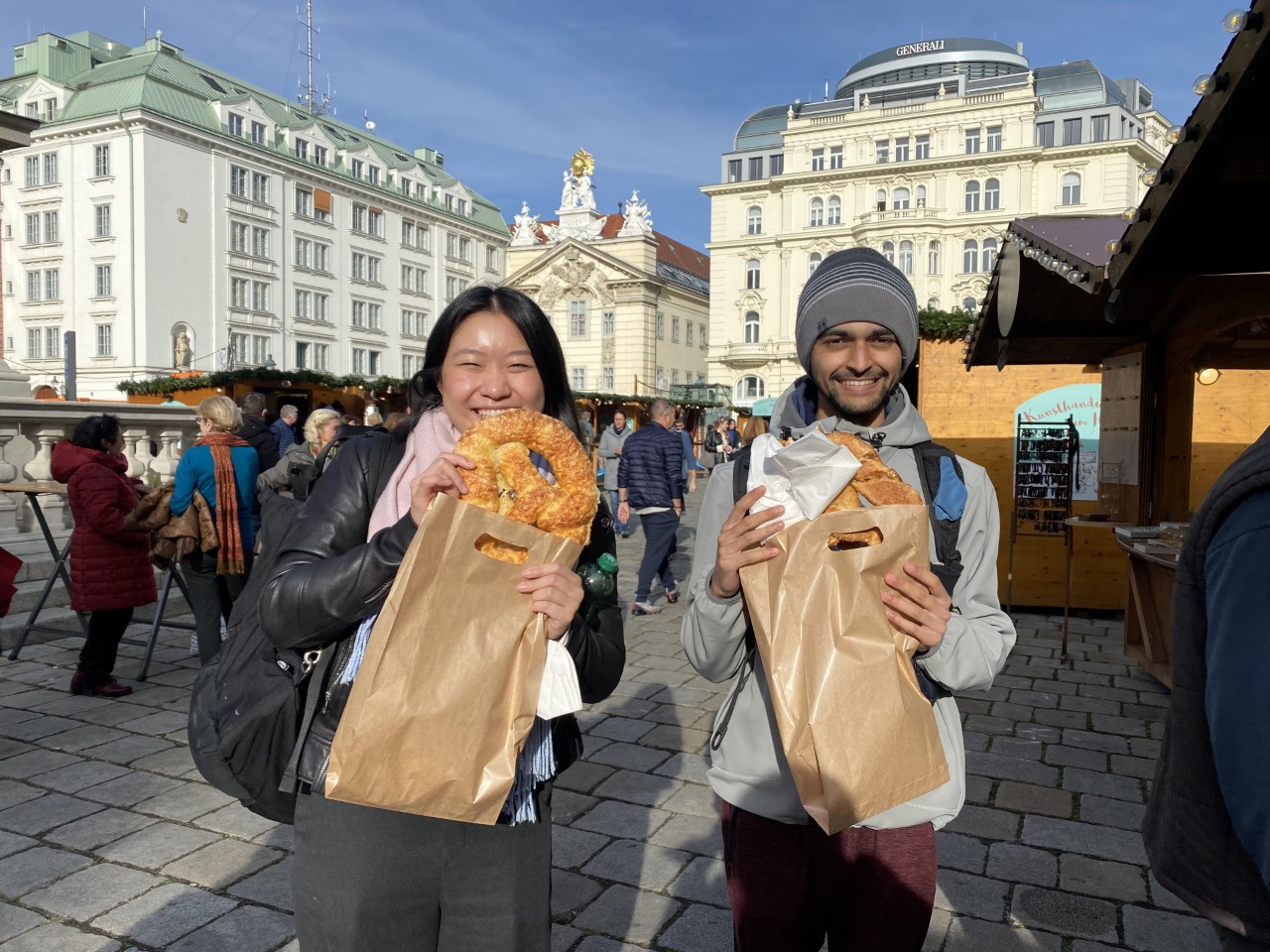 MtA Music students and alumni took part in the Halifax Summer Opera Festival production of Armide, August 11-14 at the Lillian Piercey Concert Hall. MtA performers included Clare Lowe ('25), Emma Yee ('24), Amanda Godin ('23), and Annika Williams ('23), as well as grads Mélanie Dupuis ('22) and Colin Frotten ('14).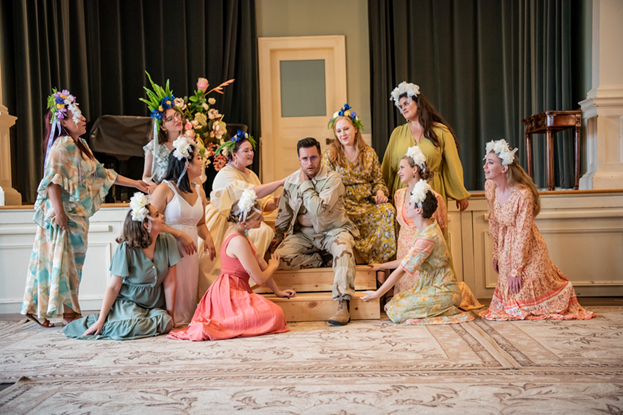 Student percussionist Manuel Obando Florez ('25) joined the Filarmonica Joven de Colombia for an orchestral residency with faculty members from the Mahler Chamber Orchestra and a European tour under the baton of conductor Andrés Orozco-Estrada, June 11–July 4, 2022. This exceptional group of young musicians — all under the age of 25, gathered from all regions of Columbia — presented concerts in Hamburg, Rostock, Cologne, Stuttgart, Freiburg, Mannheim, Vienna, Wiesbaden, the Rheingau Musikfestival, and Amsterdam.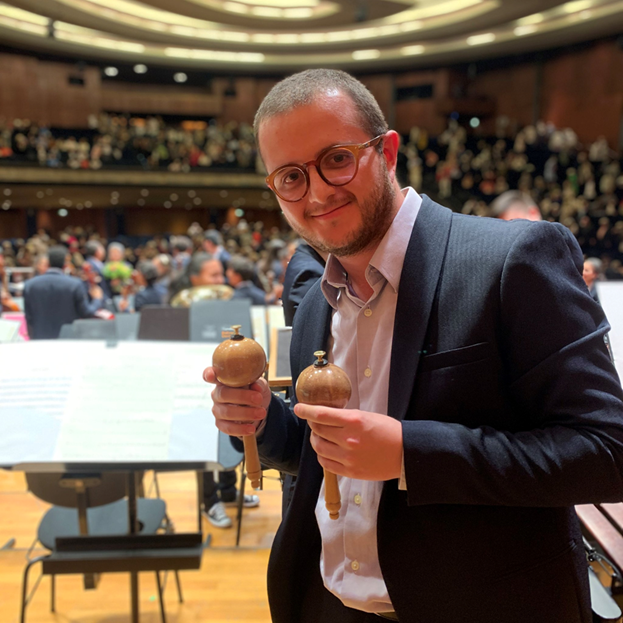 Prof. James Kalyn and Music students practice disassembling and cleaning a baritone saxophone. (Yes, they did put it back together again…)
More sessions to come!  
---
Faculty News
Monette Gould retires after 20 Years at Mount Allison
This month saw the retirement of soprano Monette Gould, who has taught voice in Mount Allison's Department of Music for 20 years. Born in New Brunswick, Monette pursued her education in Toronto and holds two performance diplomas, an A.R.C.T. and a Performance Licentiate, from The Royal Conservatory of Music, and an Opera Performance Diploma from the University of Toronto.
After completing her studies, Monette returned to New Brunswick to teach voice at Mount Allison University and l'Université de Moncton. Mount Allison awarded Monette the J.E.A. Crake Award for excellence in teaching, making her the first part-time faculty member to receive this honour.
In addition to Applied Voice lessons, Monette has taught courses such as Diction for Singers and Musicianship, and has given workshops on Stage Presence, How to Practice, Options in Music, and How to Set Up a Private Studio. She has also maintained a large private voice studio, preparing many high school singers to enter university music programs. Many of her students have excelled, continuing on to some of the best international graduate programs and winning prestigious awards, competitions, and scholarships. Monette is the founder and director of the well-known Voce dell'Anima Choir, and she continues to be in high demand as an adjudicator and clinician across the country.
During her performance career, Monette appeared in several opera productions and her roles included Fiordiligi in Mozart's Così fan tutte, the Countess in Mozart's Le nozze di Figaro, and Tatiana in Tchaikovsky's Eugene Onegin. In 1998, she appeared as Mimi in Opera New Brunswick's production of Puccini's La Bohème. Monette was a frequent performer on the stage of Brunton Auditorium, and collaborated with fellow MtA faculty including pianists Edmund Dawe, Lynn Johnson, David Rogosin, and Stephen Runge, organist Gayle h Martin, clarinetist Wesley Ferreira, trumpeter Alan Klaus, and most recently the Ventus Machina woodwind quintet.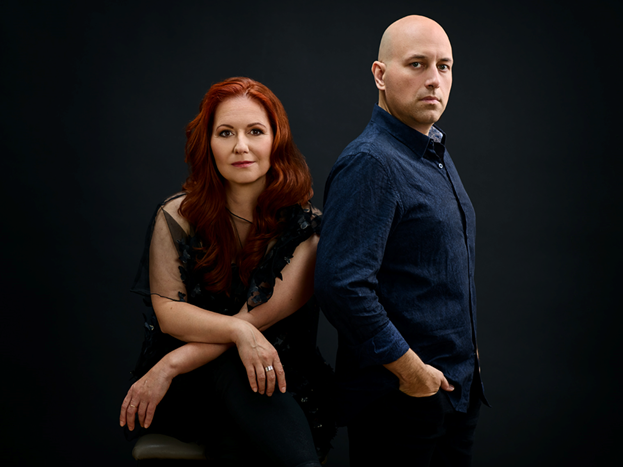 Christina Raphaëlle Haldane is thrilled to present Tu me voyais, her first record on Leaf Music, released on October 22, 2022.
Tu me voyais is the result of the collaboration between Christina and Carl Philippe Gionet, along with several other artists, writers, and composers who have contributed their own offerings. The album is anchored on Gionet's new arrangements of 12 Acadian folk songs, conceived for Christina's voice, and published as a songbook by Doberman-Yppan.
Full details of the new recording, and for the printed score of 12 Chanson folkloriques acadiennes. 
Established in 2019 and curated each year by MtA string instructor Nadia Francavilla, the NB Contemporary Music Festival highlights music from emerging and established women composers.The festival explores the intersections between classical, electronic, and other contemporary idioms, while providing a platform for diverse musical artists, dancers, and visual artists to come together in new creations and offer a distinctive and exclusive program.
In October 2022, the festival theme, Humans and Machines, explored how technology has dehumanized music and how we can work against this trend. The 2022 festival consisted of three concerts, post-concert Q&A sessions, lectures, and a panel discussion. Nadia was joined by some of very best of new music performers in the region: Carl Philippe Gionet (piano), Norman E. Adams (cello), Helen Pridmore (singer), Joël Cormier and Max Gallant (percussion), Richard Hornsby (clarinet), Marcia Dysart (dancer), with visuals by New Brunswick artist, Stephen Hutchings. The festival featured the music of Sophie Dupuis, Nicole Lizée, Ana Sokolović, Bekah Simms, Linda Catlin Smith, Alice Hong, and Jennifer Walshe.
The festival was made possible with funding from grants from Canada Council, ArtsNB, AIC (Arts in Communities), and the SOCAN Foundation.
Nadia also received a Documentation grant from ArtsNB, which made possible the Noisemakers series. This consists of short documentaries on important composers, primarily from New Brunswick, whose works shaped the world of Canadian new music. Each 10-minute documentary highlights a specific aspect of the composer's practice, through new interviews and new recordings of excerpts of their music.
Upcoming documentaries in 2022-23 are on New Brunswick composers Richard Gibson (b. 1953), André Cormier (b. 1969), and Jānis Kalninš (1904-2000), and Québec composer Nicole Lizée (b. 1973).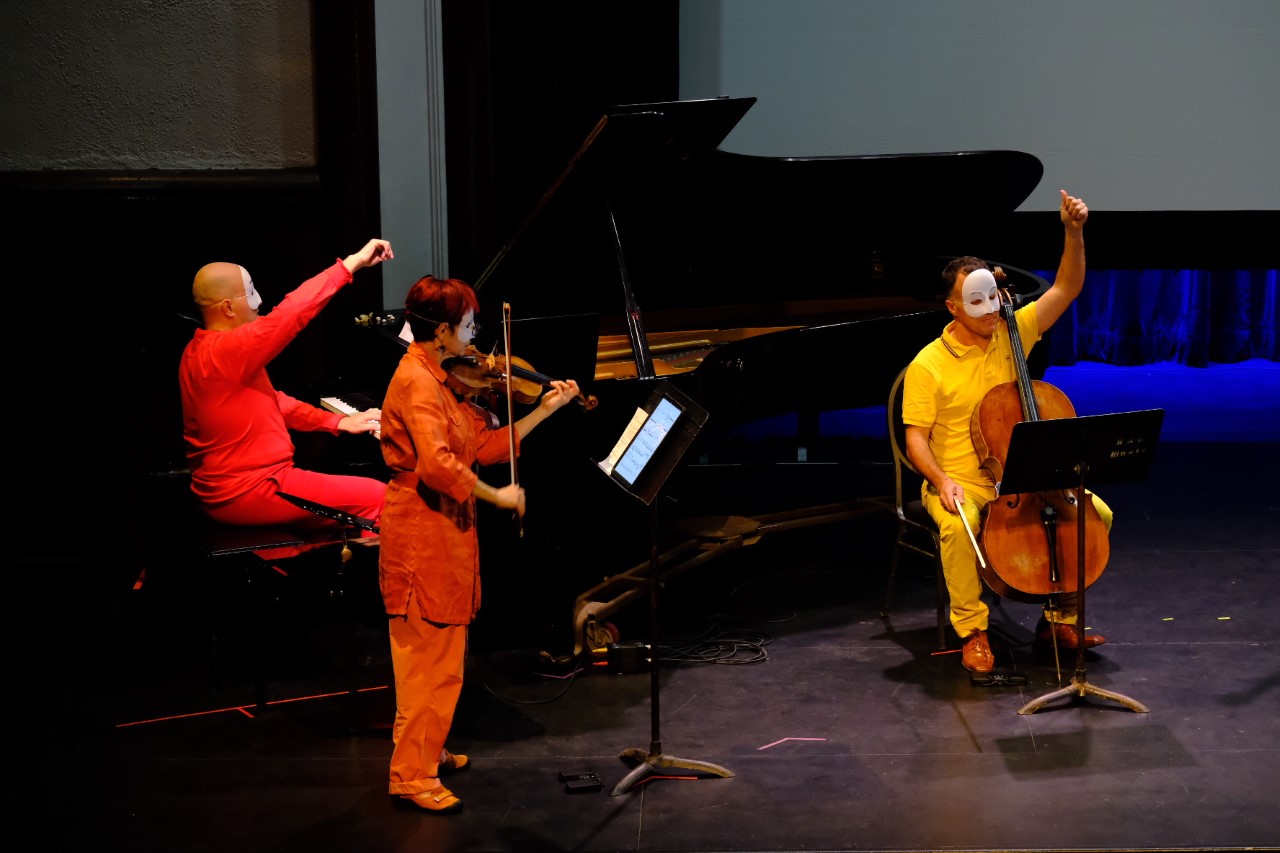 Faculty Publication
Elizabeth Wells' new book The Organized Academic has now been published and is available for purchase.  
---
Alumni News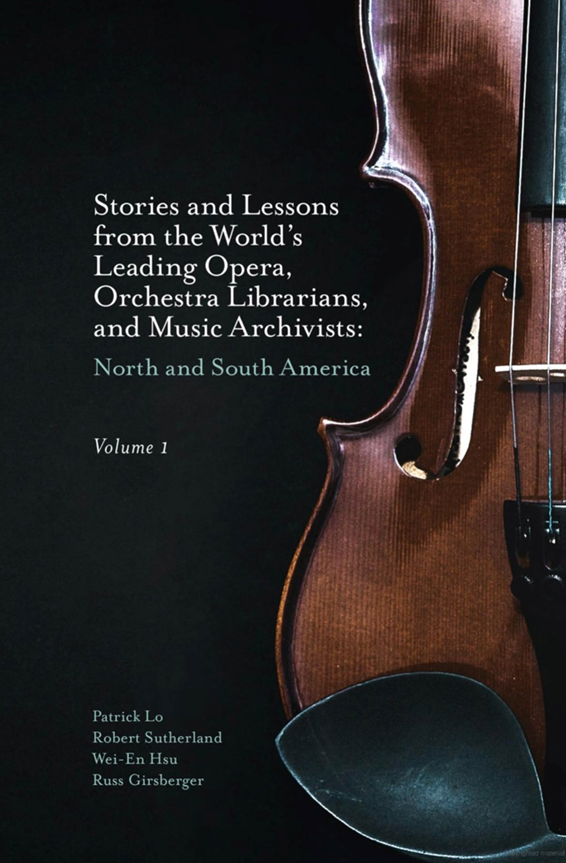 MtA Music grad Wayne Vogan ('72) has been featured in the recent publication Stories and Lessons from the World's Leading Opera, Orchestra Librarians, and Music Archivists, Volume 1: North and South America, authored by Patrick Lo (BFA '92), Robert Sutherland, Wei-En Hsu, and Russ Girsberger.
The volume explores current trends and practices in the field of music performance librarianship, with conversations from orchestra, opera, and ballet librarians, and archivists working for some of the world's leading performing arts and educational institutions. The interview with Wayne Vogan – Music Librarian for the Canadian Opera Company (COC) since 1993 – appears in Chapter 21.
Congratulations to MtA Music alumnus Scott Jones ('08) on the premiere of I Forgive You – a theatrical/musical work based on his own story. Scott was co-writer and conducted a children's chorus in this Artistic Fraud of Newfoundland production, which played August 25-27, 2022 at the St. John's Arts and Culture Centre. The production will also be presented at the National Arts Centre in Ottawa, March 1-11, 2023. You can hear an interview with Scott and CBC's Tom Power here.
(Photo credit: Artistic Fraud of Newfoundland)
Congratulations to the following Cape Breton Music teachers, all of whom are Mount Allison Music graduates, for receiving various awards this fall: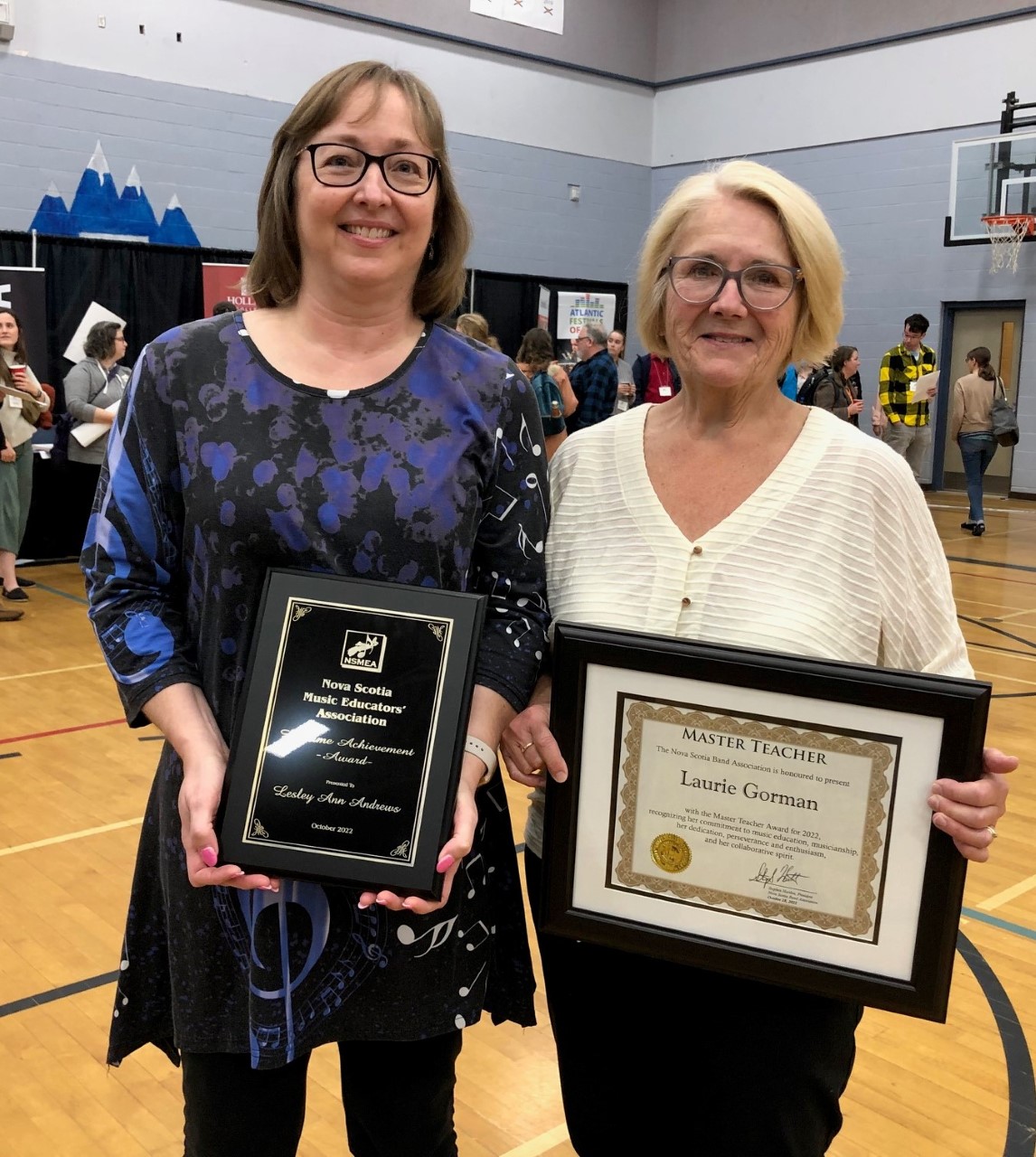 Lesley Ann Andrews ('89) received the NS Music Educator's Association's Lifetime Achievement Award. Laurie Gorman ('76) received the NS Band Association's Distinguished Band Director Award. These were both presented at the NSMEA's conference in October.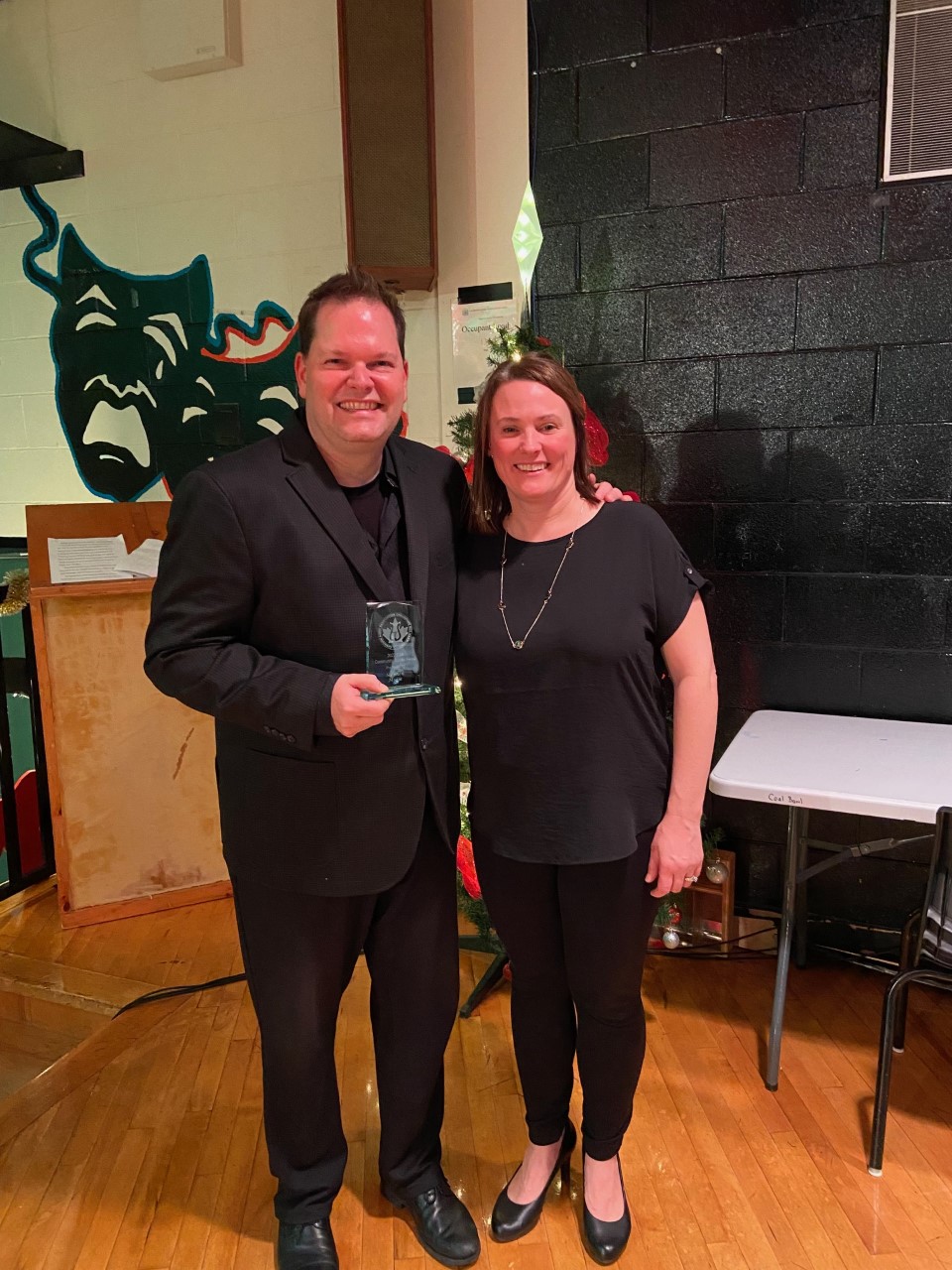 Stephen Muise ('94) received the Canadian Band Association's Community Builders Award. He was presented with the award by Keli Brewer at his school's December concert.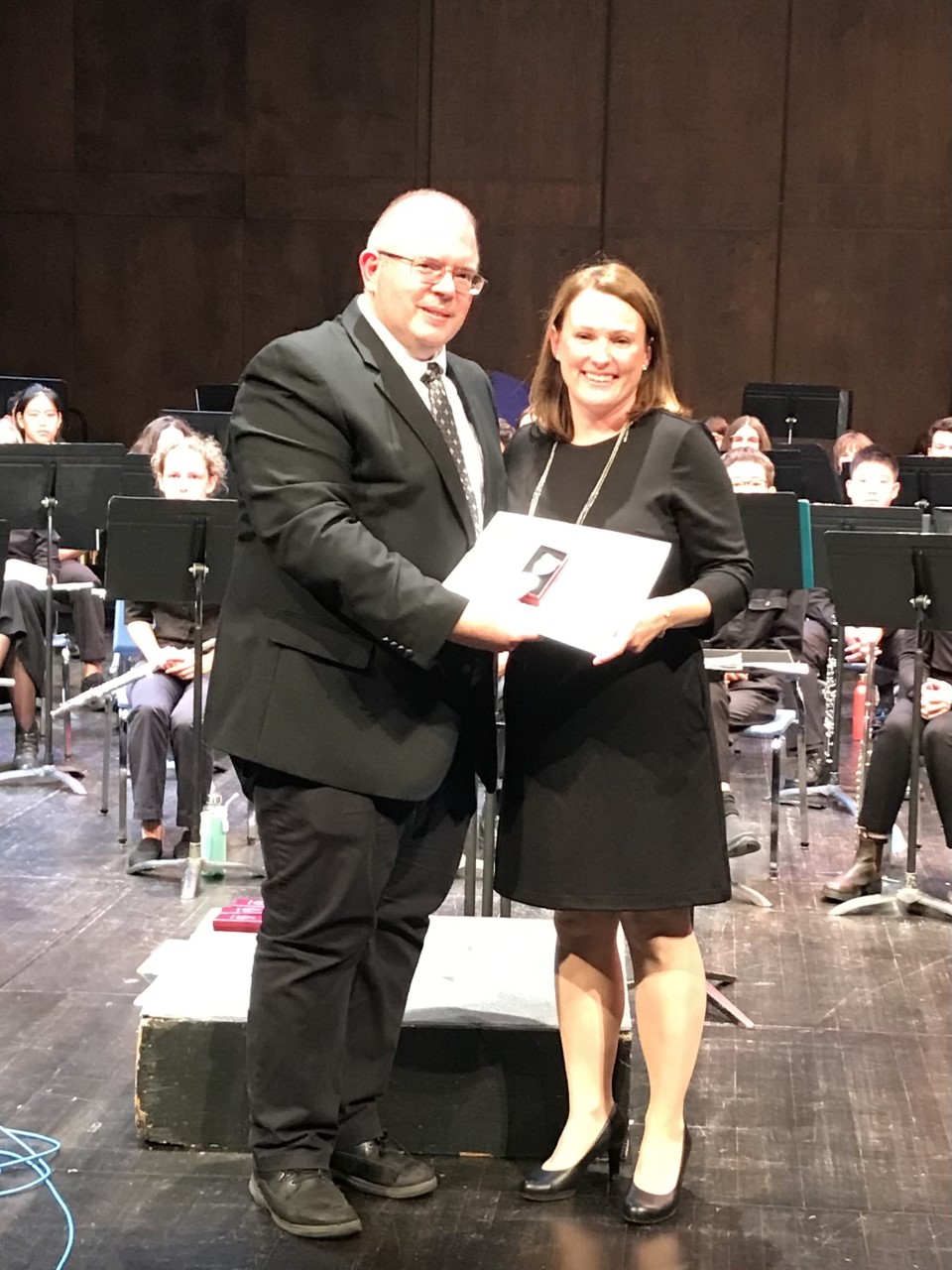 Keli Brewer ('97) received the Queen Elizabeth II Platinum Jubilee Award from the NS Band Association at a concert in October.
Mount Allison University and the Department of Music were well represented in the October performance of "Cantabile goes Classical," presented by the Cantabile Society of Truro, NS. The nine alumni involved in this choral concert were, from left to right, Marie (Hill) Braedley ('74, '76), Danielle Richard ('17), Linda (Smith) Giddens ('73), Chris Bowman, artistic director of Cantabile ('01), Wayne Rogers, guest organist ('71), John McElhiney ('60, '61), Elizabeth (Sollows) Campbell ('76), Alison (Smith) MacLean ('69), and Pam Steeves Bowman ('68).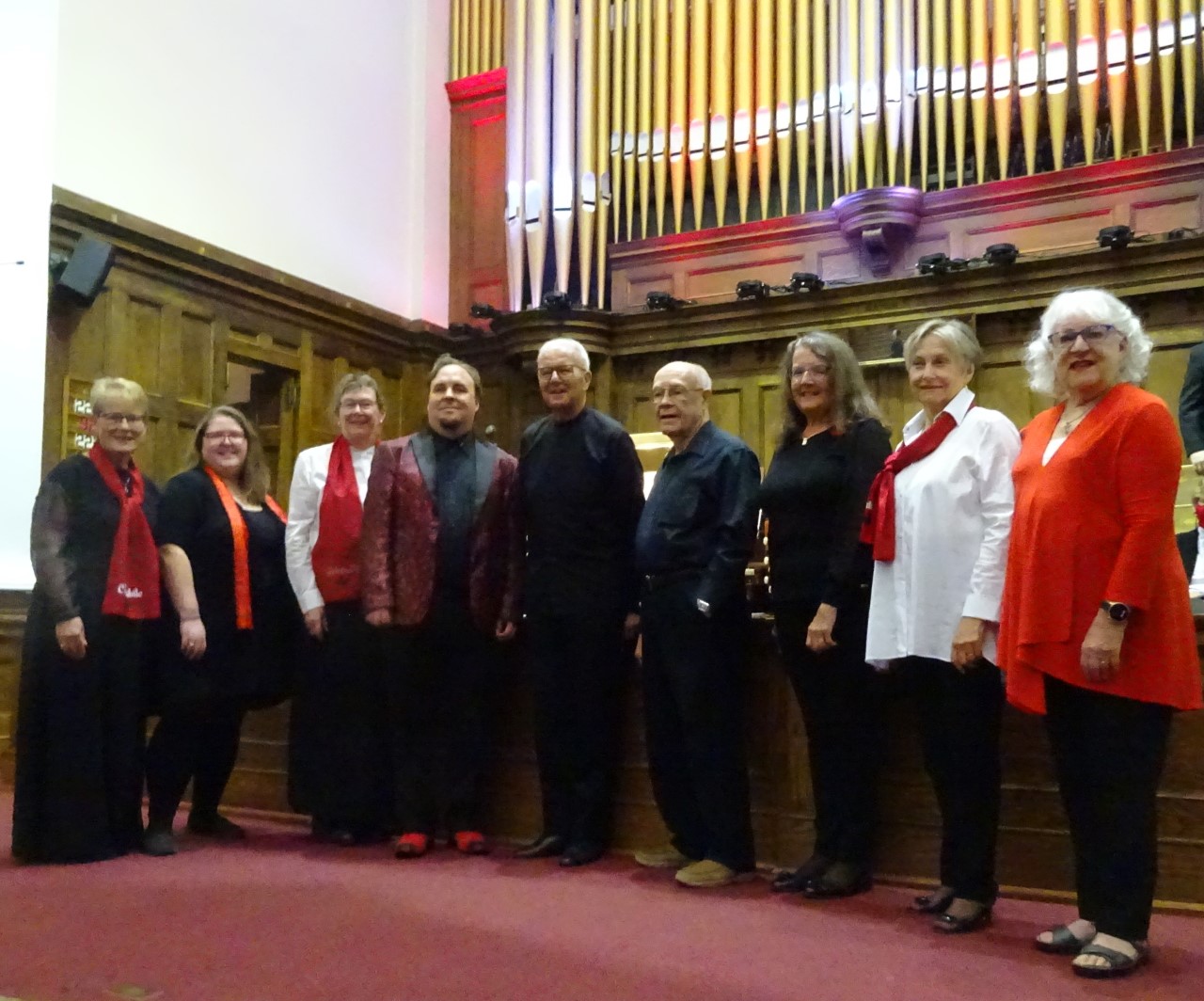 Congratulations to Presley Hynes ('16), one of the sound designers for Sony Santa Monica Studio's God of War Ragnarök. The game received the award for Best Audio Design at the recent 2022 Game Awards, which recognize creative and technical excellence in the global video game industry.
Monica Pearce ('06) had an album of her compositions, titled Textile Fantasies, released by the Centrediscs label on October 14, 2022. 
Dean Burry ('94), currently Assistant Professor at the Dan School of Drama and Music at Queens University, had a new work for orchestra premiered by the Kingston Symphony Orchestra in October. Titled Tracing Colville, the new piece is inspired by Canadian artist (and MtA Alumnus) Alex Colville's work as a war artist in World War II. The project website is: www.tracingcolville.com
Graham Kidd ('22) made his debut performing 2nd trombone with Symphony New Brunswick in September and is currently teaching at the Sistema NB centre in Saint John. 
---
In Memoriam
Renowned Canadian composer John Beckwith passed away after a brief illness earlier this month. Mount Allison presented Beckwith with an Honorary Doctor of Music (DMus) in 1974.  His last visit to Sackville was in September 2014. On that occasion, guitarist and Librarian Emeritus Peter Higham premiered a new work by Beckwith, Ut re mi fa sol la (six fantasies for solo guitar), which he had commissioned with the support of Mount Allison University's Marjorie Young Bell Fine Arts and Music Fund. See the CBC's article about John's life and achievements.
---
Other News
To mark the occasion of the 100th birthday of Canadian composer Robert Fleming (1921-76), his son Berkeley prepared this short piece for the Canadian Music Centre on his father's experiences as a burgeoning young composer during the Second World War.
Professor Emeritus of Sociology and a former Vice-President, Academic and Research, at Mount Allison, Prof. Fleming is currently writing what he hopes will be a definitive biography of his father. Prof. Fleming is also a long-time supporter of the Department of Music.
The Robert and Margaret Fleming Award for Music Composition Studies was established by the children and grandchildren of Robert Fleming in his memory, and to honour their mother and grandmother, Margaret Pound Fleming, poet and arts administrator. This award is given annually to a deserving composition student at Mount Allison. 
---
Keep in Touch!
The Department of Music appreciates the continued support of its Alumni. Please stay in touch with us and keep us posted on your news and accomplishments. We are on social media, and hope you will follow us on Facebook, Twitter, and Instagram.