Christina Haldane
Assistant Professor — Voice
---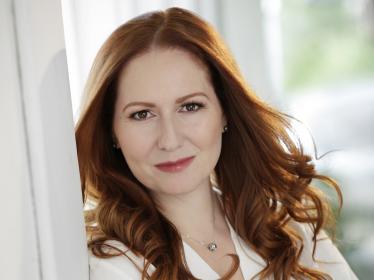 Christina Raphaëlle Haldane soprano has performed in the UK, Europe, Asia, and Canada, singing operatic lead roles, chamber music, orchestral concerts, and recitals. She specializes in Handel's heroines, comedic bel canto and contemporary opera and continues to collaborate with composers of our time to bring their vocal music to life. As an Assistant Professor she teaches applied voice lessons and academic courses in the field of vocal studies. 
Christina Raphaëlle Haldane (she/ her) soprano's career spans the UK, Europe, Asia and North America, and she is currently based in the Atlantic provinces. She has interpreted many lead opera roles, having performed for opera houses such as The Finnish National Opera, The Royal Opera Covent Garden, Scottish Opera and Musica Viva Hong Kong. Her specialism is performing HANDEL'S HEROINES, COMEDIC BEL CANTO roles and CONTEMPORARY opera. Christina enjoys performing and curating RECITAL and CHAMBER MUSIC concerts, and she is often invited to perform with LEADING ORCHESTRAS. Her exploration of contemporary music has led to many collaborations with composers, and she continues to bring their VOCAL WORKS TO LIFE. Christina is a bilingual English and French speaker with Acadian heritage, and she is proud to be a citizen of Canada and Great Britain.
She is thrilled to present Tu Me Voyais, her first record on Leaf Music set to be released on October 21, 2022. This album is the result of the collaboration between Christina and her cousin, interdisciplinary artist Carl Philippe Gionet, along with several other artists, writers, and composers who have contributed their own offerings. The album is anchored around Gionet's new arrangements of Twelve Acadian Folk Songs, tailored for Christina's voice. These re-imaginings are set in the 19th century lieder aesthetic or art song where voice and piano play equal solo parts within the musical architecture. This project is supported in part by ARTS NB, Music NB, Canada Council for the Arts and the Social Sciences and Humanities Research Council (SSHRC). 
Christina enjoyed some exciting creative activities and collaborations in the 2021/ 22 season. She was thrilled to have been selected as one of the season's 'EXPORT NB' artists, a prestigious career development initiative with MUSIC NB, in her home province of New Brunswick. Back on the operatic stage, she also created the role of Helen to critical acclaim, in the premiere performance of Michael Rose's musical opera A NORTHERN LIGHTS DREAM, for Toronto Operetta Theatre. 
As a recording artist, Christina released her critically acclaimed debut album '… LET ME EXPLAIN' (2019), a collection of Canadian art songs which explores folk, jazz and avant-garde styles. She was the lead artist for ICARE (2020), an interdisciplinary digital performance product produced through the Canada Council for the Arts Digital Innovation initiative, in partnership with CBC/ Radio Canada. 
Christina's operatic career began by performing comedic bel canto roles, with her debut as the iconic title role in Donizetti's LA FILLE DU RÉGIMENT for Swansea City Opera's 30+ date tour of the UK, a role she later reprised for Musica Viva Hong Kong. In the bel canto repertoire she went on to perform Clorinda in Rossini's LA CENERENTOLA for Iford Arts and Scottish Opera, and Adina in Donizetti's L'ELISIR D'AMORE for Musica Viva Hong Kong. 
Handel's heroines have provided Christina with many vocal and dramatic opportunities, especially in the roles he wrote for the great Italian diva Francesca Cuzzoni. Christina has performed Cleopatra in GIULIO CESARE for Finnish National Opera and the title role in RODELINDA for Opera in Concert Toronto, as well as curated a program of arias called 'CAPTURING CUZZONI' for Handel House in London, UK. She has also performed Solomon's Queen in Handel's SOLOMON with Kraków's acclaimed baroque orchestra Capella Cracoviensis. 
Christina has enjoyed a strong relationship with the Royal Opera Covent Garden. She performed the London premiere of Jonathan Dove's MINTERNE in the Crush Room recital space and the role of Rapunzel in their production of Sondheim's INTO THE WOODS. As a cover artist for the Royal Opera, Christina has been engaged as Fiorilla in Rossini's IL TURCO IN ITALIA, Sifare in Mozart's MITRIDATE, Nella in Puccini's GIANNI SCHICCHI and Silvia in Thomas Adès' bold opera THE EXTERMINATING ANGEL (also for the Salzburg Festival). Christina's performance of Silvia's aria was streamed to over 50 000 viewers in the ROYAL OPERA HOUSE INSIGHTS special on Adès' exciting new opera.
Other roles in Christina's repertoire include Pamina in Mozart's DIE ZAUBERFLÖTE (Cambridge Philharmonic), Vixen and Fox in Janáček's THE CUNNING LITTLE VIXEN (Oundle International Festival and Longborough Festival Opera), Mercedes in Bizet's CARMEN (Cambridge Philharmonic), Musetta in Puccini's LA BOHÈME (Minack Theatre Cornwall), Lucinda in Mendelssohn's DIE HOCHZEIT DES CAMACHO (Royal Liverpool Philharmonic and European Opera Centre), the title role in Handel's ALCINA (Hampstead Garden Opera) and Second Niece in Britten's PETER GRIMES (Cambridge Philharmonic). 
Christina is an active performer of Oratorio, and has been a soloist in works by HANDEL, MOZART, BACH, ROSSINI, HAYDN, PERGOLESI, BUXTEHUDE and MENDELSSOHN. 
Alongside her performance and teaching roles, Christina has begun to build an academic research portfolio. She presented conference papers, "Balancing Performing and Teaching Roles: The Voice of Classical Singers" and "When We Sing to Our City! Investigating University-level Psychological Wellness for Classical Singers in Community Engaged Performance" (third author) at the International Symposium on Performance Science in Reykjavík, Iceland (August 30 – September 2, 2017). Her first publication, "Balancing Performing and Teaching Roles: The Voice of Classical Singers" in Frontiers in Psychology: Performance Science was published in 2018, with a full fee waiver. Her thesis, a qualitative study of twelve boutique opera companies in Toronto, "Segmentation models for Arts Public Relations: Finding an Audience for Opera," combined her public relations and opera experience, and the findings were presented as a paper at the Association of Arts Administration Administrators online conference, NYC, NY (May, 2020). 
Christina strongly believes in mentoring the next generation of talented young singers, and has an international profile as a vocal educator, adjudicator, and master teacher. She is the head of the Atlantic division of Canada's national opera training program COSA, and is the co-president of the Canadian Atlantic Provinces National Association of Teachers of Singing (NATS) chapter. Christina is on the voice faculty at two masterclass programs, BIIMA – Breno Italy International Music Academy and Musique sur mer en Acadie, New Brunswick. She was on the Voice Faculty at Dalhousie's Fountain School of Performing Arts from 2019, and joined the team at Mount Allison's Department of Music in July, 2022, where she continues to combine performing with her love of teaching.
DMA, Voice Performance, University of Toronto, 2019
Diploma in Public Relations, Chartered Institute of Public Relations, London, UK, 2013
Post Graduate Vocal Training, Voice Performance, Guildhall School of Music and Drama, 2005
MMus, Voice Performance, Guildhall School of Music and Drama, 2004
Year of Study, Voice Performance, Jacobs School of Music, Indiana University, 2003
BMus, Voice Performance, University of Toronto, 2001
Applied Music (Voice)
Vocal Pedagogy
Performance, Opera | Chamber Music | Oratorio | Art Song, Voice, Voice Pedagogy, Arts Public Relations and Audience Building for Opera, Balancing Teaching and Performing Roles, Qualitative Research
Music Video, 'Why Think About Tomorrow' by Oscar Peterson, 2021
Digital Recital, Debut Atlantic, Carl Philippe Gionet, pianist, 2021
ICARE, Interdisciplinary digital performance project, Royal Society of Canada – Engaging Creativities: Art in the Pandemic, 2021
Let me explain … , debut album, 2019
Sheila K. Piercy Teaching Award, Fountain School of Performing Arts, 2022
Social Sciences and Humanities Research Council, Connection grant, 2022
Canada Council for the Arts – Concept to realization grant, 2022
Music NB – Music Industry Development, sound recording, 2021
Music NB – Music Industry Development, marketing and promotion, 2020, 2021 & 2022
Music NB – Music Industry Development, music video, 2020
Arts NB – Career development, professionalization and promotion, 2020, 2022
Arts NB – Creation grant, 2020
Canada Council for the Arts – Digital originals, 2020
Canada Council for the Arts – Concept to realization grant, 2018