---
About Orientation
We strive for Orientation to be a fun, welcoming, and inclusive experience for all new students.
The first week, the first month, and the first year represent the beginning of new friendships, the opportunity to evaluate and re-imagine one's identity, and a chance to take on greater independence and responsibility. Orientation is meant to introduce new students to all this and more.
The Orientation schedule is set up to keep students busy (but not too busy), to provide them with opportunities to socialize on their own terms, and to connect them with the people and information that will help to make their first year at Mount Allison (and beyond) a success.
Types of orientation for new students
Fall Orientation

All new students who start at Mount Allison in September are invited to arrive early (normally at the end of August) for Fall Orientation.

On-campus students move into residence in advance of upper year/returning students and enjoy 4-5 days of Orientation programming and activities before classes begin on the Tuesday after Labour Day.

Orientation is for off-campus students, too! All Orientation events and activities are fully open to all new students.

There is something for everyone!
Winter Orientation

All new students who start at Mount Allison in January are invited to take part in a 1-2 day Winter Orientation immediately prior to the start of classes.

Winter Orientation represents a condensed version of Fall Orientation.

Students will will meet and engage with other new students through welcome events, information sessions, and student and staff-led workshops.
International Orientation
Pre-Orientation for Meighen Centre students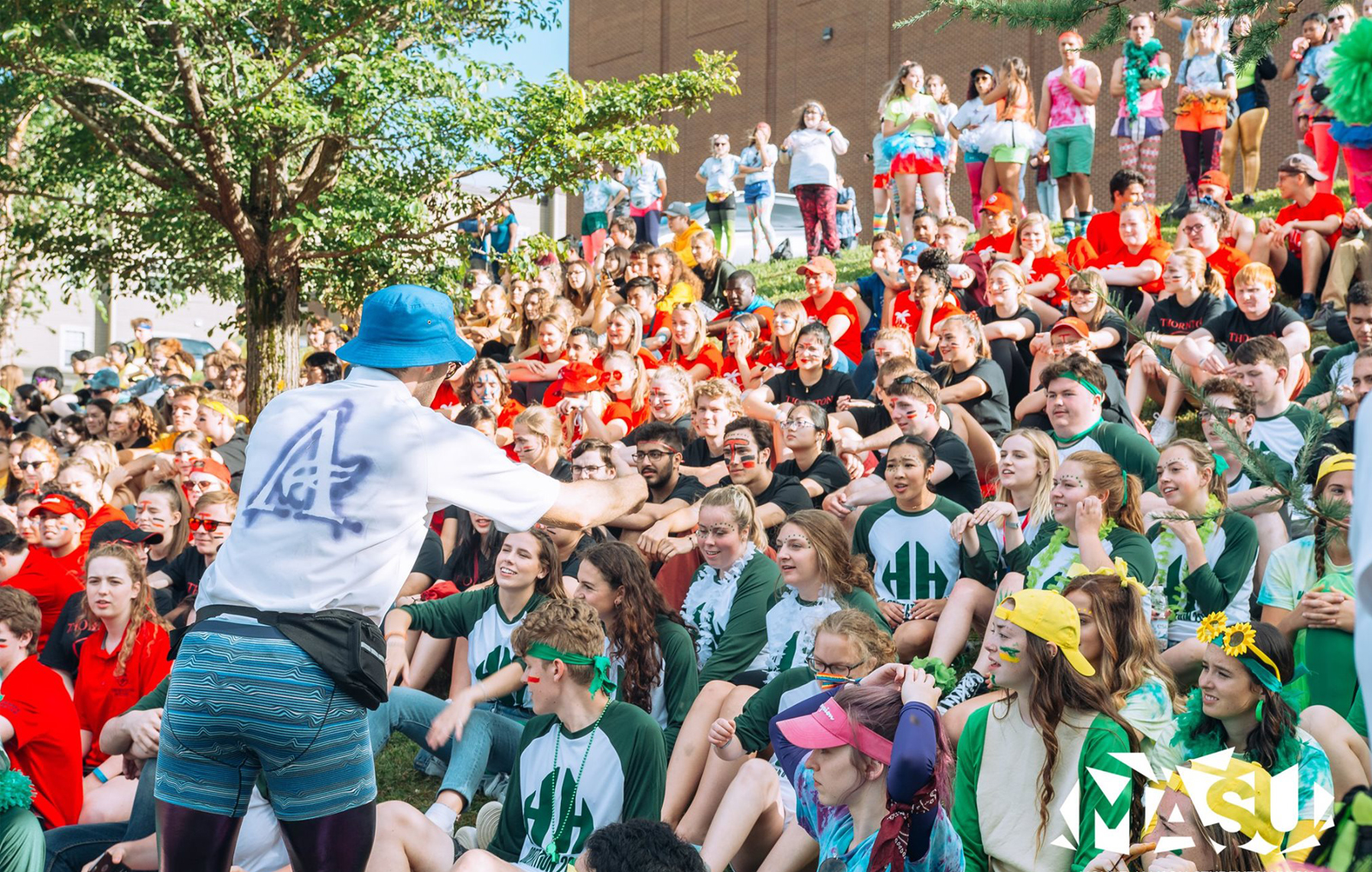 Orientation leaders and volunteers
The Orientation Chair and a team of more than 100 student volunteers (Orientation Committee + Orientation Crew) are committed to making the transition to life at Mount Allison as smooth and well-supported as possible.
Orientation Chair

Each year Mount Allison Student Life, along with the Mount Allison Students' Union (MASU), hire a student over the summer months to facilitate and organize Orientation activities for all incoming students.

This individual works closely with Student Life and other departments within our University to ensure an informative, safe, and fun first week for all students.

Interested in becoming the next Orientation Chair?

Term: March-Sept., Dec.-Jan.

Do you think you've got what it takes to co-ordinate multiple large-scale events for over 600 new students during Orientation Week? Do you have strong communication and organization skills? Are you able to work well under pressure? If you are up for this rewarding and challenging position, please consider applying!

This is a paid position which is overseen jointly by Mount Allison's Student Life Office and the Mount Allison Students' Union (MASU).

The Chair works with the Director of Student Life & International Services, the MASU President, and the MASU General Manager to plan and coordinate the details of University Orientation at the start of the fall and winter terms.

In March and April, the Chair coordinates the selection process of Orientation facilitators (e.g. Committee & Crew).

From May to September, the Chair is responsible for the planning coordination, and delivery of University Orientation in September.

In December and January, the Chair is responsible for planning and leading certain aspects of Winter Orientation.

Duties:

 Coordinate the selection process for Orientation Committee members (March)
 C

oordinate the selection process for Orientation Crew by (March-April)

 Work together with staff the MASU, Student Affairs, the International Orientation Chair, and the Meighen Centre Orientation Chair to plan, promote, coordinate, and lead a full schedule of virtual and in-person orientation activities for all new students.
In the event students are required to self-isolate at the beginning of the fall and/or winter terms, work as part of a wider team to develop and lead self-isolation programming for new students.
Work across departments and with internal and external stakeholders to bring in a cohesive approach to all Orientation-related preparations (e.g. First-Year Banquet, Academic Orientation, town of Sackville Corn Boil, Clubs & Societies Fair, Shine Day, etc.)
Communicate directly with new students about orientation plans (April-August)
Work with the MASU, Student Life, and the Admissions Office to coordinate communication with new students about orientation (April-August)

 P

repare, print, and distribute any other orientation-related information to new students.

 P

repare Orientation Welcome Packs for new students

Work with the MASU and student Life to arrange the logistics of all Orientation events (e.g. room bookings, audio-visual needs, internal/external contractors & service providers, etc)
Work with the MASU General Manager to prepare a detailed Orientation budget
maintain regular office hours from May to August
Work with the MASU and Student Life to plan and lead certain elements of Winter Orientation in January
Submit a Final Orientation Report to the MASU and Student Life by January 30. 
Orientation Committee

For University Orientation to be successful, the O-Chair relies upon Orientation Committee members to take on leadership and responsibility for different aspects of the Orientation schedule.

As such, Orientation Committee members are divided into the following five teams:

Entertainment
Spirit
Health & Wellness
Education & Awareness
Logistics & Programming

Orientation Committee members keep in touch with the O-Chair over the summer months and return early to get a head-start on planning in their areas.

Ideally, Orientation Committee member are people with past Orientation experience who have the time, energy, and team-first mentality to complement the planning and work of the O-Chair.

Orientation Committee members should be available from August 25-September 7.

Please note that you must be in Good Academic Standing to be considered for an Orientation Committee member position.
Orientation Crew

Orientation Crew members are integral to the success of Orientation. They arrive on campus after the committee members but before new students.

Where the O-Chair sets the course for Orientation and the committee members help with the planning/execution, the Crew members are the front-line/hands-on help.

They welcome new students and their families on Move-In Day, they help to prep, run, and clean up events, and they play a key role in pairing up to lead Orientation groups.

For new students, some of the first friendships made are with Orientation Crew members.

NOTE: Little in the way of advance prep over the summer is required. The only requirement is that you're fully available for the week of Orientation.

Please note that you must be in Good Academic Standing to be considered for an Orientation Crew member position.
International Orientation Chair

The International Orientation Chair is involved in the planning, coordination and delivery of MtA's International Orientation.

Interested in becoming the next International Orientation Chair?

This is a paid position, which begins with limited duties during the Winter term. Primary responsibilities will begin in early-August.

Specific duties include:

Coordinating the selection process for International Orientation Facilitators
Working with the International Student Advisor in the planning, coordination and delivery of virtual and in-person International Orientation programming
Collaborating with the university Orientation Chair and the Meighen Centre Orientation Chair to coordinate orientation activities for all new students.
Responding to incoming student email inquiries
Maintaining spreadsheets with registration and early arrival information
Assisting with the coordination of the airport pick-up service
Planning and leading International Orientation Facilitator training
Working in collaboration with Student Life, International Affairs & MASU in planning and implementing Winter Orientation
In the event students are required to self-isolate at the beginning of the fall and/or winter terms, work as part of a wider team to develop and lead self-isolation programming for new students
Preparing and submitting a final report to the International Student Advisor after the completion of International Orientation
Other duties as assigned

To be eligible for the position of International Orientation Chair, you must meet the following criteria:

Must have previously participated in International Orientation as a Facilitator
Must display excellent organizational, leadership, and communication skills
Event planning experience would be considered a strong asset