Convocation May 13-16, 2022
There will be several in-person Convocation ceremonies over Convocation Weekend for the Classes of 2020, 2021, and 2022.
Convocation ceremonies for the Class of 2022 will happen as scheduled, on Monday, May 16.
More details will be available in early 2022.
---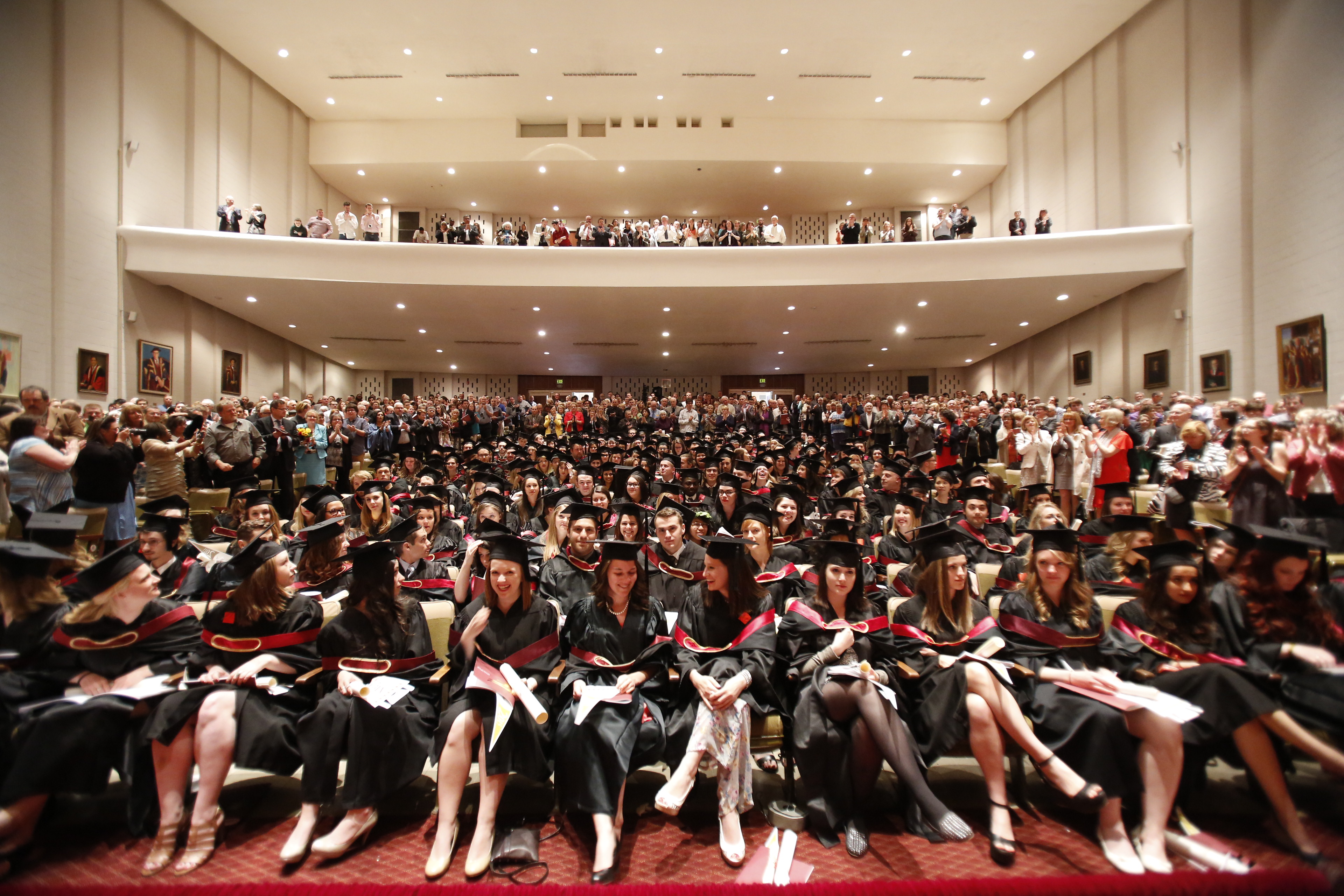 Ceremony information
Gowns and hoods
The Mount Allison academic hoods vary by colour according to degree. Gown rentals will be available at the Bookstore during Convocation Weekend.
Colour of hoods by degree

| Degree | hood colours |
| --- | --- |
| Arts | Edged with garnet silk with gold silk ornamentation |
| Science | Edged with old gold |
| Commerce | Edged with light grey |
| Music | Edged with royal blue |
| Fine Arts | Edged with green with orange ornamentation |
When do I wear caps, gowns, and hoods?

Baccalaureate service: caps and gowns are required
Convocation ceremony: caps, gowns, and hoods are required
Convocation tickets
Each graduating student has four reserved tickets for their Convocation ceremony. Tickets must be picked up when you collect your gown rental at the Bookstore during Convocation Weekend.
What if I can't pick up my tickets in time?

If special circumstances prevent you from picking up your reserved tickets, please email graduation@mta.ca or call (506) 364-2269.

Otherwise any tickets not picked up by 4 p.m. on Sunday will be distributed on a first come first served basis at Convocation Hall on Convocation Day.
I need extra tickets.

You may request extra tickets for Convocation*.

The form to order extra tickets opens in April.

Depending on the number of requests, it should be possible to give each student who requests extra tickets at least one extra ticket.

Additional tickets will be distributed one at a time in order of priority based on the date of the request until all extra tickets have been distributed.

It may not be possible to give you all the extra tickets you have requested.

Students who have requested extra tickets can confirm the number of tickets they will be eligible to receive by emailing graduation@mta.ca.

*Please do not request extra tickets via email
Special needs services
Any student or guest who requires wheelchair accommodations or who has other special needs in Convocation Hall, please email conferences@mta.ca before Convocation Day.
Diploma framing
Immediately following the Convocation ceremonies, you'll have the opportunity to purchase diploma frames especially designed for Mount Allison graduates — each matting option is emblazoned with the University crest and frames are made to fit and complement the Mount Allison diploma.