Host your next event at one of Canada's most beautiful campuses.
Mount Allison Conference and Event Services offers exceptional conference facilities and accommodations for groups of all sizes.
A variety of unique venues with full service conference support are available. Hosting your next conference or event here gives you access to all of the amenities that make Mount Allison one of the leading learning institutions in the country.
Our conference facilities can handle groups of anywhere from 5 to 1,400 and our team can help with registration, programming, catering, and more.
Whether you're planning a wedding, youth camp, or company retreat, let us help you make your event one your guests won't forget!
Contact us at conferences@mta.ca or (506) 364-2251.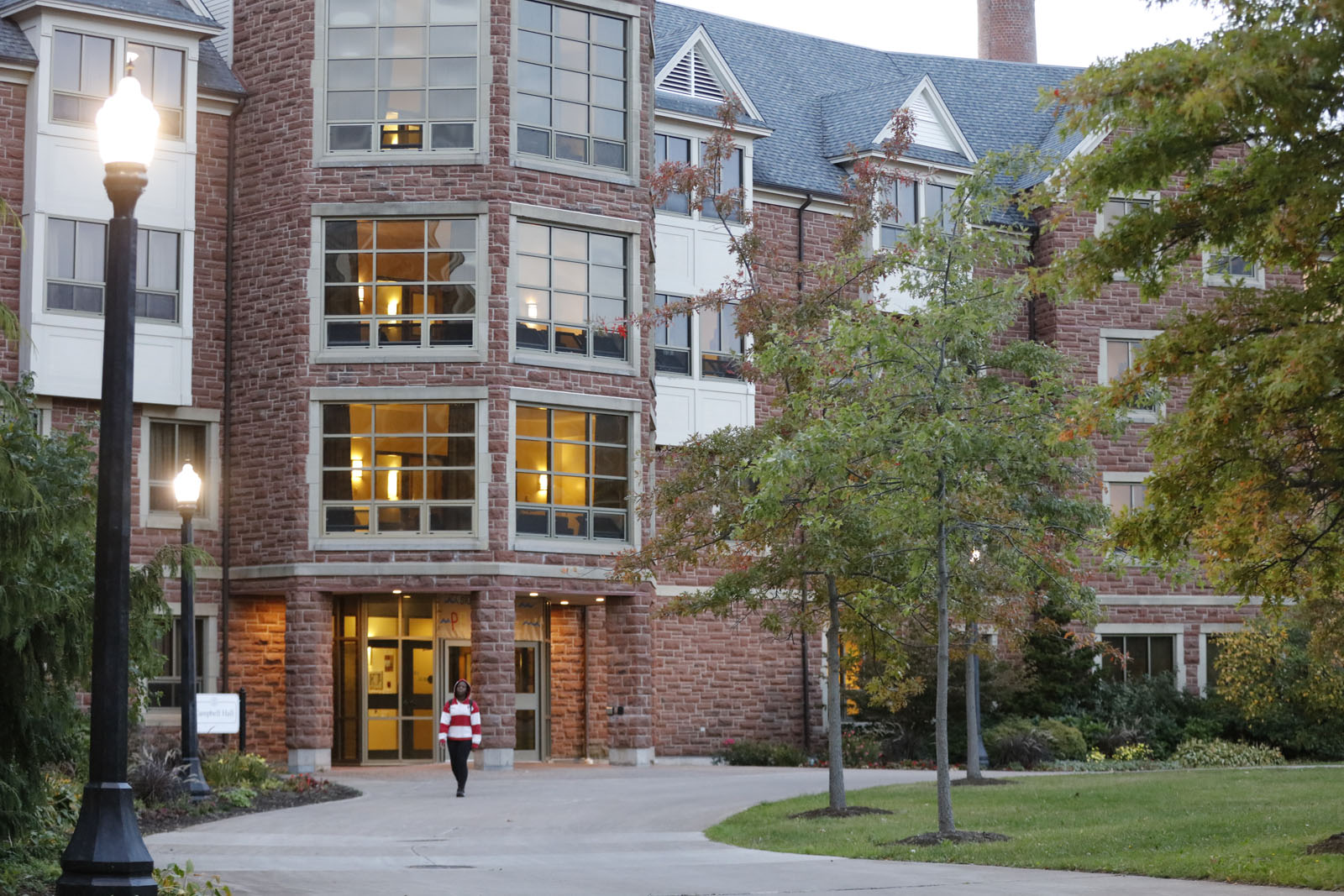 Services and amenities
Complimentary parking
Full WiFi access across campus
Audiovisual support
Registration and conference management services
Full service dining and catering options
Bar services and campus pub
Chapel and wedding planning services
On-campus print and support services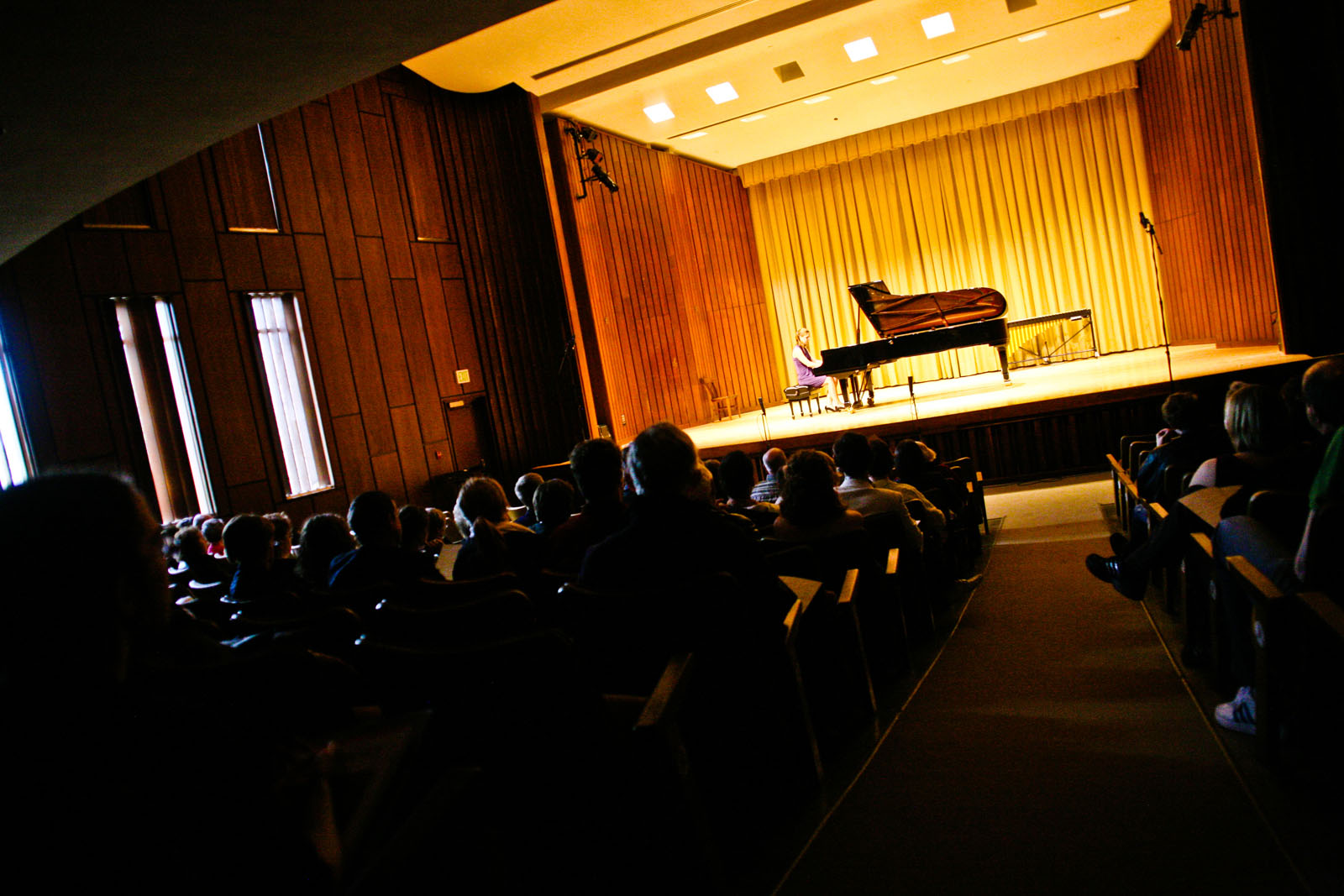 Campus facilities
Auditoriums
Concert halls
Meeting rooms
Fitness centre
Gymnasium
Pool
Turf athletics field
Grass athletics fields
Tennis courts
Landscaped gardens and green spaces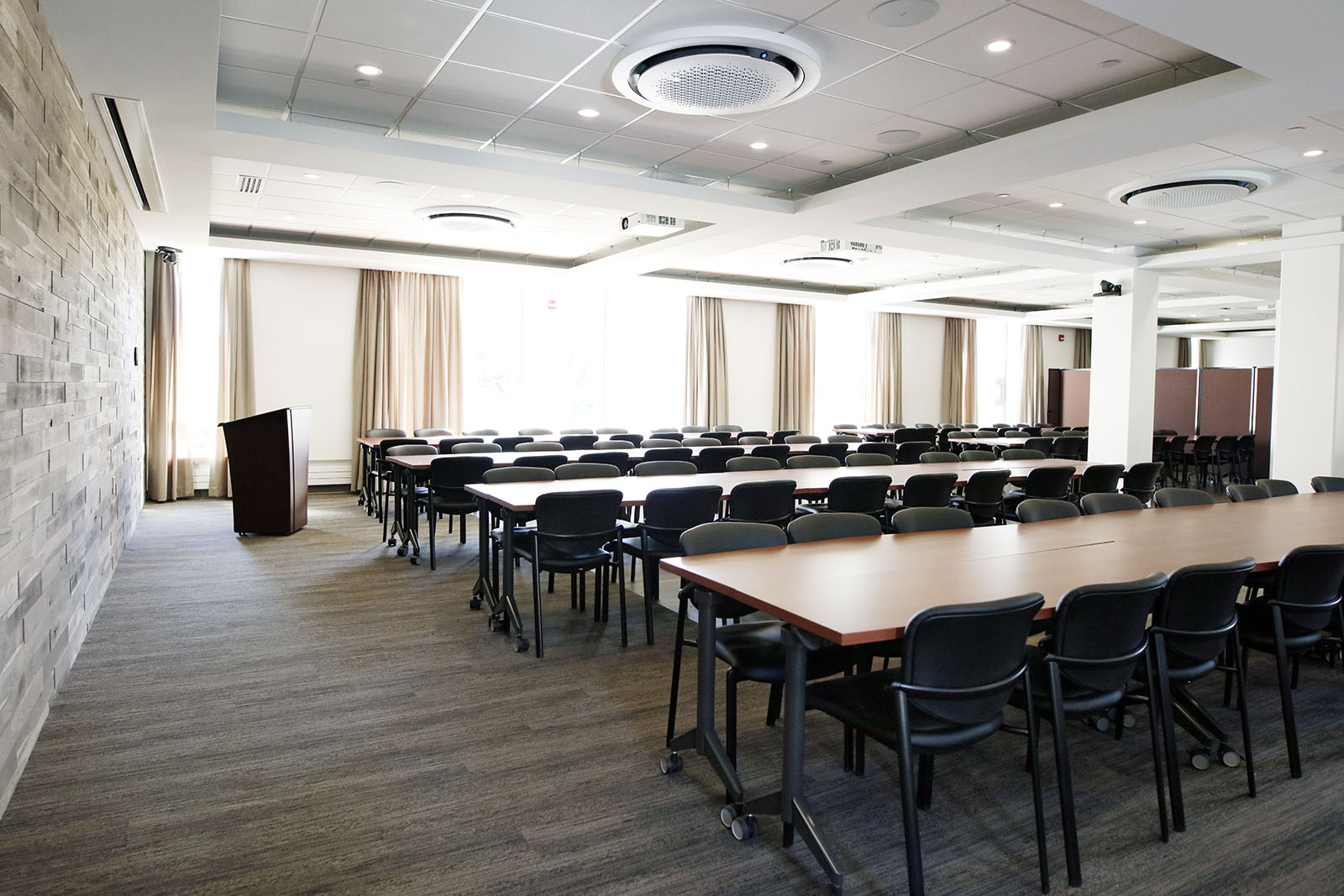 Meeting rooms
We offer a range of meeting rooms to suit your needs. Dimensions, capacity, and other specifications about popular meeting rooms are listed below. Details about other space is available upon request.
Room specifications

Room
Dimensions
Capacity
# of outlets
Tweedie Hall
(Wallace McCain Student Centre)
55.3'x44.7'
Height: 20'
2,200 sq. ft.
Movable tables/chairs
150
9
Owens Art Gallery Foyer
41' x 34'
Height: 9'
1,167 sq. ft.
Movable tables/chairs
200
3
Hammond Lounge (Bermuda House)
28.7' x 38'
Height: 13'
1,090 sq. ft.
Movable tables/chairs
80
9
Convocation Hall
107' x 90'
Height: 45'
8,100 sq. ft.
Fixed seating
1,500
N/A
Convocation Hall stage
39' x 92'
Height: 30'
2,800 sq. ft.
Movable tables/chairs
 
173
N/A
Brunton Auditorium (MYB Conservatory of Music)
65' x 41'
Height: 9'
2,750 sq. ft.
Fixed seating
314
2
Brunton Auditorium stage
32' x 45'
Movable tables/chairs
N/A
N/A
Crabtree Auditorium
54' x 53'
Height: 11'
2,600 sq. ft.
Fixed seating
228
6
Manning Room
(University Chapel)
Multi-dimensional
Height: 9'
1,649 sq. ft.
Movable tables/chairs
75
5
Jennings Hall
84.3' x 92.5'
Height: 20.2'
7,798 sq. ft.
Movable tables/chairs
600
8
Meeting room layouts

Many of our classrooms and lecture halls can be customized with seating that complements your group's purpose and needs. Below are some popular set ups that we would be happy to arrange for your event.

Helpful hints when choosing a room layout

Give people room to shift comfortably without disturbing others.
Consider factors like aisle widths, distance between rows of chairs, and location of seating in relation to room exits.
Ensure good sight lines for entire group.
Consider the objective of the session. Is it okay to just sit and listen? Ask questions? Take notes? Engage in dialogue with the presenter? With other participants? Does the presenter need room to roam?
Avoid the "bowling alley" effect of many rows extending back into the distance. With any group larger than 100, stage the speaker or head table on the long side of the room, rather than the narrow end; attendees will be closest to the presenter.
Provide Conference staff with good detail on how you want each room arranged. Then arrive early to ensure that the set up is as you requested.

Examples of room layouts

 

Banquet

Mount Allison round tables can seat eight people.

 

Boardroom

Good for participatory meetings of 22 people or fewer, as eye-to-eye contact disappears if there are more.

 

 

Classroom

This arrangement is often called schoolroom style because of its convenience for note-takers.

 

Hollow square

A very popular configuration, often used when participants require a lot of interactive discussion.

 

 

Hexagon

Hexagon shape is a desirable variation of the hollow square configuration because it dramatically improves eye-to-eye contact for small groups where interaction is a factor.

 

Receptions

Receptions for large groups of people are often organized with bars and food stations. A food station is best in the centre of the room, not in the corners (especially if that is where the bars are).

 

 

T-shape

An arrangement for small discussion groups where a chairman or moderator sits at the head. The centre row can be double tables if more space is required for note taking.

 

Theatre Style

This is the usual set-up for large sessions where attendees listen more than participate. For any group larger than 100, you need an aisle, plus side access. For big convention sessions, it's best to have at least two wide aisles. Generally try to avoid a centre aisle, which causes the speaker to look down a chasm.

 

 

U-shape

Good for relatively small groups where attendees are expected to participate. The speaker or leader usually works for the open end of the U, though a chairman or "committee" is best at the closed end. Chairs can also be placed inside the horseshoe.

 

E-shape

E-shape is a variation of the U-shape to accommodate more people. Leave ample space in the centre for people to move. You need a surprisingly large room to accommodate this layout. It often results in much neck-stretching (although people at the centre table can angle themselves towards the front of the room).
Conference support

The following services are available to support your event:

Head technician assistance: ($40/hour + applicable taxes)
Student technician assistance: ($20/hour + applicable taxes)
Photocopying: 15 cents/page
Dining, catering, and bar services
Our award-wining dining hall offers fresh, convenient and affordable meal options. From buffet style to catered meals, we can help create a menu that complements your event.
Food Services provides private dining facilities for parties from ten to several hundred in many styles of services: waited, buffet, cafeteria, and formal banquets. Constant supervision by our trained staff ensures personal attention to the selection, preparation, and serving of foods.
Contact the conference manager at conferences@mta.ca to for menu ideas and pricing, as well as to select a menu and plan for catering services.
Banquet room amenities

There are public address systems (cost associated with set up), extra chairs, and head tables available for your use in our banquet rooms.

If your program requires any of these items, please make advance arrangements.

Candles, linens, flowers, and other special accessories can be made available through for an additional charge.
Bar services

Bar services are available for your conference or event.

Cash bar

All products used are billed at cost (i.e. alcohol, mix, cups, staff, ice, delivery).

Plus: overhead (40%) and applicable taxes.

Subtract sales from total cost. There will only be an invoice if sales are less than the cost.

Hosted bar

Fees are calculated in the same way as for the cash bar, plus 15% gratuity based on alcohol and mix costs.

Event Services Staff

All bars outside The Pond, Mount Allison's campus pub, require that student Event Services Staff are in attendance as event security. They are also available for other events on request.

The group will be billed for their use at $20 per hour per officer.
Tips for planning your event

To ensure your satisfaction:

Check the availability of a room at the earliest date possible. This should be completed prior to discussing food arrangements.
Make the room reservation and discuss your special needs concerning room arrangements, public address systems, and head tables.
Plan the menu and make your catering arrangements with the conference manager as far in advance as possible.
Give your guaranteed number of meal service to the conference manager 72 hours (three working days) prior to the date of your function.
Fees and cancellations

A guaranteed number for meal service is the number submitted as your final estimate to be served at a particular function. The number must be given to the conference manager 72 hours prior to the date of your function. You will be billed for the number guaranteed, or the actual number if the guarantee is exceeded.

There will be an additional labour charge for banquets that run over two hours from the agreed starting time.

Cancellations must be made 72 hours prior to the event. Any expenses incurred up to that time will be the customer's responsibility.

All prices are listed on a per person basis and subject to HST. A 50 per cent deposit may be required 72 hours prior to the date of your function.

Parties of less than 15 people are subject to a 20 per cent surcharge.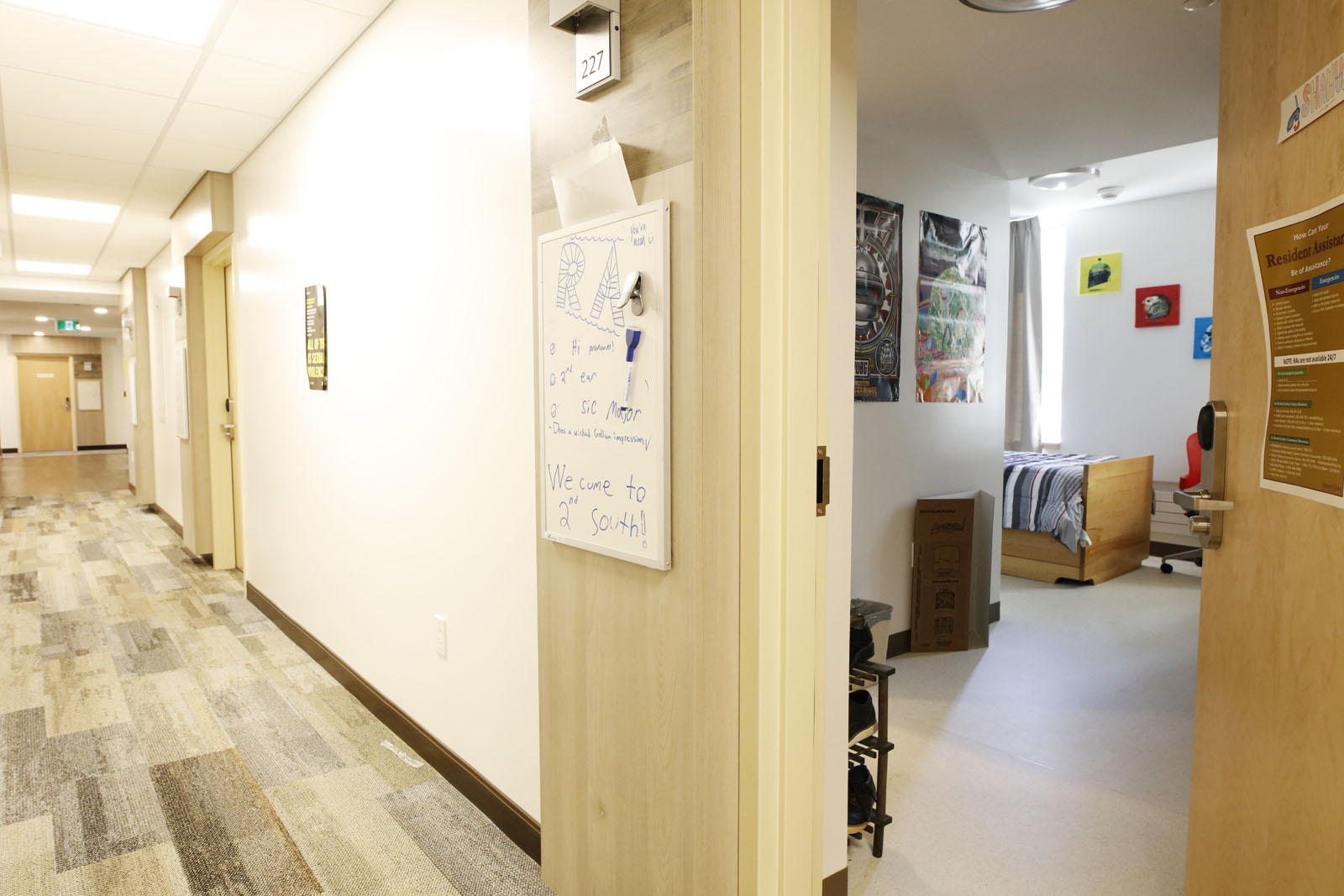 On-campus accommodations in our newly renovated residences offer guests a variety of room styles, from single style rooms to ensuite rooms with private bathrooms.
Contact us
---
Summer Accommodations Office
Conference and Events Office