Mount Allison University supports and promotes responsible choices surrounding the consumption of alcohol and cannabis.
We want to reduce the harms associated with alcohol and other substance use so work to develop strategies, policies, and best practices surrounding harms reduction.
Find out more below about how to reduce your risk.
BRAVE SPACE — SAFE & SOBER
If you're a student who struggles with alcohol or drugs and wants to stay sober, the Mawita'mkw Indigenous Gathering Space (WMSC Room 130) welcomes ALL students to Brave Space.
If you're feeling lonely, need to have a chat, feel stressed out, or need a change of scenery, a diverse group of students will be at the centre during open hours. Coffee and snacks are available.
Our team at the Wellness Centre can also support you. For more information, please contact wellness@mta.ca.
---
Alcohol
Tips for responsible drinking
Eat before and while you are drinking
Drink water in between alcoholic drinks
Slow down — do not have more than two drinks in three hours
Engage in other activities — playing pool, darts, dancing, etc. will naturally slow you down
Set limits and stick to them
Supports
Keep it Social

Keep it Social (https://keepitsocial.ca/) is a student-led nationwide campaign that raises awareness around alcohol harms reduction, education and awareness.
Post-secondary Education Partnership — Alcohol Harms (PEP-AH)

PEP-AH (https://pepah.ca/home/) is a network of universities and colleges from across Canada that have partnered with the Canadian Centre on Substance Use and Addiction to support nation-wide campus efforts to reduce the harms related to alcohol consumption. Mount Allison University is part of this partnership.
Resources
Gambling Hotline:  1-800-461-1234
Alcoholics Anonymous: 1-506-388-7010
Narcotics Anonymous: 1-888-436-2929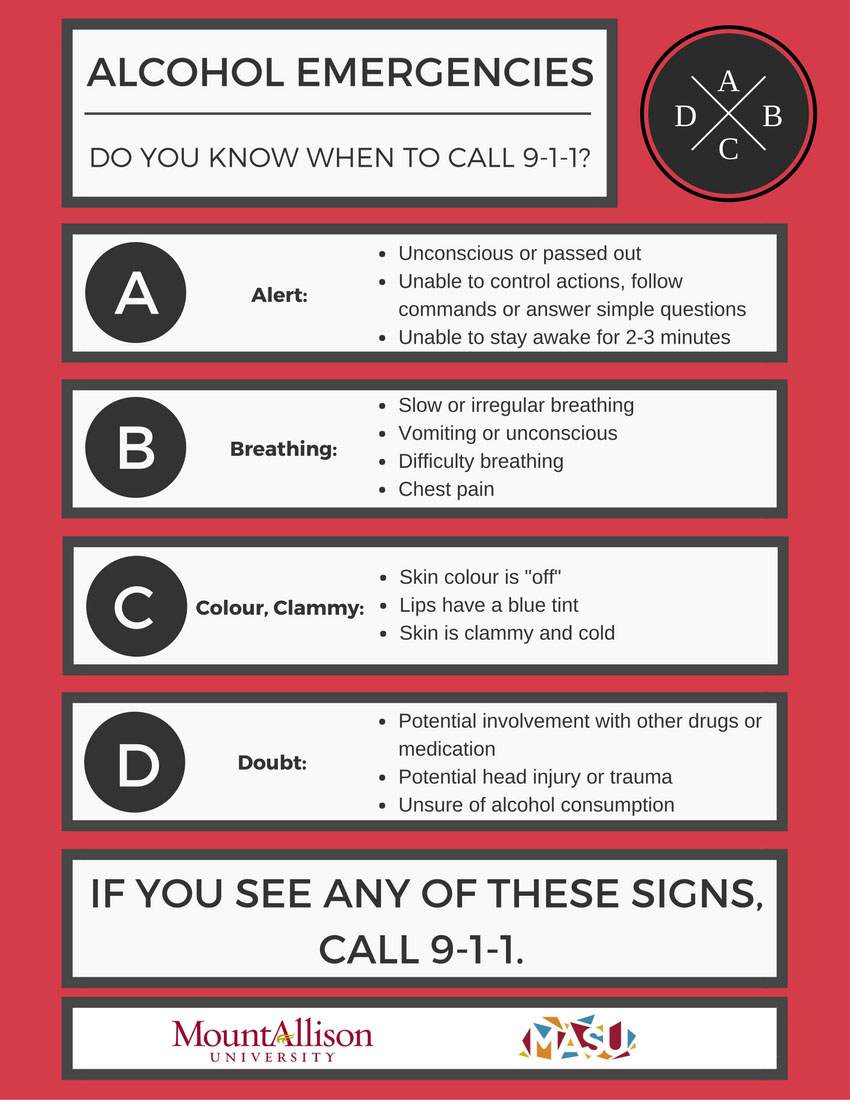 ---
Cannabis
Cannabis became legalized in Canada on Oct. 17, 2018.
The Residence Life Code of Conduct and the Student Code of Conduct outline what is permitted on campus.
About cannabis
Cannabis, or marijuana, is a product of the cannabis plant. It contains approximately 400 different chemicals. One of the main active chemicals in cannabis is THC (delta-9 tetrahydrocannabinol) which affects the brain most. THC is a mind-altering chemical that gives those who use cannabis a 'high'. Another active chemical in cannabis is CBD (cannabidiol) which is presently being researched for medical purposes.
Potential health risks
Problems with thinking, memory, or physical co-ordination
Impaired perceptions or hallucinations
Fatal and non-fatal injuries, including those from motor-vehicle accidents, due to impairment
Mental health problems and cannabis dependence
Chronic respiratory or lung problems
Reproductive problems
(Extracted from Canada's Lower-Risk Cannabis Use Guidelines)
Tips to reduce harm
Take it slow
Choose lower THC products
Avoid smoking burnt cannabis — choose safer methods
Plan for a sober driver
Avoid if you have a personal or family history of mental illness, especially schizophrenia, substance use disorder, and/or if you're pregnant
Postpone use until later years (25 years old and up)
Not too much, not too often
Stay hydrated (water or juice)
Online resources
The following resources help educate on cannabis use with a harm-reduction approach and help in making informed decisions.