Professional development and workplace skills
The Elevate Program is an RBC-funded 21st-century skills in the workplace-based program that develops your skills to make you more successful for life during and after Mount Allison.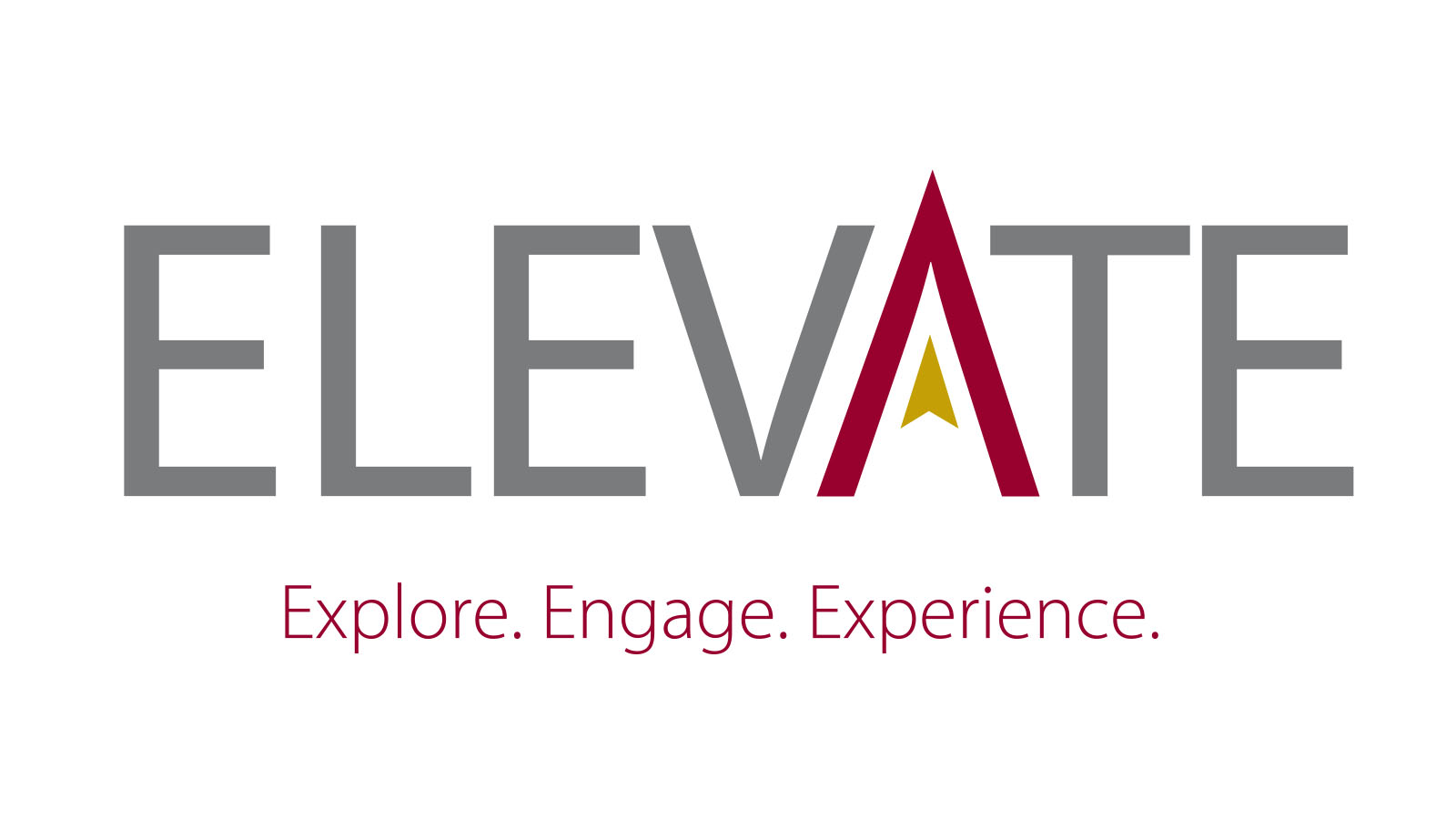 With a variety of pre-professional, skills-based workshops, that have been restructured to cater to the needs of our evolving world, including cultural competency, digital skills, financial literacy, and communications. 
---
The Elevate Program 2022-23
The Elevate Program is designed to help all students be more prepared for the future through workshops, guest speakers, and one-on-one support to help you develop your career interests and skills.
Winter 2023 Elevate: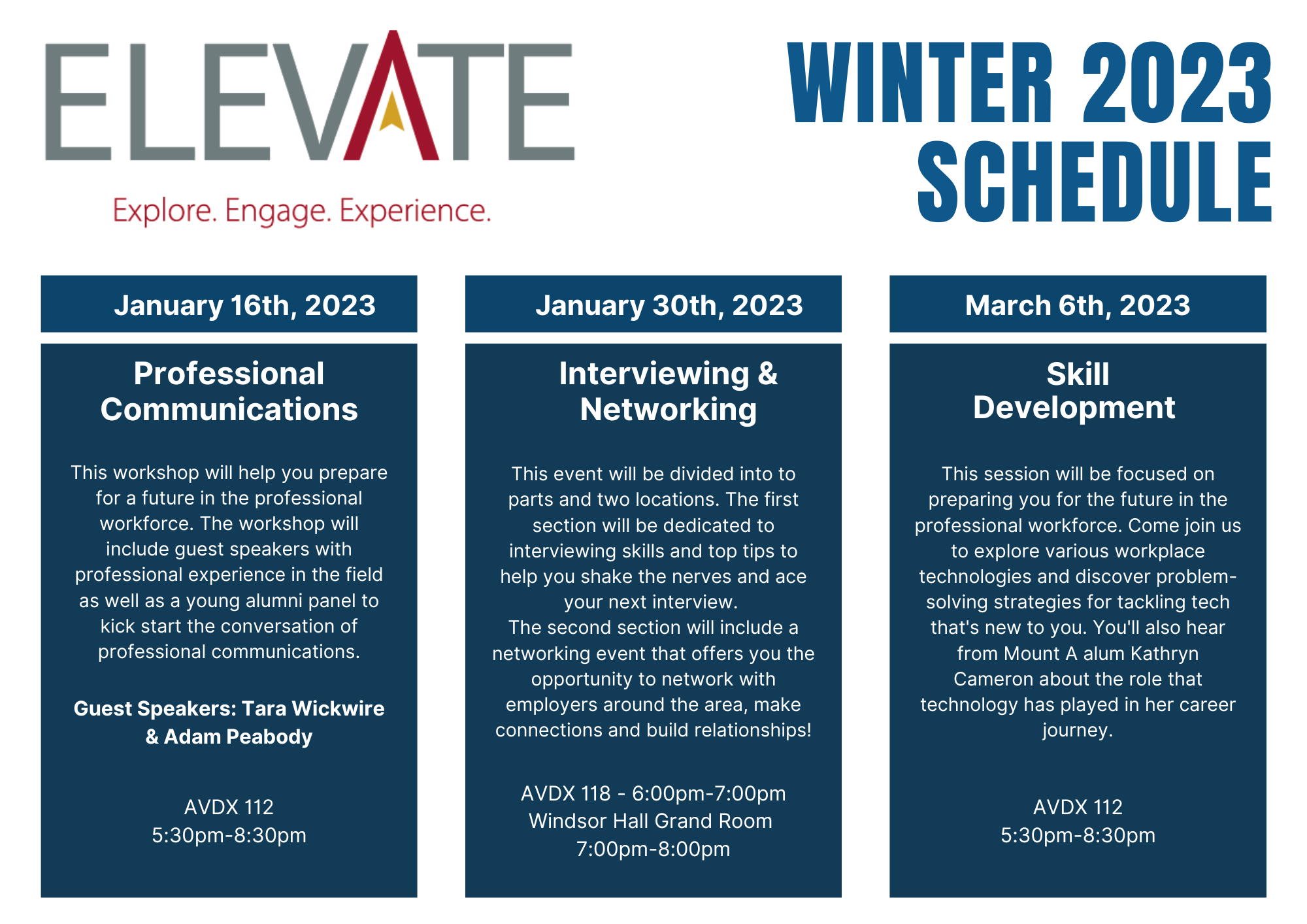 Personalized career support  
As part of this program, you will also meet one-on-one with a member of the Career Development team for resume review and career advising, and be invited to attend a variety of other (non-mandatory, but very helpful!) professional development sessions.
This includes:
Intro to the Experiential Learning and Career Development office
Career goals
Resume review
Career Cruising and other self-assessments
Ambassadors will have a list of people they can refer the student to for more support, if needed
Past Events

 

2022 Elevate Conference — Oct. 22, 2022

The cornerstone activity in the Fall term is the Elevate Conference with guest speakers from around the Maritimes that will discuss the themes and skills such as cultural competency, digital literacy, communications, and financial literacy to participants who enroll.

Check out the Conference Program here!

Conference details

Finesse Your Finances: A Financial Literacy Session with RBC

In this session, we will be joined by RBC team members for an informal conversation on financial literacy. By the end of this session, students have a stronger understanding of how to manage real-life financial scenarios, things to consider when looking to buy a house, investing and budgeting. 

Communication Skills Workshop

In this session, we were joined by branding expert, Natalie who will be leading a workshop where she teaches her model: The Integrated Brand. Each participant will have the opportunity to self-evaluate their own brand to identify areas for improvement and will leave with clarity around exactly what to do next when it comes to building a personal brand that becomes part of a lasting relationship with everyone it touches.

Cultural Competency Workshop

Session 1: Through the Looking Glass - Understanding and Dismantling Unconscious Bias

This workshop is designed to help you understand th term "unconscious bias", why it's harmful, and what you can do examine your own biases. Participants will understand about and how their own biases can affect those around them and develop an understanding of how unconscious bias can create disparity in the work place. The session will reference Canada's Human Rights Code and labour standards - all through a post- colonial lens.

Session 2: It Begins with Me: Championing an Inclusive Workplace

Our workplaces can sometimes be a reflection of society. As a new professional, it will be important for you to understand social and cultural dynamics in order to adapt to and contribute to your work environment. These include (but are not limited to) race/ethnicity, sexuality, gender identity, religion, ability and more. This session is designed to help you identify your positionality in society and empower you to advocate for a more inclusive environment. We will discuss this by referencing Canada's Human Rights Code and labour standards - all through a post-colonial lens.

Digital Literacy

In this session join Cristobal Vasquez, to learn about the ongoing process of digital transformation, how it continues to shape the future of work, and what strategies can students implement to take advantage of its disruption as they enter the workforce. By the end of this session, students will have a better understanding of how to maximize, not only their value as a professional but their skills as a conscientious members of their home and community.

Intro to Infographics

Infographics are everywhere, from social media to conference posters. Come to this session with Elizabeth Stregger to learn best practices for design and data visualization, practice critiquing infographics, and find out about tools you can use to make your own.

People Skills Workshop

Join Adam Peabody in this interactive workshop that will include tips on effective teamwork, conflict resolution, stakeholder management, and more. students will leave with the skills to help you build more meaningful connections.   

21st Century Communications Workshop

Join Alexandra Chapman, (21') a recent Mount Allison Graduate to discuss personal branding and how to take control of your professional portfolio. As you move through your degree, it becomes more intimidating to figure out who you are in the business world, developing a personal brand can help build the confidence you need. Join Alexandra to talk about the first steps in creating a personal brand! 

Alumni Panel

Each alumni has a diverse background and array of knowledge that has led them to be experts in their respective fields. This young alumni panel is excited to talk with students all about life after Mount Allison and discuss the world of work post-pandemic.

Ron Buckle Speaker Series Presents: Riaz Raihan

Learn More About Riaz Raihan

Riaz Raihan is President at Alida CXM, a global enterprise software company headquartered in Canada. Riaz's team builds world-class customer experience management (CXM) products for Alida's customers, that include Microsoft, Facebook, Nestle, Conde Nast, Autodesk, Sunlife Financial, Starbucks and other Fortune 500 corporations worldwide. 

Riaz has over 24 years of technology and executive leadership experience in the United States and Canada. He is a veteran of Cisco, SAP, Infor, Ernst & Young and Accenture. 

Most recently, he was President of Cisco's internet of things (IoT) business unit in San Jose, California, where he led a team of 1,500 engineers and product managers. Riaz spent a decade at SAP, the $20 billion global software company, as Chief Operating Officer.

Riaz holds an undergraduate degree in engineering (summa cum laude). He has an MBA and is a graduate of the Stanford University Management Development Program. Riaz is a member of MENSA, the global high IQ society. Outside of work, he does pro bono work around promoting STEM education amongst youth.