Discover all the benefits of our small, tight-knit university community.
Friday, Oct. 13, 2023
At our Fall Open House, you'll learn about our academics, financial aid, residence life, support services, and how to get involved — directly from current students, faculty, and staff!
All Open Houses include campus tours and on-the-spot admissions (bring your current transcripts!).
Questions? We're here to help! Email campusvisit@mta.ca
$5,000 Residence Room Prize
Open House is also your chance to win great prizes, including a $5,000 Residence Room Prize*
*Must be a Grade 12 student to win prize
Schedule
Joining us virtually? Links to view sessions live via Microsoft Teams are available in the schedule.
Check In
Convocation Hall, 37 York St.
Check in and pick up your swag bag, with morning refreshments! Late registration open until 12 noon. If you arrive after 12 noon, visit an information booth located across campus.
Kick Off
Convocation Hall
Start the day off right and learn everything you'll need to know about getting the most out of Open House. You'll also hear from Interim President and Vice-Chancellor Dr. Robert MacKinnon, and Director of Recruitment, Admissions, and Awards Kutay Ulkuer.
For students — Campus Tours
Leaving from Convocation Hall
Explore our beautiful campus in small groups with our Student Campus Ambassadors.
For supporters — MtA 1001 Presentation & Panel
Convocation Hall or via Teams
For parents, guardians, and supporters, learn more about Mount Allison and supports available to students.
Fine Arts — Portfolio reviews
Purdy Crawford Centre for the Arts
By appointment only. Email finearts@mta.ca.
Academic & Life@MtA Fairs
McCormack Gym, Athletic Centre
At the Academic Fair, you'll learn about our academic programs from faculty and current students. At the Life@MtA Fair, you'll learn about student involvement and student support and services available on campus — including residence life.
On-the-spot admissions will also be available at the Admissions Booth with your Grade 11 transcripts.
Who will be at the Academic Fair?

Faculty and currents students from our academic departments will be available to answer all your questions about our programs.

Faculty of Arts

Canadian Studies
Classics
Community Engaged Learning
Drama Studies
English
History
Modern Languages and Literatures
Music
Philosophy
Pierre Lassonde School of Fine Arts
Religious Studies
Visual and Material Culture Studies
Women's and Gender Studies

Faculty of Science

Aviation
Biology
Chemistry and Biochemistry
Mathematics and Computer Science
Psychology
Physics

Faculty of Social Sciences

Economics
Frank McKenna School of Philosophy, Politics, and Economics
Geography and Environment
Politics and International Relations
Ron Joyce Centre for Business Studies
Sociology

See a full list of our 50+ programs.
Who will be at the Life@MtA Fair?

Academic Advising
Academic Support
Admissions & Financial Aid
Athletics & Recreation
Bookstore & Support Services
CHMA Community Radio
Equity, Diversity, & Inclusion (Student Life)
Experiential Learning & Career Development
First-Generation Student Support
Housing & Dining
International Centre & Study Abroad & Exchange
Library Services & Archives
Mount Allison Students' Union (MASU)
Residence Life
Sexualized Violence Services
Spiritual Care
Town of Tantramar
Lunch (free!)
Jennings Dining Hall
Degree Information Sessions #1
Degree Information Sessions #2
Early Offer Party
The Pond, Wallace McCain Student Centre
For students who receive an offer for early admission before Friday, Oct. 13.
Campus Tours (open to everyone)
Meet outside the University Chapel
Ongoing events
Bookstore, 8:30 a.m.-4:30 p.m.
Wallace McCain Student Centre, lower level
Use your 20% off coupon for MtA swag. You can also learn about mail services, printing, and how to order textbooks.
 
Owens Art Gallery, 10:00 a.m.-5:00 p.m.
Visit the Owens Art Gallery website for details on current exhibits.
 
R.P. Bell Library, 8:00 a.m.-9:00 p.m.
Explore the libraries and archives, check out study spaces, or grab a coffee at the Flying Bean Café.
 
University Chapel, 8:00 a.m.-4:00 p.m.
Drop by to explore, reflect, or for a time of prayer and meditation, open for people of all faiths and spiritual/philosophical paths. Friday Prayers for Muslims also happening at 1:30 p.m. in the Manning Multi-faith Room.
How to get to campus
Once on campus, your first location for Open House will be registration at Convocation Hall, located at 37 York St.
---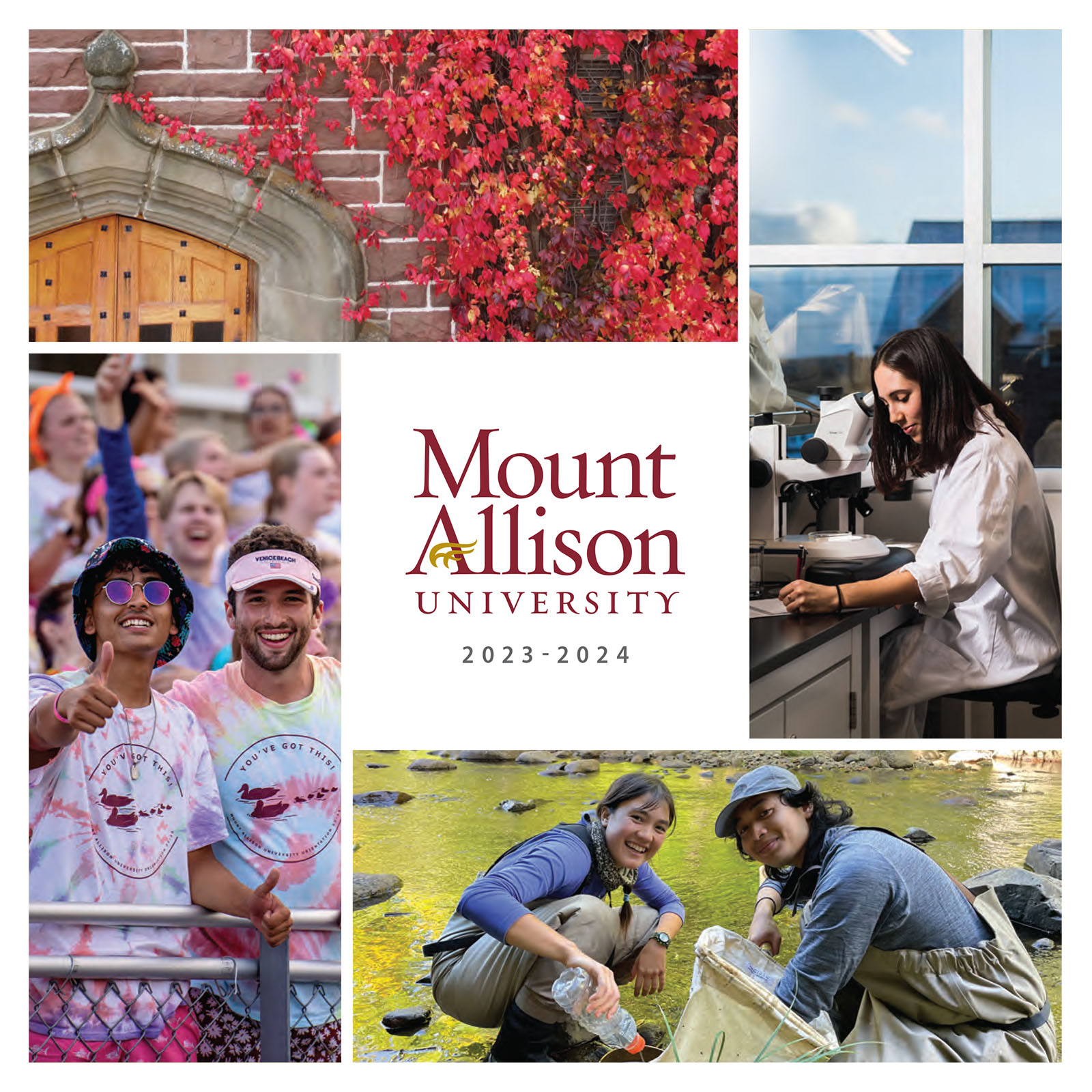 Mount Allison Viewbooks
Our print viewbooks provide the top reasons to attend Mount Allison, including an overview of our programs and degrees, admission requirements, student life, costs and financial aid, and much more.
Questions? We're here to help! Email campusvisit@mta.ca
---