The Mounties: Keri Martin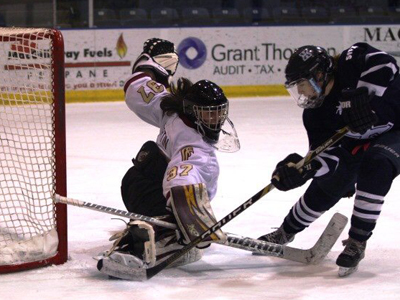 Third-year biology student and Women's Hockey Mountie Keri Martin has been a goalie since day one of her hockey career. She started out playing road hockey and at the age of eight moved on to the ice.

"I must have been the one scared kid who put their hand up after about a minute of silence, when they asked who wanted to be goalie," she says. "I think it was a combination of not being completely horrible and nobody else wanted to do it. So I started and just never stopped."

Originally from Brampton, ON, Martin began playing in her hometown and then moved on to the Provincial Women's Hockey League (PWHL), playing for the Etobicoke Junior Dolphins. She says she enjoys being a goalie because she can always have an impact on the game.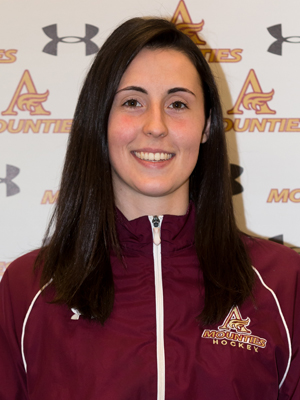 "It comes with the lowest lows, but it comes with the highest highs too," she says. "You can really be an impact player and when it works, it's totally worth it. The feeling is amazing."

Along with her busy athletic and academic schedule, Martin has started volunteering with local minor hockey offering goalie coaching. Growing up always having a goalie coach, she believes it was that sort of training that helped her get where she is today.

"The older I get, the more I realize the importance of those little things," she says. "If I can, I want to help these kids improve and make it fun. I also had a blast.The kids in the community come out and support our team, so I want to do what I can to give back."

Martin's stand out moment of her three-year career so far was beating St. FX in the second round of the playoffs in 2014 to advance to the AUS Championships against UdeM. Overall, she says, being a student-athlete has helped her be a better student and has provided her with an instant family and support group away from home.

This year Martin has enjoyed success in nets, with a .500 win percentage and many of the games being decided by one goal. Her most impressive statistic, however, has been saves with 646. She led the AUS in saves by nearly 200.

Martin is considering either veterinary school or continuing on to do a master's in biology once she completes her honours program next year.