The Mounties: Geraint Berger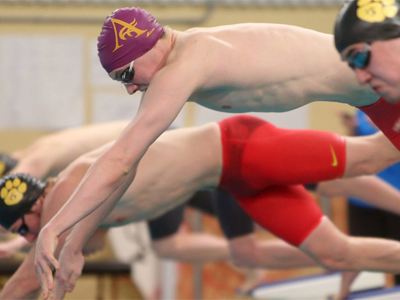 Second-year biology student and Swimming Mountie Geraint Berger's swimming season has been extended. The sprinter and mid-distance swimmer was one of two Mounties to earn a spot at the Speedo Canadian Interuniversity Sport (CIS) Swimming Nationals in Laval, QC this weekend, February 26-29.

"I made it in the 100 freestyle leading off the 4x100 men's freestyle relay," he says. "Because I went first, it was an official split. My time was 50.66, and the standard was 50.78. We had a bunch of medalists and it [AUS Championships] was overall a really great weekend for Mounties' Swimming."

Earlier this season, at UPEI, Berger had two personal best times in the 50 freestyle and fly. He earned Athlete of the Week honours for his performance.

"It was nice to get that confidence coming out of the break and heading into the championships."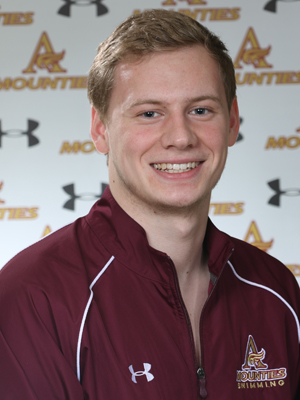 Berger says being a swimmer at Mount Allison has become a part of his everyday routine.

"It plays a huge role in my university experience," he says. "It's nice to have that structure from lab to swimming practice to the library every day."

Originally from Bedford, NS, he began swimming at the age of nine in the Bedford Beavers Summer Swim Club, then went on to the Sackville Waves Aquatic Club, and then the Halifax Trojan Aquatic Club.

"Swimming has always been a part of my life," he says. "My mom was a competitive swimmer, so I guess I got that from her."

Two of his most memorable swimming moments? Four years ago he placed fourth at the Canadian Age Group Championships in Calgary, AB, where he missed the podium by 0.1 of a second in the 200m freestyle. In 2013 he swam the 800m freestyle in eastern nationals in Montreal, where he placed fifth and qualified for senior nationals for the first time in his swimming career.

Berger is currently choosing between pursuing veterinary school or medical school after Mount Allison.