Grace Annie Lockhart – a Mount Allison and Canadian heroine
By David Mawhinney, Mount Allison University Archivist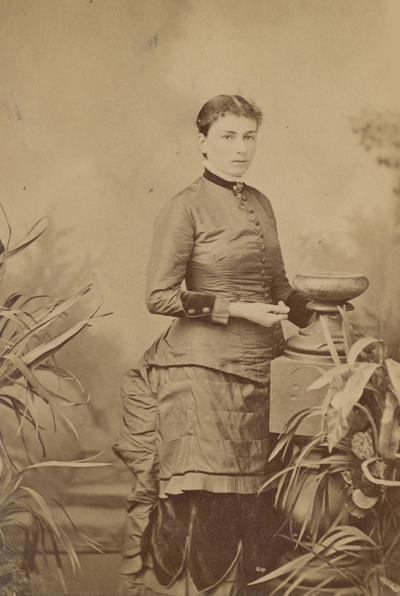 On May 18 the Mount Allison University community will mark the 100th anniversary of the passing of arguably one of its most illustrious graduates, Grace Annie Lockhart. In 1875 she entered into the annals of history becoming the first woman in the British Commonwealth to be granted a "Bachelor's" degree.

But who was she? I am better prepared to answer that question based on documents and photographs received in a recent donation to the archives from her grandson's widow, Mrs. Nita Dawson. These treasures provide new insights into her life story.

She was born on February 22, 1855 the youngest of four daughters of Edward Elias Lockhart (1819-1897) and Susan C. Whittekir ([ca. 1824]-1855). Her early life was challenging. Her mother died nine months after she was born so she was raised by the housekeeper, Rosanna Wilson, and her older sisters. At age four her grandfather also passed away and left a will that caused further complications.

George Whittekir had not modified his will after his daughter's death. The property that he left to her required Edward Lockhart to apply for guardianship of his daughters in order for their legacies to legally be made available to them. On November 20, 1860 the court was satisfied that "the said Edward E. Lockhart is a fit and proper person to be guardian of the said infants and their respective estates (the value of each which does not exceed the sum of £200) and having from him a bond, faithfully to perform the duties of the said office." Grace Annie's sisters signed the petition and her father signed on her behalf.

When Grace Annie was eight years old her surrogate mother, Rosanna Wilson, passed away at age 44. Three years later her eldest sister went the Mount Allison Ladies' College and her two other sisters followed in 1868. None of them stayed more than a year despite having enough money to stay from their grandfather's estate.

One can imagine that Grace Annie would become introspective or perhaps blame herself for her mother's demise. The archival record does not provide an answer one way or the other. That she was studious is borne out by her entrance into the Mount Allison Ladies' College in 1871. She completed a Mistress of Liberal Arts degree in 1874 and the Bachelor of Science the following year.

She appears to have been popular and gregarious while she was in Sackville. A tintype received in the recent donation pictures her with eight classmates in what could be considered as an 1872 version of the group portrait.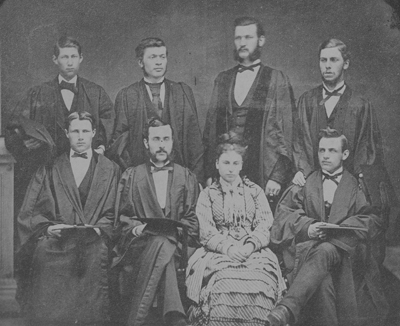 Her final picture from her time at Mount Allison was taken on the occasion of her graduation. Notably, she is also the only one in the group not wearing a gown or holding a mortarboard. Perhaps the most interesting thing about this image is who she is sitting by. The man with mutton chops beside her would ultimately become her husband.

John Leard Dawson was born in 1851 in Tryon, Prince Edward Island, the second son of Thomas and Elizabeth Dawson. He completed his BA having studied at both Mount Allison University and the Boston Theological Seminary. He was a man of delicate health so after graduation moved to Denver, Colorado to try and restore it. He returned to Canada in 1878 and became a probationer in the Methodist Church serving in Nova Scotia and Bermuda before his ordination in 1881. That same year, he married Grace Annie Lockhart in Saint John, New Brunswick. Thereafter, the couple moved regularly in keeping with the three year circuits of the Methodist denomination and ultimately lived in all of the Atlantic Provinces.

The couple had three sons who all attended Mount Allison. The oldest and youngest became engineers and the middle son, Wilfred Thomas Dawson, distinguished himself as the university's ninth Rhodes Scholar. He went on become a professor of pharmacology in the United States.

Grace Annie Dawson's life was likely conventional in many ways but despite the confines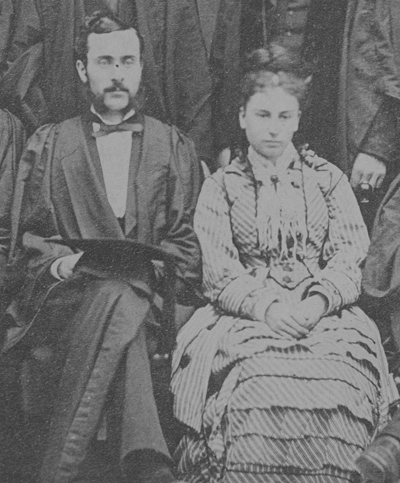 of her role as a minister's wife we know that she was an activist. One of the recently received photographs pictures her with her husband and two sons wearing a white ribbon on her dress. It demonstrates that she was a member of the Women's Christian Temperance Union, which formed in Canada in 1874. It also gives clues to her interest in social reform. Some of her thoughts were published in a very interesting 1896 newspaper article three days after Wilfred Laurier became the first French-Canadian Prime Minister. Here are a few of Grace Annie Dawson's observations in her own words:

On the vote:
Perhaps the Reform bill, which will allow women equal suffrage with men, will be as much a leap in the dark as that of '67 [referring to Canadian Confederation], but if it brings us as much nearer to the clear daylight, will it not also be as beneficial?

On the higher education of women:
Higher education of women – What is it? It is the higher education of women to fit them for the higher spheres of action, whether they be political, professional, or social – the same education that men need under the same circumstances.

On education:
As mind is greater than matter, the cultivation of the mind is more important than the cultivation of the soil.

Clearly, she was a woman who knew her own mind and was not afraid to push for change. These rare fragments give us precious clues to understand that the mind she had cultivated at Mount Allison had served her well throughout her life.

Grace Annie Lockhart died in Charlottetown 100 years ago on May 18 at the young age of 61. I suspect that her early death might have been caused by the stress of looking after her husband who died two years later from what was deemed "premature senility" on his death certificate. Both of them are buried in the People's Cemetery in Tryon, Prince Edward Island.

One final question! How do you suppose she saw herself? Her granddaughter recently said in an article published in the Mount Allison Record, "We knew about (our grandmother's accomplishment) certainly, but I can't ever recall it being considered a big fuss … it was just something that happened and was fantastic. I don't think my grandmother ever made a big deal of it either."

My initial reaction upon reading this was … How Canadian! We like our heroes to be understated and people of true character. Grace Annie Lockhart definitely fits that bill. Mount Allison definitely has a lot to be proud of in her unique accomplishment.

Photo captions (Mount Allison University Archives):
Grace Annie Lockhart as a student at Mount Allison.

In Mount Allison's Class of 1875 photo, Grace Annie Lockhart, front, second from right, and her future spouse, John Leard Dawson, front, second from left, were seated side by side.