Mount Allison student's Community Engaged Learning project encourages intergenerational friendships in Tantramar region 
When Mount Allison honours sociology student Hannah Crouse began assisting seniors during her 2020 Loewen Health Internship, she saw opportunities for bridging community connections.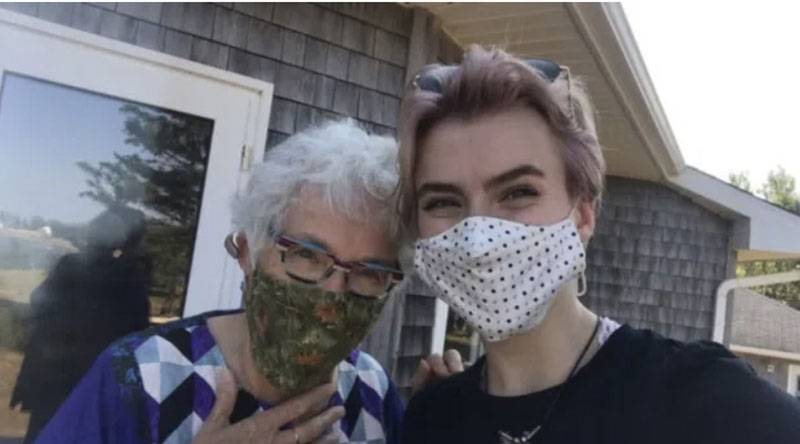 "I remember visiting seniors in and around Tantramar, they hadn't seen anyone in person for some time due to the pandemic. In some cases, there was very little food in the house.  I knew I had to do something," she says.
And she did. Working with the Port Elgin and Region Health Centre and Nursing Homes Without Walls, Crouse organized a network of student volunteers who visited and checked on seniors.
Crouse has now expanded this project — Community Connect — as part of her degree minor in community engaged learning, and it's one that will continue beyond her graduation this spring. Working with community partners Sackville 2020, Open Sky Co-operative, and Nursing Homes Without Walls, Crouse's project recently received $25,000 in funding from the New Horizons for Seniors Program through Employment and Social Development Canada (ESDC). 
 
Community Connect aims to combat social isolation felt by both seniors and students in the Tantramar area. Mount Allison students are matched with a senior and the pair checks in on a weekly basis, usually sharing or delivering a meal donated and prepared by Open Sky.
 
The new ESDC funding will help support the existing program with a co-ordinator role and lay the groundwork for programs to continue and grow in the local area. 
Crouse, who will graduate this spring, says ensuring the Community Connect project can continue long-term in the Tantramar Region and potentially expand across the Maritimes was important to her.
 
"I've seen the benefits of this project for both seniors and students over the last year and a half," says Crouse. "I'm so grateful to have this opportunity and really wanted to find a way for the program to continue following my time at Mount Allison. This support ensures we can do that."
This year, Crouse's project also grew into a community engaged learning course at the University. The expanded program is co-ordinated by Crouse, faculty member Sacha DeWolfe, students Erin Green, and Kandis Neil Sampson, and recent graduate Bethany Baert. 
Michael Fox, retired Mount Allison professor and a member of Sackville 2020, worked with Crouse to help further develop and secure funding for the program. He says this type of community outreach is needed in the Tantramar region and provides great opportunities for both seniors and students.
 
"Hannah's vision and co-ordination for this community-based project is admirable," says Fox. "As a senior myself, I appreciate the many facets of the program with assisting in healthy aging, fostering intergenerational friendships, and raising awareness around potential issues such as abuse or mental health challenges."
 
The new funding will also allow Community Connect organizers to undertake research to develop future programming. They will be exploring intergenerational housing options, where seniors and students share housing, as well as additional community programming and supports to assist seniors in independent living and alleviating social isolation. 
While Crouse plans to continue her education and career path in community development, this was not where she began her post-secondary education. From Stewiacke, NS, she started her studies in biochemistry before moving to sociology and then adding community engaged learning when it was introduced as a degree minor and certificate in 2020.