Class of 2020 celebrated in virtual Last Lecture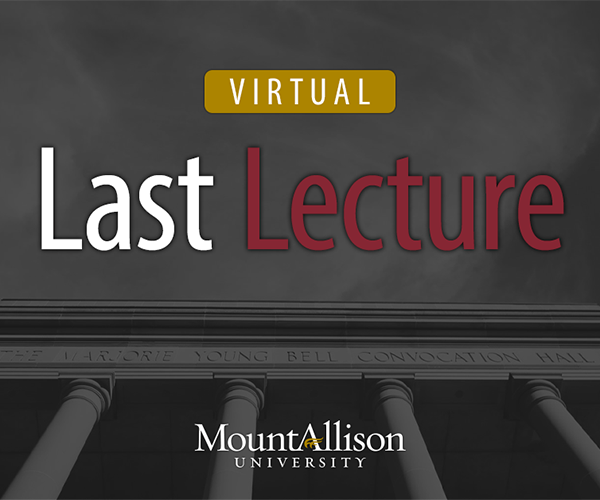 The sixth annual Last Lecture, recognizing graduates for their contributions to the Mount Allison and Sackville communities, was held virtually for the first time on May 1, 2020.

The graduating class chose Dr. Christiana MacDougall ('93) from sociology and women's and gender studies to present at the virtual celebration. She addressed the Class of 2020 and encouraged them in these uncertain times to refocus the question what are you going to do next, to who are you going to be now?

The Class of 2020 also received a special message from alumna Dr. Bonnie Henry ('86), Provincial Health Officer from the Province of British Columbia.

A consequential and special gift to the University was announced by the family of A. Jane Avard Eaton ('61) to honour her leadership skills and her many contributions both as a student and a member of the Board of Regents of her beloved alma mater. This endowed fund will be automatically awarded to all future recipients of the Don Norton Award ($1,000), the Frances S. Allison Award ($1,000), and the four Gold A Award recipients ($500 each) as the A. Jane Avard Eaton Student Leadership Award.

The 2020 Grad Class Executive announced their class gift to the University — supporting the Meighen Centre's Lending Library — had reached $3,500 and would continue to grow.
A number of major graduating awards were handed out during the evening.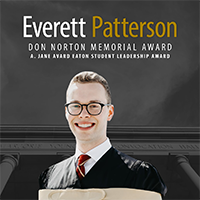 The Don Norton Memorial Award went to Everett Patterson. The award honours the top graduating male student who, during his final year, makes the greatest overall contribution to University life. Patterson served on the Board of Regents, the Senate, and as a residence assistant. He played varsity soccer and was a teaching assistant for eight courses in math and computer science — all the while his positive attitude towards life was absolutely infectious.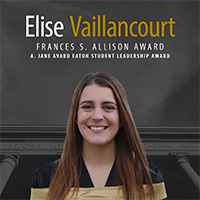 The Frances S. Allison Award, the highest honour for a graduating female student, was awarded to Elise Vaillancourt. The award recognizes outstanding academic achievement, as well as achievement in areas such as sports, class projects, service to the University, development of character, and leadership. Vaillancourt exemplifies what it means to be a student leader. She has dedicated her time to various clubs & societies, including the Student Refugee Program and Rotaract, all while maintaining a dean's list average throughout her five years. Her work with the MASU has drastically improved student life.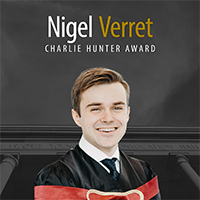 The Charlie Hunter Award is presented to a student who has shown exemplary student leadership and demonstrated commitment to student involvement and engagement during their time at Mount Allison. This year's recipient was Nigel Verret. Grad class president and valedictorian, Verret manages to make you feel special and cared for every time he talks to you. What sets him apart is his ability to connect with people.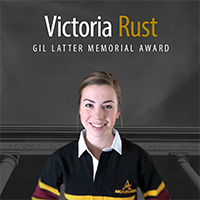 Victoria Rust was presented with the Gil Latter Memorial Award, which honours a student who has volunteered their time and demonstrated an outstanding contribution to the Sackville community. Rust is always going above and beyond in her commitments including her involvement in the SMILE program, Garnet and Gold Musical Theatre Society, Healthcare Outreach, and more. Within her four years she has managed to make a truly meaningful impact on campus and in the Sackville community as a whole.

Four Gold A Awards were also presented during the Last Lecture to recognize graduating students who have made outstanding contributions to the University community. This year's recipients were Yana Titarenko, Amira Abouleish, Rebekah Howlett, and Claire Genest.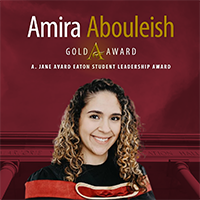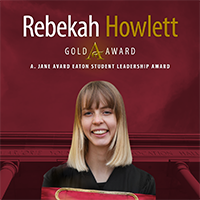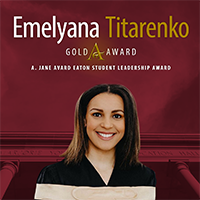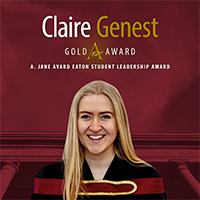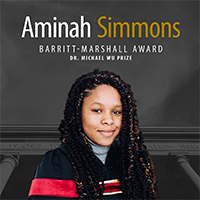 The 2020 Barritt-Marshall Award went to Aminah Simmons from Bermuda. The award honours the graduating international student whose contributions to the internationalization of campus and the community have helped to promote cross-cultural understanding and co-operation. Simmons has passionately worked to promote inclusivity on campus. She has served on residence executive, volunteered with the International Mentorship Program, was a member of MtA's Anti-Racism Education and Response Team, and was elected as MASU's first ever Ethnic Diversity Representative. She was also a founding member of the now active Caribbean Students' Association.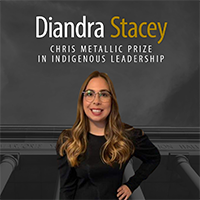 The Chris Metallic Prize in Indigenous Leadership was awarded to third-year student Diandra Stacey from Kahnawake, QC for her hard work with the Indigenous Garden website and the Indigenous Student Support Group. The award was established by the Class of 2016 and recognizes a student who makes the greatest contribution to the indigenization of campus.

University Leadership Pins were presented to graduating students in recognition of their extensive co-curricular leadership on campus or in the local Sackville community. Recipients include: Laren Bedgood, Erin Cecchetto, Natalia Liste Colomina, Emilie Comfort, Siobhan Doyle, Rhiannon Ford, MacKenzie Gordon, Lisa Hanselmann, Rowan Hickey, Rachel McDougall, Sean McNeill, EmmaRae Murphy, Katya Parker, Paige Percy, Sam Smedley, Grace Snowdon, Sam Unger, Sertara Wilkinson, Kevin Wong, Arianna Woodley, and Rebecca Yeo.