Class of 2018 honoured at Last Lecture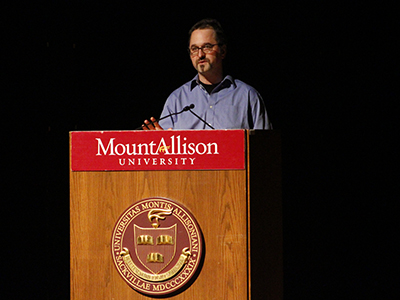 At the fourth annual Last Lecture, graduates were recognized for their contributions to Mount Allison and the Sackville community. The graduating class chose Dr. Dave Thomas from international relations to present their last lecture.

Thomas reflected on the Class of 2018's impact on the University, encouraged them to spend time with friends in their remaining weeks at Mount Allison, and to look ahead to their future responsibilities as university graduates.

"You are in a period of time with your friends right now that is really important," says Thomas. "These are unique and special friendships. Make sure to spend time with your friends these last few weeks and tell them what they mean to you."


Prior to the awards, the traditional graduating class cane ceremony took place. This year's ceremony was momentous as the class cane was retired to the Archives and a new cane presented to the University. The cane has existed since the 1941 men's residence fire destroyed the original cane. Now full, it holds the names of each of the class presidents. The new cane was presented by Dr. Garland Brooks ('60), which belonged to his father Rev. Garland Brooks ('34). Both canes will be on display in the Library.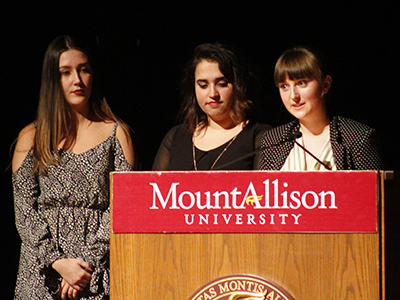 The 2018 Grad Class Executive announced their class gift as a $1,500 donation to the efforts of Mount Allison's Indigenous Student Support Group who most recently raised funds to have a permanent Mi'kmaq flag on campus and organized the University's first Powwow in March.

A number of major graduating awards were handed out during the evening.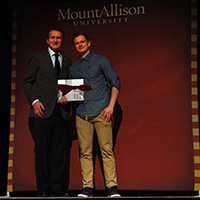 The Don Norton Memorial Award went to Grant Benjamin. The award honours the top graduating male student who, during his final year, makes the greatest overall contribution to University life. Benjamin has distinguished himself in the classroom and on the football field. Academically he has been on the Dean's List each year he has been at Mount Allison. He earned Academic All-Canadian honours from 2015-2017. In 2017, he was nominated for the Russ Jackson Award presented annually to the Canadian university football player "best exemplifying the attributes of academic achievement, football skill, and citizenship." Benjamin is also an Economics TA and peer tutor, a member of the Economics Society, and one of the 2017 L.R. Wilson Interns in Public Service and Public Policy.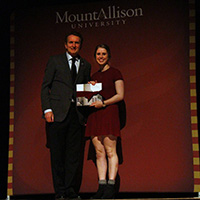 The Frances S. Allison Award, the highest honour for a graduating female student, was awarded to jointly for the second year in a row to Rachel Howlett and Sarah (Kaye) Klapman. The award recognizes outstanding academic achievement, as well as achievement in areas such as sports, class projects, service to the University, development of character, and leadership. Howlett has an excellent academic record and has been extensively involved in sports, extracurriculars, and also makes a significant effort to maintain a presence at all campus events. She is most often found at the MASU office, the gym, the Drew nursing home, or spending multiple hours walking around the main floor of the library socializing with everyone. Klapman is a Bell Scholar who has been heavily involved in residence life and mentored and supported an entire house during her second year. She has been on the executive of Garnet and Gold and ACID and is an avid and highly-involved musician and actress.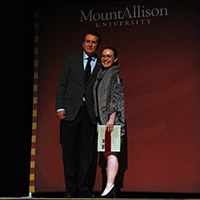 The Charlie Hunter Award is presented to a student who has shown exemplary student leadership and demonstrated commitment to student involvement and engagement during their time at Mount Allison. This year's recipient is Sara Camus. In every aspect of her university experience she has sought to engage people and work at building community. In residence, she was elected social chair. Away from class, she dabbled with Swing Dance and CHMA but soon started to focus more on her passion for photography. This led to a position with the MASU where she undertook revamping the MASU's approach to social media and overall communication with students. She was later elected President of the Students' Union, a role she parlayed into her work with the New Brunswick Students' Alliance – where she was later elected Chair. Her community engagement continued through her work with the Community Partnerships Group, a collection of students, university staff, Town employees, and residents whose mandate it is to build up strong neighbourhood relations.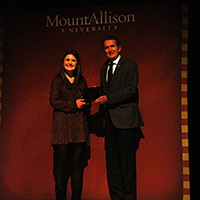 Lilian Dart was presented with the Gil Latter Memorial Award, which honours a student who has volunteered their time and demonstrated an outstanding contribution to the Sackville community. She has contributed to various initiatives both on and off campus, including being an active member of the Best Buddies program, SMILE, Orientation, Big Buddies Mentorship Program, and Lettuce Eat. Beyond that, she has donated her time to volunteering at the Dorchester Penitentiary Shepody Healing Centre in the Psychosocial Rehabilitation Unit, and assisted with a recycling pilot program at the Marshview Middle School.

Four Gold A Awards were also presented during the Last Lecture to recognize graduating students who have made outstanding contributions to the University community. This year's recipients are: Rebecca Butler, Tierra Stokes, Tanner Wilson, and Riley Higdon.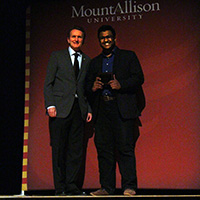 The 2018 Barritt-Marshall Award went to Saurabh Kulkarni from Aurangabad, India. The award honours the graduating international student whose contributions to the internationalization of campus and the community have helped to promote cross-cultural understanding and co-operation. Kulkarni has actively and passionately worked to promote cross-cultural awareness on campus. He volunteered his time as an international orientation facilitator for the International Centre and also took on the leadership role of International Orientation Chair last year. He has even co-hosted a radio show on campus that delved into important topics ranging from racism to dating cultures around the world. Kulkarni has also been passionately involved in MOSAIC — the multicultural student society — and has previously served as the society's president.He was a residence assistant in Windsor Hall, a mentor with the International Mentorship Program, student representative on the Board of Regents, and over the last year he has worked as a social media intern with the Admissions Office.

The Chris Metallic Prize in Indigenous Leadership was awarded to Ashley Cummings at this year's inaugural powwow on campus. The award was established by the Class of 2016 and recognizes a student who makes the greatest contribution to the indigenization of campus.

Shakhnoza Imanseitova (Kazakhstan), Sakurako Goto (Japan), and Chaoyi Liang (China) received the Class of '33 Awards at the MOSAIC Banquet, which are presented to international students in recognition of their leadership, extracurricular involvement, and commitment to promoting cross-cultural awareness and understanding.

University Leadership Certificates, which are presented to graduating students in recognition of their extensive co-curricular leadership on campus or in the local Sackville community, were awarded to: Olivia Adams, Keifer Bell, Grant Benjamin, Hannah Bincik, Robyn Brown, Rebecca Butler, Sara Camus, Katherine Chamandy, Matthew Cross, Marissa Donohue, Sam Donaldson, Jillian Edwards, Bailey Fleming, Danica Garner, Riley Higdon, Rachel Howlett, Anna Jamieson, Sarah (Kaye) Klapman, Natasha Kochhar, Saniya Korhalkar, Saurabh Kulkarni, Hannah MacKellar, Logan Milne, Morgan Reid, Rebekah Ritchie, Erin Steeves, Katharyn Stevenson, Hailie Tattrie, and Brian Tulle.

Departmental award winners: Catherine Fiset (Biology), Sarah Martell (Chemistry), Katie Dunning (Biochemistry), Haley Reid (Mathematics and Computer Science), Zoe McIntyre (Physics), Hanna Bincik (Psychology), Gordon Spencer Isaac (Canadian Studies), Janan Assaly (Classics), Jena McLean & Sabrina Stace (Drama Studies), Cecilia Tamburri-Stuart (English), Logan Milne (Fine Arts), Colin Robertson & Alexis Blanchard-Methot (History), Nathalie Scott (French), Andreas Fobes (German), Amy Glennie (Hispanic), Keelin Howe (Music), Carolyne Mellon (Philosophy), Mayu Ishida & Corinna Paumier (Religious Studies), Katharyn Stevenson (Women's and Gender Studies), Bridget Melnyk (Anthropology), Antonio Paolo Gomez (Commerce — Accounting/Finance), Kwabena Gyasi-Boateng (Economics), Ella Porter (Geography), Taylor Crosby (Environmental Science), Caitlyn Gallant (Environmental Studies), Matthew Klohn (Political Science), Tierra Stokes (Philosophy, Politics, and Economics), Lily Falk (International Relations), and Marissa Donohue (Sociology).