Events celebrating diversity and inclusion take place throughout the year.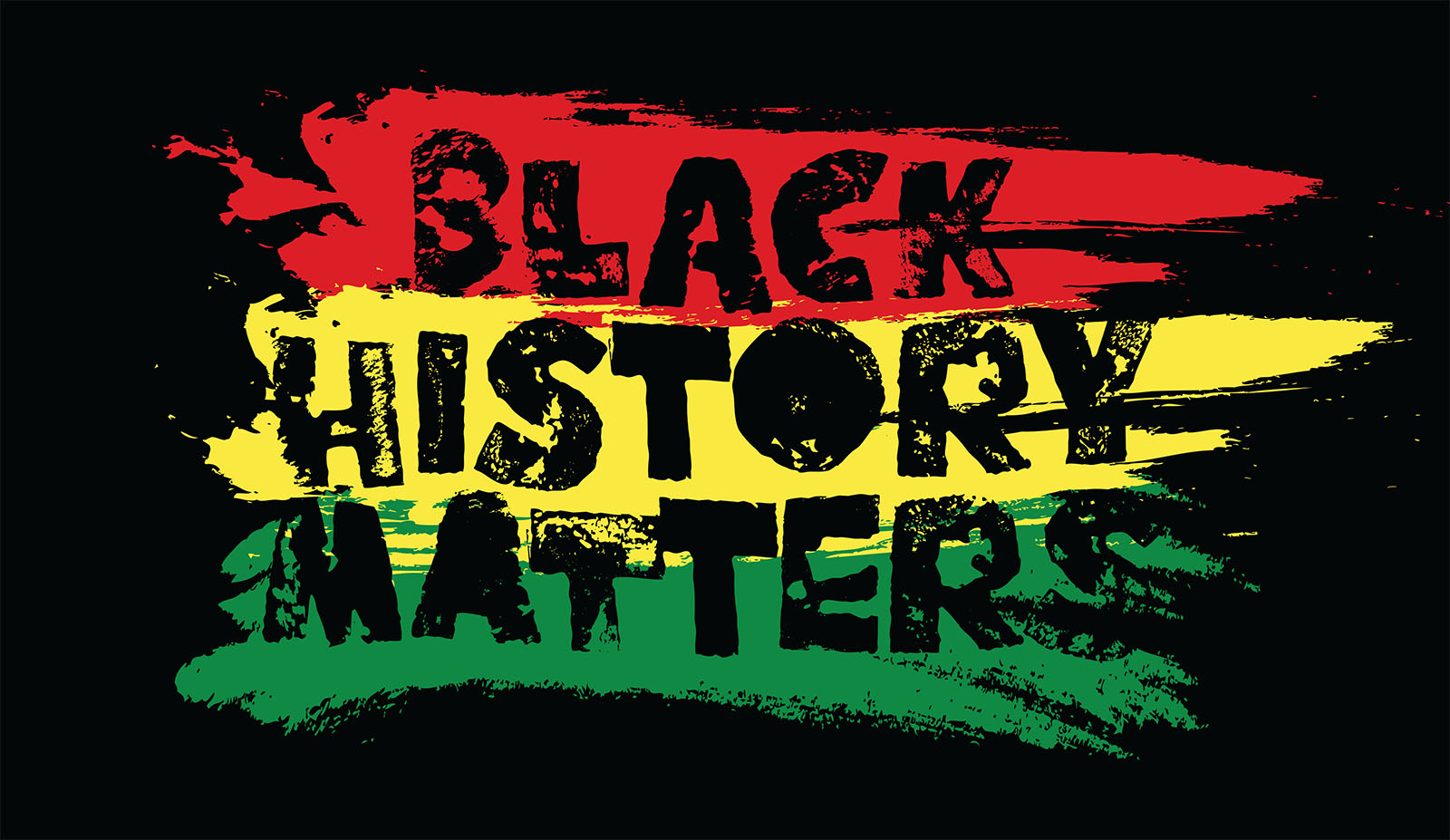 Black History Month — February
Black History Month is about honouring the enormous contributions that Black people have made, and continue to make, in all sectors of Canadian society. It is about celebrating resilience, innovation, and determination to work towards a more inclusive and equitable country called Canada.
Although Black history in Canada has not always been celebrated or highlighted, the contributions of people of African decent could not be ignored.
The first Black History Month in Canada was observed in 1988 by Nova Scotia and later named African Heritage Month in 1996.
In December 1995, following a motion introduced by Dr. Jean Augustine, the House of Commons unanimously recognized February as Black History Month in Canada.
Black History Month 2023 Schedule
Pan-African flag raising
Wednesday, Feb. 1 | 12 p.m.
To mark the beginning of Black History Month, the Pan-African flag will be raised next to the Owens Art Gallery at 12 p.m. with a few remarks. All are welcome.
Why Black History (Month) Matters: A Panel Discussion
Wednesday, Feb. 1 | 6:30 p.m.
Crabtree Auditorium (Rm M14)
MtA's Caribbean Students' Association, Black Students' Union, and African Students' Association are coming together to host a student panel as part of Black History Month celebrations on campus. Mark your calendars and come out to hear from students about their experiences as Black students and the significance of commemorating Black History Month.
Movie Night hosted by the MtA Aviation Society — Devotion
Friday, Feb. 3 | 6:30 p.m.
Dunn Rm 108
MtA's Aviation Society is hosting a movie night to mark Black History Month. Devotion is the inspirational true story of Jesse Brown, the first Black aviator in U.S. Navy history. Entry is free and popcorn will be served.
 
Unlearning Anti-Black Racism: webinar viewing and discussion
hosted by the Canadian Centre for Diversity and Inclusion (CCDI)
Thursday, Feb. 9 | 2-3:30 p.m.
Dunn 101
The conversation around anti-Black racism has mostly focused on strategies for eliminating racism within organizations and communal settings. However, tools and strategies can only go so far when we have been socially conditioned into anti-Blackness. In this webinar, we will explore how we can unlearn internalized anti-Black racism.
 
MtA Black Students' Union presents: BHM Reception & Fashion Show
Thursday, Feb. 16 | 7-8:30 p.m.
Windsor Grand Room
The Future of Leadership — Age and Governance in Africa
Postponed to a later date
Online — WebEx event
Join Memorial's Internationalization Office (IO), in partnership with Mount Allison University's International Centre, and the Atlantic Council for International Co-operation (ACIC), for a discussion on the future of African politics amidst an aging pool of leaders. Listen to our student panelists as they discuss the political structures in their countries, as well as examine how Africa youth can contribute to better governance. Discussion and audience participation to follow. Nana Adwoa Asantewa Ofori-Amanfo, fourth year International Relations (Hons) student and Paul Adebola Oyedijo, fourth year Economics (Hons) student will join as panelists for Mount Allison. This event is being organizing as part of International Development Week (IDW) on campus. Event link available soon.
Resources on Black History in Canada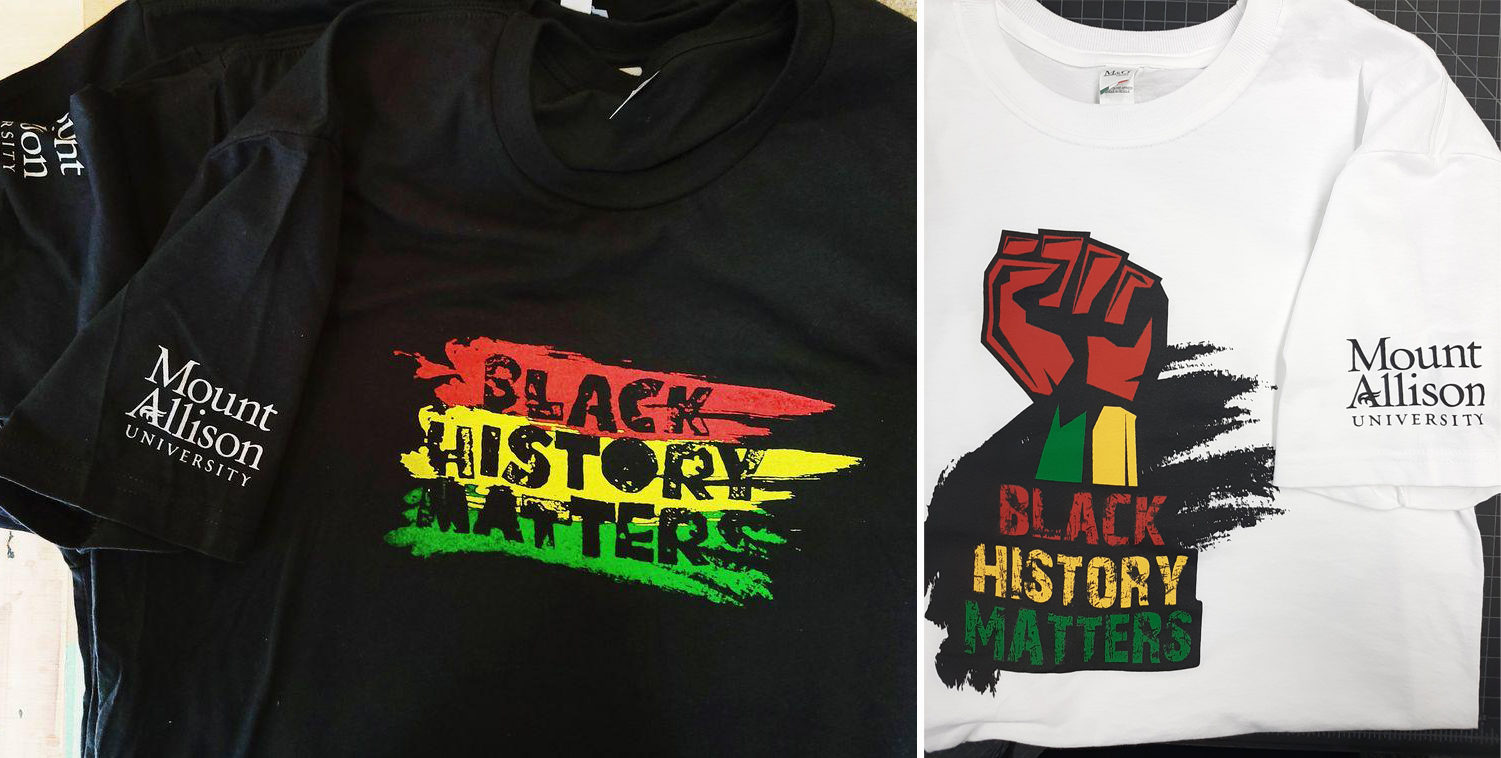 Black History Matters T-shirts
A line of 'Black History Matters' t-shirts first designed in 2022 will once again be available for purchase at the University Bookstore, in-store and online. A portion of the proceeds will be donated to the Kavana Wa Kilele Fund, which will provide support to Black students in perpetuity. This is the first endowed fund at Mount Allison to specifically support Black students. 
---
International Day for the Elimination of Racial Discrimination — March 21
In 1996, the United Nations (UN) General Assembly declared March 21 as the International Day for the Elimination of Racial Discrimination (IDERD) in memory of the 69 people who died after police opened fire on a peaceful anti-apartheid demonstration in Sharpeville, South Africa, in 1960.
IDERD is observed annually on March 21 as a way of drawing the world's attention to the ongoing work of eliminating all forms of racism and racial discrimination. IDERD is more than a day. It is a daily commitment to doing our part to end racism.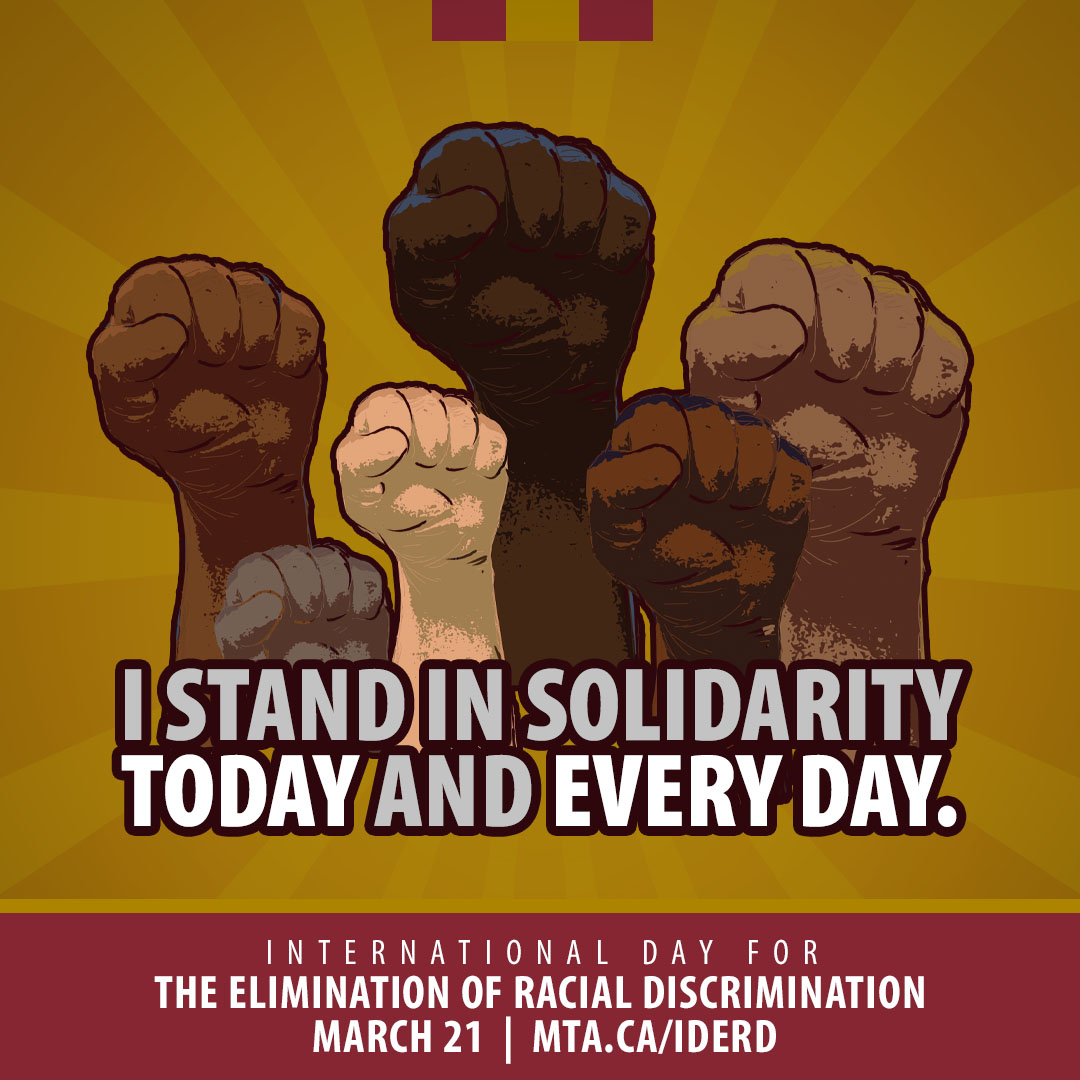 ---
Mount Allison Anti-Racism Policy
Mount Allison's Anti-Racism Policy covers students, staff, and faculty and lays out a process for responding to complaints and reports of racism on campus. 
To make a complaint, to reach out for help, or to seek guidance under the policy, contact the Anti-Racism Education and Response Team (ARERT) at antiracism@mta.ca. The ARERT is comprised of 7 members (4 staff, 2 students, 1 faculty) and is tasked with responding to complaints of racism, and facilitating anti-racism awareness and education on campus.
IDERD and COVID-19

COVID-19 has had a disproportionate impact on Black, Indigenous, Asian, and other intersecting communities. The pandemic has also given rise to increased xenophobia, anti-Black, and anti-Asian racism. As a sign of support and solidarity this IDERD, commit to confronting racism by confronting the discrimination being experienced by these communities.

Other ways you can show support and solidarity:

Educate yourself about systemic racism and racial discrimination
Reflect on your own biases
Commit to being an active bystander, willing to speak out against acts of racism and support victims of racial discrimination
Commit to supporting local organizations involved in confronting racism and inequity in your community
Commit to sharing your learnings with others
---
Take action every day
The following resources help provide education around racism, unconscious bias, microaggressions, and more, and suggest ways you can support the ongoing work of eliminating all forms of racism and racial discrimination.
Anti-racism resources
Unconscious bias
Microaggressions
Additional resources