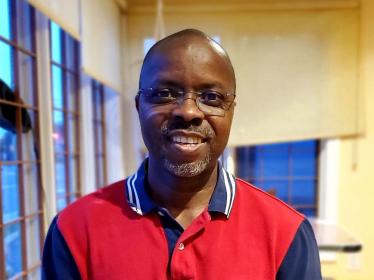 New Publication

Title: Imagination's Many Rooms
Genre: Nonfiction/Essays
Author: Amatoritsero Ede
Pub Date: 19th Aug. 2022

Imagination's Many Rooms is a well-crafted collection of bristling essays on different but related subjects. Partly socio-political and literary commentary, partly a young poet's reminiscences and encounters with global literary and cultural icons, the individual pieces are thematically grouped into sections in an organic anthology. It is written in a highly arresting style, with two of the pieces being essayistic conversations with a dead Canadian writer and a dead Nigerian scholar-poet respectively.

These essays first appeared in the Maple Tree Literary Supplement (MTLS) literary journal in slightly different forms as editorials for specific editions of the Ezine. The essay, "The Example of Mandela" is anthologized as "The Peaceful "Trouble!" in Mandela: Tributes to a Global Icon (Falola 2014).

Order link:
Amatoritsero Ede teaches African and African Diasporic Literatures in the English department. Dr Ede's area of specialization is African and world literature and Postcolonial Theory.  His research interests encompass the 21 st century consciousness, Afropolitanism, as well as the intersections between World Literature, Translation and Comparative literature. He is also a poet and Publisher of the Maple Tree Literary Supplement.
Scholarship
"Narrative Moment and Self-Anthropologizing Discourse." Research in African Literatures. Vol. 46.3. (Fall 2015): 112-129.
"The Politics of Afropolitanism." Journal of African Cultural Studies. Special Issue on Afropolitanism. 28.1(Jan 2016): 88-100. Reprinted in Afropolitanism Reboot. Carli Coetzee ed. UK; Routledge, 2017.
How Afropolitanism Unworlds the African World." Afropolitan Literature as World Literature. Ed. James Hodapp. London: Bloomsbury, Jan. 2020.
"Afropolitan Genealogies." African Diaspora 11(2019): 35-52. 10th Anniversary Special Keyword Issue, Dec. 2019.
Creative
Teardrops on the Weser. Winnipeg: Griot Lounge, 2021.
Globetrotter & Hitler's Children. New York: Akashic Books, 2009.
Collected Poems: A Writer's Pains & Caribbean Blues. Bremen, Germany: Yeti Press, 1998; Lagos, Nigeria: Oracle Books, 2002.
"He Left" in Wreathes for the Wayfarer. Nduka Otiono and Uchechukwu Umezurike eds. Montreal: Daraja Press, 2019.
"Pro-rogue." Poems for a Century: An Anthology on Nigeria. Tope Omoniyi ed. Dakar, Senegal: Amalion, 2014: 83.
"Winter Morning" in On Broken Wings: An anthology of Best Contemporary Nigerian Poetry. Unoma Azuah ed. USA: DeLite Press, 2014: 88.
"Mother and Child" in Onomonresoa: An Anthology of Nigerian Poets on Mothers and Motherhood. Obari Gomba ed. Lagos: Hornbill, 2014: 162-164.
"The Peaceful "Trouble!" in Mandela: Tributes to a Global Icon. Toyin Falola ed. North Carolina: Carolina Academic P., 2014: 137
"Pro-rogue." Rogue Stimulus: The Stephen Harper Anthology for aProrogued Parliament. Toronto: Mansfield, 2010:45.
"Exile." Songs for Wonodi. Dike Okoro ed. London: Malthouse, 2007:61.
"Globetrotter." TOK1: Writing the New Toronto. Helen Walsh ed. Toronto: Zephyr, 2006:102
"Not in Love." Camouflage: Best of Contemporary Nigerian Writing. Nduka Otiono & Diego Okenyodo eds. Yenogoa, Nigeria: Treasure Books, 2006: 122-126.
"The Skinhead's Lord's Prayer." May Ayim Award Anthology. Peggy Piesche et al eds. Berlin: Orlanda Verlag, 2004: 69.
"Beside the Lagoon & "Rhythm." Und auf den Strassen eine Pest. Uche Nduka ed. Bad Honef, Germany: Horleman Verlag, 1996: 39-40.
BA & MA (Leibniz University, Hannover, Germany, 2002)
PhD (Carleton University, 2013)
Home and Exile: Afropolitanism (ENGL 299)1
Literature as Virus: Animist Materialism in African and African Diasporic Literature and Visual Arts (ENGL 3991)
Introduction to the Principles of Literary Analysis (ENGL 1201D)
Caribbean Literature (ENGL 3771)
Afropolitanism in literature and culture
Translation
World Literature
Comparative literature
Postcolonial Studies
Friedrich-Ebert Foundation Scholarship - 1999-2001
PEN Canada / Canada Council / Carleton University Writing Grant - 2005-2006
SSHRC Doctoral Fellowship - 2008-2010
Nigerian Literature Prize Nomination - 2013
Canada Council Operating Grant for Maple Tree Literary Supplement (MTLS)- 2012
Canada Council Equity Grant for MTLS - 2012-2014
Canada Council Operating Grant for MTLS - 2011
Canada Council Flying Squad Grant for MTLS - 2011
Canada Council Operating Grant for MTLS - 2010
Ottawa City Grant for MTLS - 2010
Second Prize, May Ayim Award for poetry, Berlin - 2004
Association of Nigerian Authors' Christopher Okigbo Prize for Literature - 1998