Class officers
President
Alexander MacIntosh
Treasurer
David Gass (deceased)
Secretary
Elizabeth (Anglin) Evans
---
Class yell
Spirit we have, intelligence too
Exuberance is ours, to dare and to do
Yell for Vermillion, shout for jet
Exclaim aloud, we're the best class yet
Viewing the future, everything looks bright,
Nothing can daunt us, '67 fight!
---
Class project
Class of 1967 Disability Award
The Class of 1967 has a class project to help students pay for expenses associated with having a disability. The class continues to support this award.
---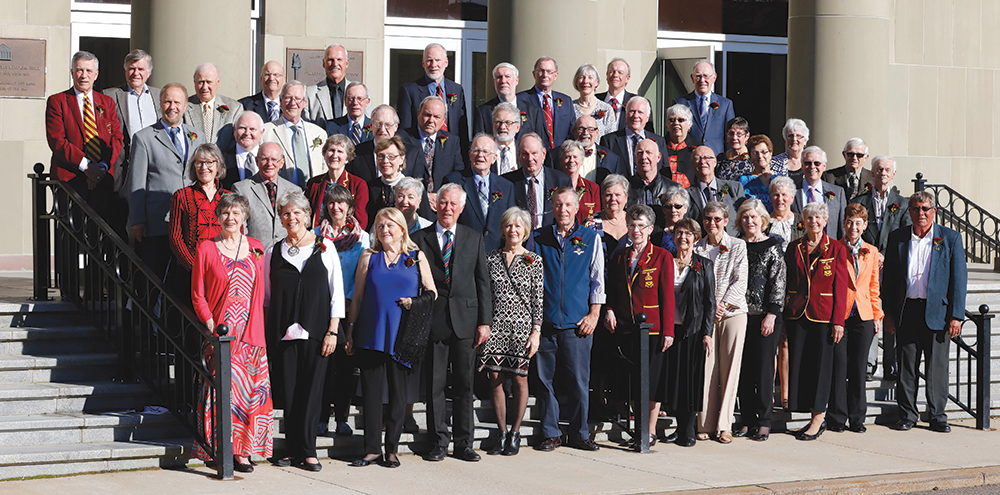 Reunion 2017
First Row: Jane Banks, Mary Ann Bibby, Elizabeth Morrison, John Farnon, Lynda Symms, Rick Thompson, Rose Anne Peach, Joan Perrin, Heike Crane, Jean Sealy, Helen Cook, Beth Bond, Dennis Dann
Second Row: Suzanne Toole, Carol Baker, Martha Jay, Audrey Jordan, Elaine Fraser
Third Row: Kate Braid, Calvin Hegge, Susan Cameron, Sharon Moyse, Robert Lindsay, Jim Sutherland, Linda Hill, Hugh Mcknight, Bill Dechman, Judy (Knee) Coates, Lloyd Fraser, David Fullerton, Bruce Campbell
Fourth Row: Alan Miller, Ian Andrews, Steve Peacock, Jim Cleveland, Cyril Moyse, David Gass, David Gass, Kevin Sterns, Joe Robb, Nancy Vogan, Judy (Miles) Rose, Lynda Sharpe
Fifth Row: Gordon MacKay, Robert Wright, Paul Cappelli, Doug Powell, Richard Simms, Paul Pergeau, Gerry Hopkirk, Sandy MacIntosh, Sandra Dyer, Phillip Dyer, Murray Lawson