Young Alumni: Graham May ('15) named Canada's Top Environmentalist Under 25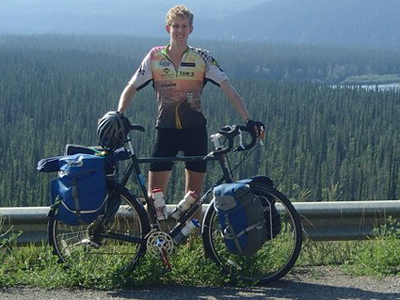 Mount Allison alumnus Graham May is Canada's Top Environmentalist Under 25, presented by Starfish Canada — an organization that increases awareness of environmental, solutions-based stories in Canada, especially youth-led initiatives.
The environmental studies and international relations graduate was selected because, as noted by Starfish Canada, "he stands as an incredible example of the influence that one person can have when they set their minds to something."

Even one of May's projects on behalf of the environment would be impressive on its own. There are many. One of these projects included working with the Youth Arctic Coalition, which he co-founded and directed in 2013 and 2014 to do cooperative projects and influence Arctic governance.

May is also is on the board of directors of the Sierra Club of Canada and, as secretary of the board, he takes part in planning the future of this major environmental organization.

While at Mount Allison, he chaired the environmental issues committee and was also on the steering committee for the New Brunswick Environmental Network.

May believes that if you want to help the environment you need to get outside and really get to know it. This inspired a number of cross-country bike trips in Canada and in Turkey while on a Mount Allison exchange. His aim was to increase awareness about the environment and empower youth to take action.

May also received Mount Allison's Mansbridge Internship, which enabled him to do research in Nunavut and Greenland aboard the Arctic Tern 1, a high-latitude sailboat. He looked at resource development and climate change and the impact of both on Aboriginal communities.

After graduation, May worked at the Environmental Law Institute in Washington, DC as an intern. This was a return to Washington for May as he received a Killam Fellowship and spent a semester on exchange at American University while at Mount Allison.

In September, he travelled to Southwest China to study Mandarin.

"I wanted to live in China partly because in BC, where I am from, there is an increase in Chinese immigrants and I knew very little about Chinese culture or language. I also think that living internationally is valuable in its own right," says May. "That is something I learned at Mount Allison in two semester-long exchanges, in Istanbul and Washington, DC, as well as researching in Greenland."

May says from an environmental perspective, China is swiftly becoming the most important actor in the world.

"There is enormous potential for sustainable development there — world-leading solar and hydro energy production, low-carbon transportation systems, high-density housing, etc. But things might easily go the other way, reproducing North American-style carbon emissions, waste, and wilderness loss. I hope that I can be part of the global collaboration necessary to encourage the former option and that requires knowing Chinese language and culture."

As for the future, May plans to continue his work for the environment. Part of that plan is attending law school to study sustainable development law.