Young Alumni: Arts grad pursues PhD in pharmacy, knowledge translation and mobile health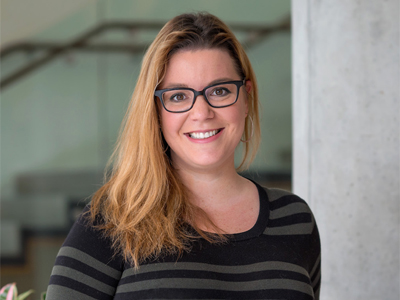 Katie Mercer ('07) took a winding road to the work she is doing now, but she wouldn't have it any other way. She made the switch from arts to science and is now a PhD student in the University of Waterloo's School of Pharmacy, researching in the area of knowledge translation, patient engagement, and mobile health (mhealth).

Mercer graduated from Mount Allison with a Bachelor of Arts, honours in history and a minor in Canadian studies. She later earned her Master's of Information from the University of Toronto's iSchool in data and competitive intelligence. After a number of years with Loblaw Companies Ltd. working on their strategy team as a manager of decision-making, she decided to step out on her own and do consulting for start-ups.

After several years of consulting, she discovered she missed working directly with people. She began working as a research assistant for the professor who is now her supervisor, who felt her skills as a librarian and work with non-profits would be an interesting match for her research. That job led to Mercer's decision to pursue her PhD in pharmacy.

"I look at how online information and mobile technologies can be improved to better patient engagement," she says. "I work on knowledge creation and translation in order to remove the barriers for people understanding more about their health information."

Mercer says her foundation in the liberal arts and sciences at Mount Allison helped her understand there is crossover between arts and science, especially after undergraduate studies.

"As an Arts student, I begrudgingly took science courses at Mount A, but it gave me a grounding in knowing that science was a part of the arts and vice versa," she says. "I realized that you don't need to be locked in silos and that there is so much crossover. I think Science students should take more Arts courses and Arts students should take more Science. It really presents a lot of interesting career options."

A librarian by trade, she tries to always make time to escape from her studies.

"It's easy to not take time to do the things you enjoy, so I always try to read, go to the theatre, a concert, or head to a museum; something not related to the work I am doing."

With two more years of studies to go before she earns her PhD, Mercer is enjoying working with study participants and running e-literacy programs in the community.

"I really like working on my research and being able to help people," she says.

Mercer plans to work in industry or continuing to research patient engagement.