Teepee raised on the Mount Allison University campus
Collaborative project to serve as a teaching space, educational resource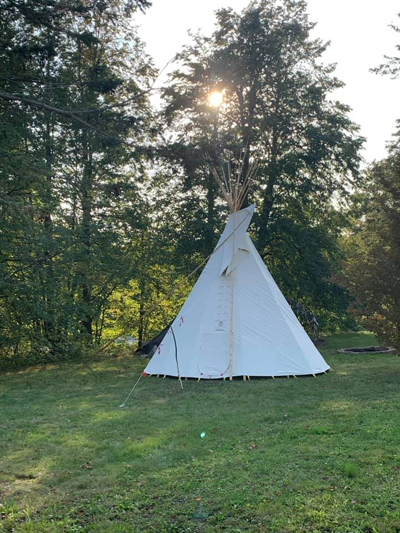 A teepee nearly 20-feet in diameter is the newest addition to the Mount Allison University campus.
Mount Allison students and staff members built the teepee on September 26, with the guidance of Mi'kmaq Elder Gary Joe Augustine of Elsipogtog First Nation. Augustine lead and shared the ceremonial teachings and meaning of the teepee building process with the group.
Patty Musgrave, Mount Allison's Indigenous Affairs Co-ordinator says while the Mi'kmaw people did not traditionally build teepees, many Indigenous groups across North America have adopted these structures as places of learning, celebration, and gathering.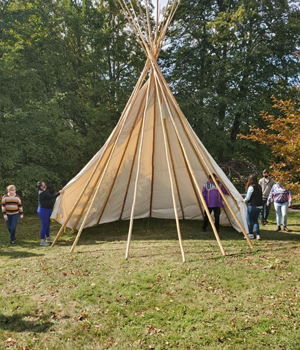 "The Mi'kmaq people have traditionally built wigwams, derived from the Mi'kmaq word for dwelling," says Musgrave. "While wigwams were built with spruce roots, poles, and birchbark, teepees or tipis are covered with skins or material. Both structures serve as important family shelters and ceremonial gathering places, with women leading the construction of them. We are excited to have this new addition on sacred space on campus, along with our Sweat Lodge and Indigenous Gardens project."
Jacob Demers, a Mount Allison master's student helped to lead and support the project. He received an Indigenous Student Ambassadors grant from the Natural Sciences and Engineering Research Council of Canada (NSERC) earlier this year.
With the NSERC program, Demers had created and planned wetland lessons and field trip activities for local schools in Dorchester and Elsipogtog around the importance of wetlands. When the pandemic made his original science education and outreach plans not feasible, Demers began thinking of new ways of outreach his project could support.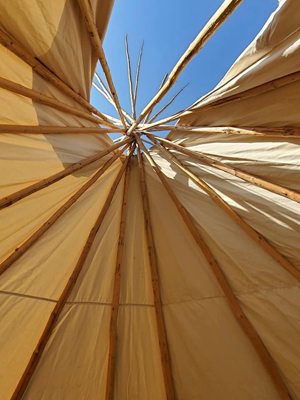 "The idea for a campus teepee was very much a collaborative one," says Demers. "I learned a lot about teepees throughout the day and am glad the University will be able to share this resource and knowledge with the campus and wider communities."
Demers, along with Ben Phillips, technician and lab instructor in Mount Allison's Geography and Environment department, documented the teepees building. They will be creating an educational video on the teepee building for students in Dorchester and Elsipogtog.
The teepee is 19-feet in diameter. The structure can accommodate a fire pit and will serve as a teaching and gathering space on campus – all following current Public Health regulations.
The Mount Allison teepee is made of all-season blank canvas. Organizers plan to have students from both the University and local schools paint the canvas when possible in the future to encourage community connection and partnership.
Photo credits (in order of appearance): Shivanya Ra and Patty Musgrave