Sociology students assist local community groups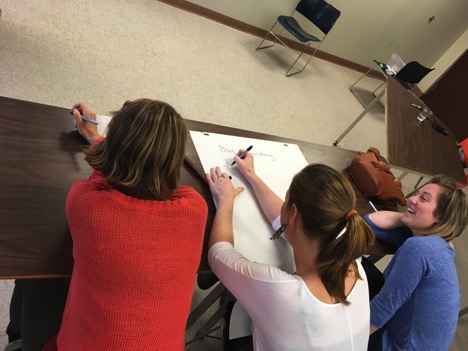 Sociology students had the opportunity to step outside the classroom and test out theories they were learning in class, all while lending a hand to local community groups.
The hands-on learning experience was part of the coursework for their Community-Based Participatory Research Methods class.
The professor for the course, full time consultant Lori Ann Roness, had groups of students working with a number of organizations.
"In my classes I want students to develop pragmatic, real-world skills that they can use outside the classroom. So the course was designed so the classroom experience was a parallel process to their work with these organizations," she says.
One group worked with the organization The Walk in the Park, which raises awareness about Alzheimer's and dementia. Another group worked with community members who wanted to start an after hours youth drop-in centre in Sackville. Two others volunteered with two Horizon Health Network working groups — Food security and A community-based model of health care. Horizon has six working groups conducting health needs assessments in different communities to determine future provincial health care needs.
The students, acting as consultants, carried out various tasks including organizing a public forum; developing a survey tool, administering it to participants, and interpreting the results of the survey; developing a business plan for a drop-in centre; planning and facilitating a workshop to develop vision, mission, goals and objectives; and writing reports. Every group was unique.
According to Roness, the students were able not only to see how what they were learning in class applies at the community level, but also use what they had learned in other courses.
"We talk about the theory of race, of gender, of class, and the theory of age and we then take those theories and see how they work. So for example, how are you treated as a female in a group? That is the application of the theory of gender," she says. "How does it work when you are the youngest at the table and you have the least amount of life experience and you have something to say? All the theories that students are learning and becoming passionate about, this type of course allows them to experience them."
Students also learned what it was like to work in teams and with community members, as well as how to problem solve and strategize on the best way to gather information.
"The most valuable part of the class was the opportunity to learn outside the classroom. It was good experience and exposure to this line of work," says sociology and environmental studies student Laura Penney.
Students had to submit a final paper that was edited with feedback by Roness. The students then made any changes necessary and submitted the reports to their working groups.
Both the community groups and the students gained from the experience.
"Applied work is experiential but it is also experimental," Roness says. "It is good for the community, but it is also good for the researcher and the University as it helps build bridges and strengthen relationships."
Photo caption: Three of the community members who worked with students: from left, Erica Pryde, Liandra Fahey, and Kirstin Trochymchuk.