Mount Allison President hand delivers diplomas to grads for second year running.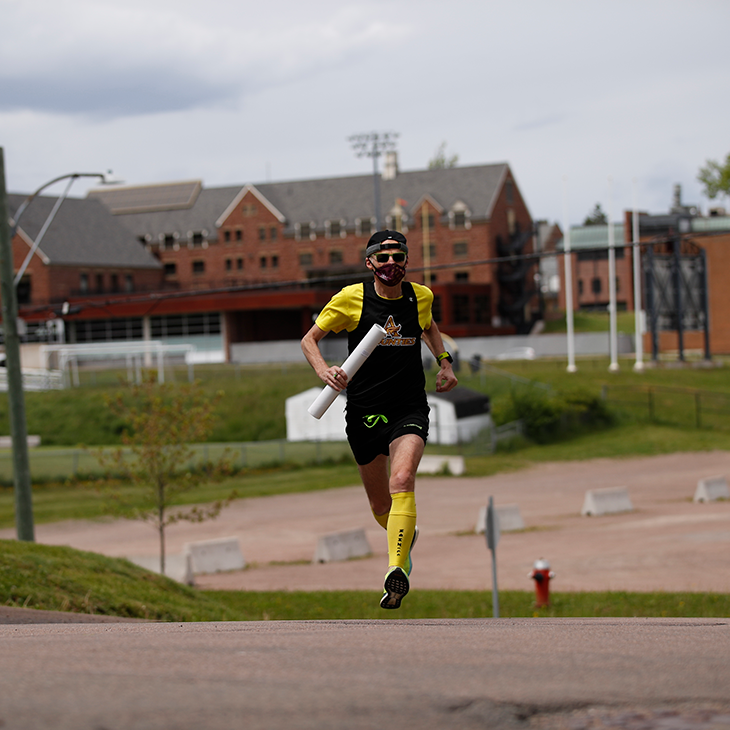 2021 Mount Allison University graduates in the Town of Sackville had a special delivery method for their diplomas. For the second year, University President and running enthusiast Dr. Jean-Paul Boudreau hand-delivered local graduates' diplomas, on foot. Students in Sackville were given the option to receive their diploma via a "special delivery."
"The past year and a half has been challenging for all of us," says Boudreau. "Following our second virtual Conferring of Degrees ceremony and first diploma run last year, it was a natural fit to continue for 2021. It was wonderful to connect with some of our students in this way. I have been continuously impressed and appreciative of the resiliency and adaptability shown by Mount Allison students, faculty, and staff members throughout the course of the pandemic."
Boudreau delivered diplomas to 30 graduates, covering over 15 kilometers over two runs on June 11 and June 17.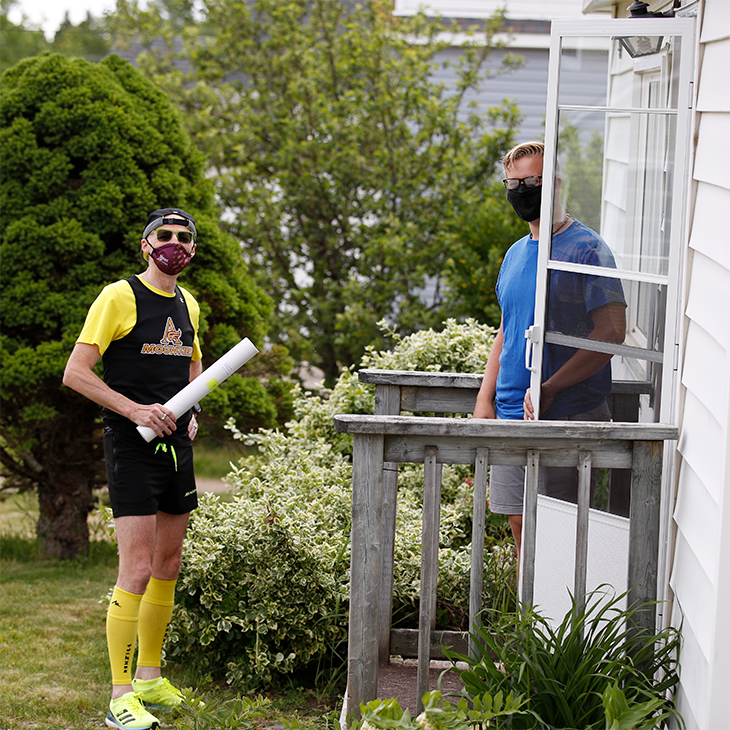 Gibson MacMillan and Sarah Park was among the recipients. They say receiving their diplomas in this way added a nice personal touch in what has been an unusual year.
MacMillan graduated with his Bachelor of Music this spring. His diploma delivery was the first stop in Boudreau's June 11 run.
"I can think of no way more unique or more delightful to have received my diploma than this," says Gibson.
Sarah Park, a graduate of both 2020 and 2021, dressed for the occasion, sporting a graduation cap and gown for Dr. Boudreau's running delivery.
"This is actually the second diploma I have received from Mount A. I received my BSc diploma in the mail; but this year I received my Honours Certificate on the porch! I had my cap, gown, and hood ready for when Dr. Boudreau arrived," says Park. "I feel very fortunate to have attended a university where there is a community that would even care to hand-deliver diplomas."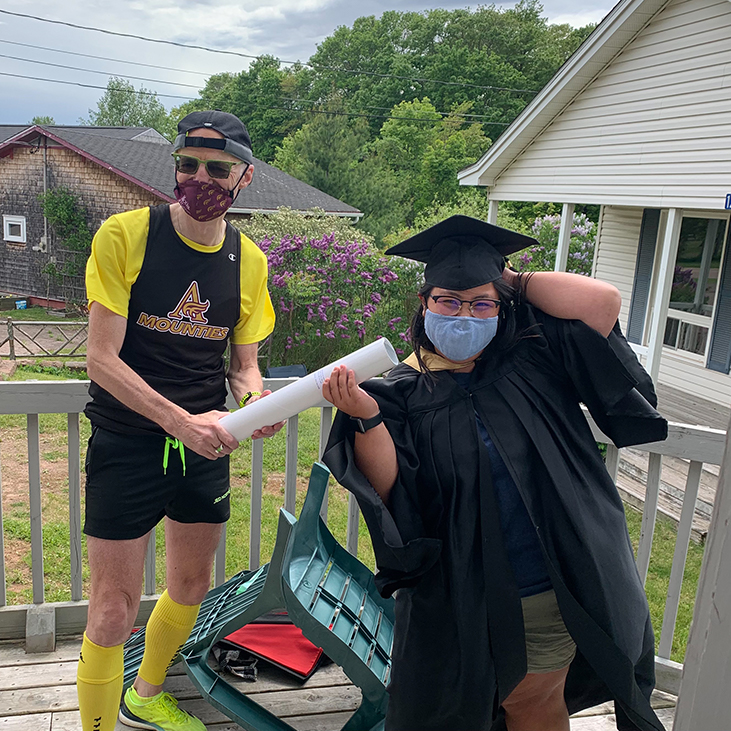 Park received her BSc in psychology and math in 2020 and graduated again this year with her Honours Certificate. She is continuing her studies at York University this fall working towards a Master of Arts in Psychology (Brain, Behaviour, and Cognitive Sciences).
Boudreau completed a similar diploma run in 2020, following the University's first virtual conferring of degrees ceremony. This year's virtual ceremony was held on May 17 and is available on the University's Facebook and YouTube pages.
While Boudreau, and the graduates, have enjoyed this new activity, all are looking forward to returning to in-person Convocation ceremonies in 2022. Three separate Convocation ceremonies will be held on campus next May for the Classes of 2020, 2021, and 2022 as well as Alumni reunion celebrations in July.
Photo captions: 2021 graduates Gibson MacMillan and Sarah Park receive their diplomas via special delivery from University President and Vice-Chancellor Dr. Jean-Paul Boudreau in Sackville, NB