The Mounties: Noah Mascoll-Gomes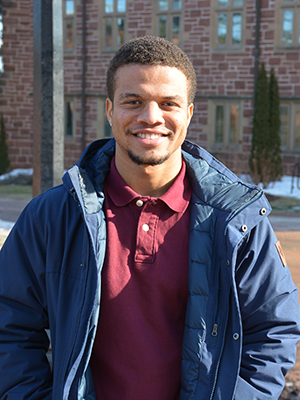 After high school, Noah Mascoll-Gomes took some time to figure out his next step. Born in Montreal and growing up in Antigua, he decided he wanted to return to Canada for university. He chose Mount Allison on the recommendation of his aunt and based on the University's reputation. Being able to continue swimming was an added bonus.
Mascoll-Gomes began swimming competitively at the age of 12 when his school built a new pool. He quickly progressed, making the national team for his age group just six months later. He attended regional competitions throughout the Caribbean and has travelled to the Central American region as well as North America to compete. At 16, he competed in the 2016 Summer Olympics in Brazil in the 200m freestyle and was the flag bearer for Antigua and Barbuda in the closing ceremony.
"I love competing," he says. "I also like that I have had the opportunity to travel. I have made relationships with people from around the world through swimming."
Last year Mascoll-Gomes took some time off from swimming and wasn't sure he would return to the pool.
"I enjoyed the time off," he says. "It is time consuming and swimming for your country comes with a lot of pressure. I am happy to be here though. I am more relaxed. Now it's just swimming."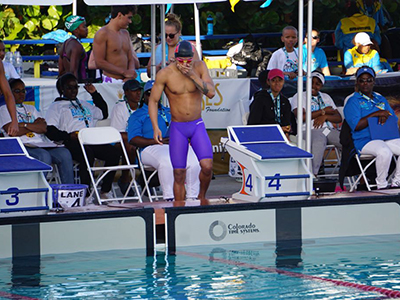 A two-time student athlete of the year in Antigua, Mascoll-Gomes was recently chosen as athlete of the week at Mount Allison for his outstanding performance at his first university swim meet at Dalhousie University. He won the 200m men's freestyle, the 50m men's freestyle, and the 50m men's backstroke. He also finished second in the 100m freestyle, narrowly missing the qualifying time for the U SPORTS National Championship.
"The 100m freestyle was my personal best," he says. "It was a great race regardless of the position I came in. I lost to a former Mountie, Geraint Berger, by only 2-100ths of a second, which made it exciting and gave me some motivation to work on a few things."
Following his recent success, Mascoll-Gomes is eager to do even more.
"I always feel like I need to do more," he says. "I still have a lot of work to do and my next goal is to qualify for the national championship."
Mascoll-Gomes developed this competitive drive at one of his first regional competitions.
"I have to remember to not get comfortable and content. I need to be open-minded and keep setting ambitious goals for myself," he says.
An outdoor and water sports enthusiast, Mascoll-Gomes is keeping his options open for the future, but has an eye on a career in the sports world.