The Mounties: Kyle Horsman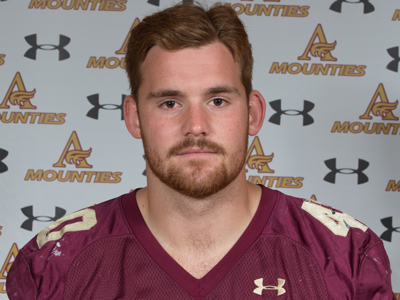 For Football Mountie and history/political science major Kyle Horsman ('17) Mount Allison felt like home right away. From nearby Moncton, he played football for Bernice MacNaughton High School and for Team New Brunswick, so he was familiar with the team's coaching staff.

A linebacker, he has been playing football since Grade 7 and says the team aspect of football is what he has always enjoyed the most.

"You automatically have 100 new friends and coming to university in my first year, it really helped me feel more comfortable and adjust," he says.

His top sporting moment has been the dramatic win against St.Mary's in the 2013 Loney Bowl.

The team recently won its first game of the season against Acadia and Horsman says it was nice to get a win in front of a Homecoming crowd.

"We held our own against Laval the week before, one of the best teams in the country, and it was nice to get a win in front of our friends and returning alumni in our new stadium. It was also a great first win for Coach Brady."

Returning for a fifth season, Horsman has enjoyed having the opportunity to step up with the team and leave his mark on the program. He was recently named Athlete of the Week for a strong performance against Laval with 9 tackles. He currently leads the AUS in tackles with 37.

He plans to travel and potentially teach abroad after graduating from Mount Allison.