The Mounties: Jaryd Morrissey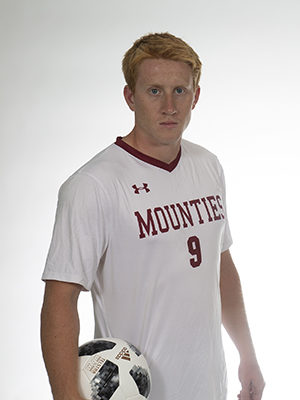 Senior Badminton and Soccer Mountie Jaryd Morrissey grew up in Sackville, NB. Mount Allison was his first and only choice for university. The transition from high school to university was much easier staying in his hometown and he could take advantage of Mount Allison's top academic programs. But, athletics also played a big role in his decision.

"Mount Allison let me play two varsity sports and that was a big thing for me," he says.

Morrissey began playing soccer at age four in Sackville's youth soccer program and progressed through summer leagues, middle school, and then Tantramar's competitive high school program, where he began working with Mountie Connor McCumber ('13) who was a striker with Mount Allison. Including summer programs, McCumber would coach Morrissey for eight seasons collectively and he credits him for helping take his game to the next level.

"I really owe my soccer development to Connor and playing with Team NB in my final year of high school," he says.

Morrissey picked up badminton in Grade 5 and began training competitively at the age of 13 with the Moncton Badminton Club, where he developed his fundamentals with coach Daryl Beers. At 17, Morrissey was training for his first Canada Games tryout and began practicing with the Mounties Badminton program in his final year of high school. He didn't make the Canada Games team in 2014, but was named the first alternate. Morrissey calls this a turning point in his badminton career.

"I had put 125% effort into training and it was disappointing to not make the team," he says. "But it offered me a nice restart and changed my perspective on the sport and what I wanted from it. I wanted to stop being so individual and train with friends and branch out. I wanted to have more fun and get excited about playing again and that made me a better player."

Fast forward four years later and Morrissey was named to the 2019 New Brunswick Badminton Canada Games team that competed in Red Deer, AB.


"It was almost like training five years for one week," he says. "It was kind of like a mini-Olympics. The experience was fantastic."

During his five years at Mount Allison, Morrissey earned a spot at the CCAA Badminton Nationals four times and the team won the ACAA championships three times. He was named MVP of the team twice and last year was given the overall Scholar-Athlete Award. The past two years he was named ACAA player of the year and an All-Canadian in badminton. For one season he was an Academic All-Canadian in both sports. This year, he earned the Exemplary Leadership Award from the CCAA.

"That award meant the most to me because I was recognized nationally," he says.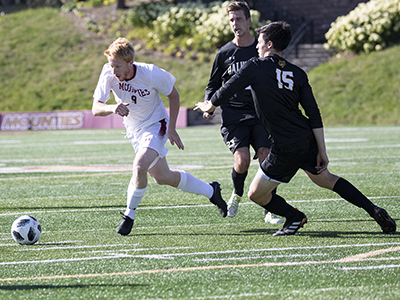 Throughout his soccer career at Mount Allison, he has experienced both highs and lows. He credits his most memorable sporting moment as being a goal he scored in first year vs. StFX in extra time to capture just their second win of the season.

"It was huge in my first year to score that goal," he says. "I can remember my teammates rushing at me and it was a huge exciting moment. And we still had a full minute to play after that. There's not a lot of times you score a goal like that."

Last season he pushed through a painful hip flexor injury that would plague him for a full year. He was unable to strike the ball or sprint.

"I had to be super careful with my movements and work my way back from that," he says.

Academically he has earned both a Bachelor of Commerce and a Bachelor of Arts with a major in political science and minor in Commerce.

"There is so much I will take with me when I move on that will be useful," he says. "Research, writing skills, being up on the news and current events. Then there is the people skills aspect from Commerce that has taught me how to communicate effectively."

Morrissey is heading to Dalhousie in the fall to begin his Corporate Residency MBA.

He says there is so much he will miss about Mount Allison.

"I will miss the sports and all the events that happen during the season and in the off season," he says. "I'll also miss the culture and the beautiful campus in every season."