Mount Allison's Tintamarre stages 32nd school tour with SOLITAIRE
Bilingual theatre troupe to tour schools across NB, NS this spring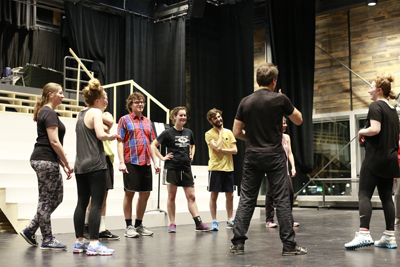 SACKVILLE, NB — Mount Allison University's unique and award-winning bilingual theatre company will tour their new play, SOLITAIRE, to schools in New Brunswick and Nova Scotia, April 29 – May 12, 2019.
The play casts a comic light on a serious issue that will resonate with many young people. Spectators from Grades 4 to 12 will encounter an unfinished structure that becomes a huge cocoon as the story unfolds. The 'Solitaires' who build the cocoon will share, separately, the reasons why they chose isolation over friends, family, and community.
The reasons for 'cocooning' were identified by the cast, all Mount Allison actor-students, during the brainstorming process, which is always the first stage when Tintamarre creates a play.
SOLITAIRE is a play within a play, a dress rehearsal which will become far more comedic than the director ever imagined. Part-way through a scene, one of the 'Solitaires' suddenly finds the courage to say that the play should take a new direction: rather than appearing separately as the script prescribes, the isolated characters should come together to celebrate the triumph of solidarity over solitude.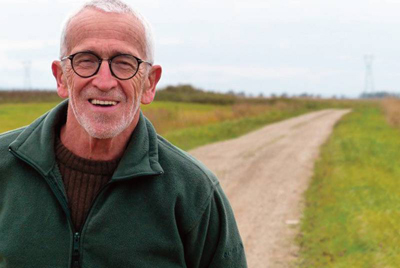 Alex Fancy, Tintamarre's founder-director, has written the bilingual script which, he says, "would not have happened if our group of generous and talented actor-students had not shared their views on 21st century loneliness."
The longer, original play was presented at Mount Allison in February.
Seven actors will play fourteen characters. The colourful set and costumes have been designed by Nancy Perrin, lighting by Paul A. Del Motte. Nancy Vogan is musical consultant, and sound has been created by Anna Hardie, a second-year student and member of the touring cast.
Tintamarre's visits to schools will also feature a teacher's guide, as well as a post-show discussion with the entire audience, is facilitated by the director.
This year's tour has been made possible by the Crake Foundation, alumni and friends of Tintamarre, participating schools, and the 30 Mount Allison students who helped to create the original production.
The final performance of SOLITAIRE is scheduled for Mount Allison's Motyer-Fancy Theatre, which is located in the Purdy Crawford Centre for the Arts, on Sunday, May 12 at 4 p.m. No reservations, accessible building, voluntary donation.