Mount Allison University and CCNB sign new pathway agreement
New agreement marks the first between the two schools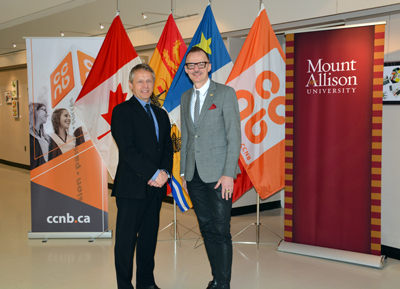 DIEPPE, NB — Mount Allison University and Collège communautaire du Nouveau-Brunswick (CCNB) recently signed a new pathway agreement stating that they will work to offer students more diverse and collaborative post-secondary opportunities in the province.
Before retiring in early April, CCNB outgoing CEO, Liane Roy, signed the official documents on behalf of the francophone institution with Mount Allison University President and Vice-Chancellor Dr. Jean-Paul Boudreau. The signing marks the first time a collaboration of this nature has been formalized between the two schools.
This agreement aims to open doors for CCNB graduates, giving them access to university studies at Mount Allison following their studies at CCNB. After studying two years, graduates from some CCNB programs would be able to complete their bachelor's degree at Mount Allison with an upper-year standing. Programs in Commerce, Computer sciences and Environment are being studied at the moment. Details on exact programs and study streams are still being finalized and will be announced at a later date.
On Friday, May 10, CCNB interim CEO, Roger Doucet, and Boudreau met for the first time at the CCNB Dieppe Campus.
"This signing is historic and quite significant for CCNB. We are really excited to be part of this adventure," says Doucet. "Mount Allison University is always ranked among Canadian's top post-secondary institutions so it will give our graduates some interesting options."
Boudreau hopes many CCNB graduates will turn to Mount Allison after obtaining their diplomas.
"This agreement proves the power and possibility of New Brunswick's post-secondary education options and is a positive step forward for both institutions," says Boudreau. "We're very excited about this collaboration with CCNB, which will give students from across the province new choices, careers, and employment paths, and ultimately help our region thrive."
CCNB has already 46 official agreements with 13 post-secondary institutions across Canada, United States of America, Europe and Australia. In addition to the MOU with CCNB, Mount Allison University currently has established pathways agreements with NBCC (Accounting), Holland College (Music), and Bermuda College (Science).
Photo caption (L-R), Roger Doucet, CCNB interim CEO and Dr. Jean-Paul Boudreau, Mount Allison University President and Vice-Chancellor recently met to discuss the new pathway agreement between the two schools.