Mount Allison students partner with Cumberland Restorative Justice Society
CEWIL grant offers sociology students the chance to apply knowledge to real-world professional setting
Last semester, students in the sociology Intro to Restorative Justice course taught by adjunct professor Cheryl Veinotte-Mackey partnered with the Cumberland Restorative Justice Society (CRJS) as part of a community-engaged learning grant that offered students an opportunity to apply their learning around restorative justice and approaches in a real-world professional setting.
Located in Amherst, NS, the CRJS is a community-based non-profit organization that serves as a regional team for the Nova Scotia Restorative Justice Program. Restorative justice is a unique approach to justice that aims to repair damaged relationships and prevent further harm by seeking to understand root causes of conflict. The process typically involves those who have been affected, those who have caused harm, and community members who can provide support.
The class was divided into five groups, with each group taking on a different project to support the CRJS. One group of students updated the organization's website and resources. Another group created informative videos and infographics for use by the CRJS. A third group renovated the space used for restorative sessions to make it more trauma informed. The fourth group worked with youth at the Cumberland Community Youth Development Centre, teaching them about circle processes and helping them create guidelines for their meetings. The fifth group delivered training to CRJS staff and Board members on restorative approaches and practices, EDIAA (equity, diversity, inclusion, accessibility, and anti-racism), and cultural competence. The projects were supported by a Community Engaged and Work-Integrated Learning Canada (CEWIL) grant.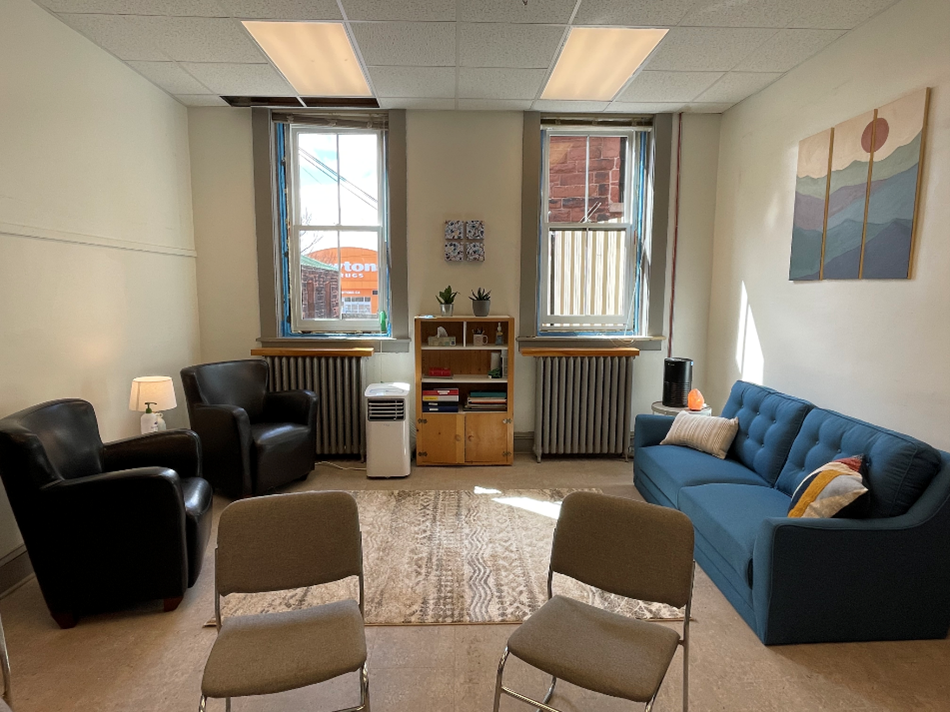 Collaborating with a not-for-profit organization gave students the opportunity to apply what they were learning in the classroom to real-world situations, deepening their understanding of the course material and allowing them to work alongside restorative justice practitioners, while at the same time providing CRJS and the youth centre with supports that they may not otherwise have access to.
"There's only so much you can do in a classroom," says Quinn WayLaing, a third-year honours sociology and community-engaged learning (CENL) student. "This was a great opportunity to develop skills more closely associated with real people and real concerns. I think all learning spaces should have some practical ties with the local area you're living in."
Second-year sociology and fine arts student Jessica Weiland also found the hands-on component improved her sense of engagement.
"Learning the theory is not the same as getting to see what is actually being done in the field. To be able to work with an organization, to see what they are doing, was pretty transformative," she says.
The class also hosted a Restorative Approaches Showcase on campus in March to give students a chance to share their work with the wider community. The showcase began with a student-led circle, followed by presentations from practitioners in the field of restorative justice. Claudia Colvaciuc from the Dalhousie School of Law provided an Indigenous perspective on restorative approaches, while Kevin Pung, a student who took the class last year, shared his experience as a restorative justice facilitator in NB. Kelsey MacDonald, who leads the Restorative Justice department in New Brunswick, also shared some insight, along with psychology professor Dr. Lisa Dawn Hamilton, who has rich experience in implementing a restorative approach in both her professional and personal praxis.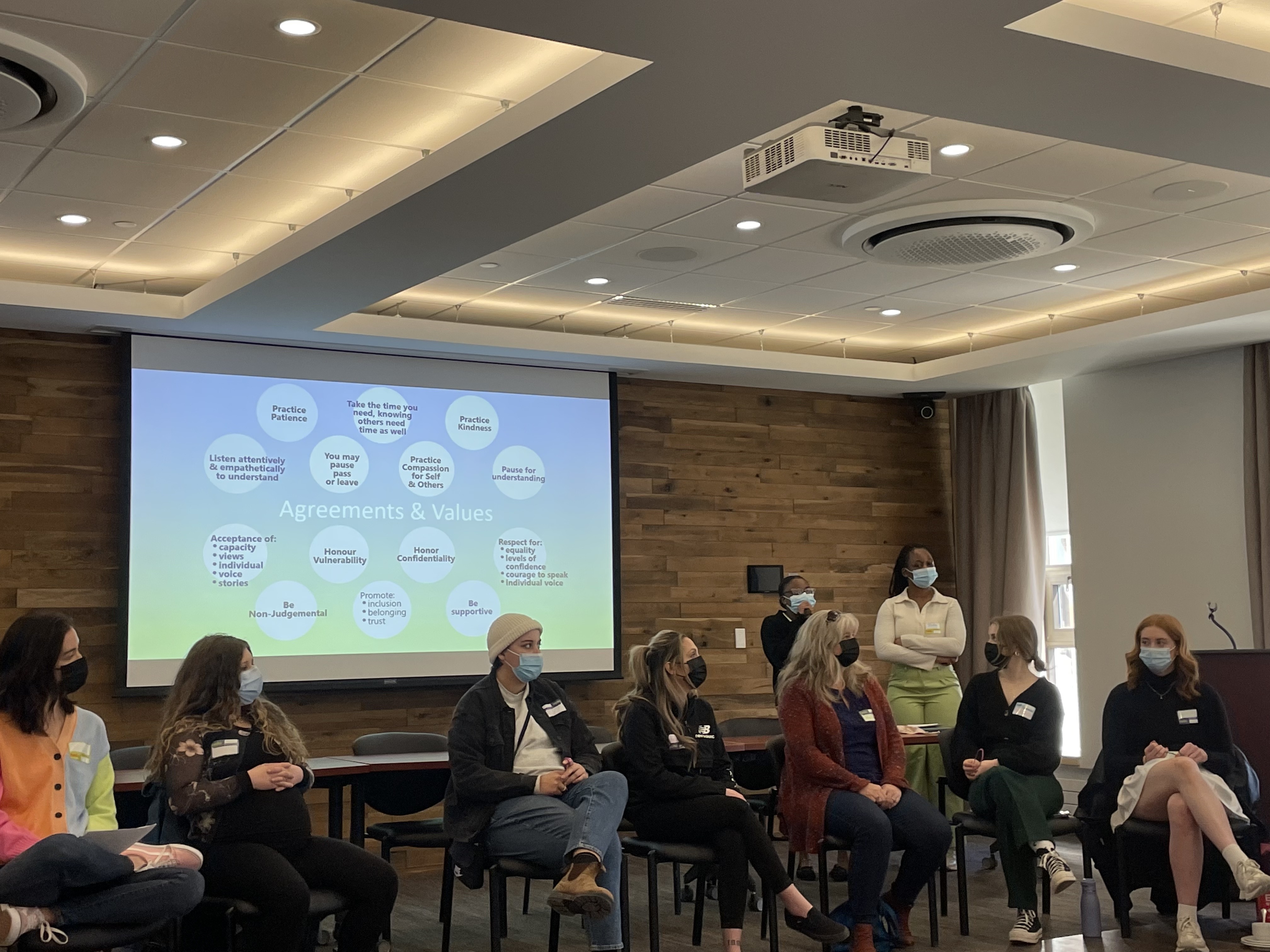 "The showcase served as an excellent opportunity for the students to demonstrate their learning and for the community to gain a better understanding of the principles of restorative justice from seasoned practitioners," says Veinotte-Mackey. "The event was a great success and demonstrated the positive impact that these community-engaged learning partnerships can have on both communities and learners."
Students welcomed the opportunity to engage with professionals in the field.
"What I enjoyed most about the course was being able to have discussions with so many different people from different sociological fields of work," says third-year psychology and sociology student Beyoncé Gibbons. "It was nice to have the chance to ask them about their occupations and how they've used restorative justice principles in their work."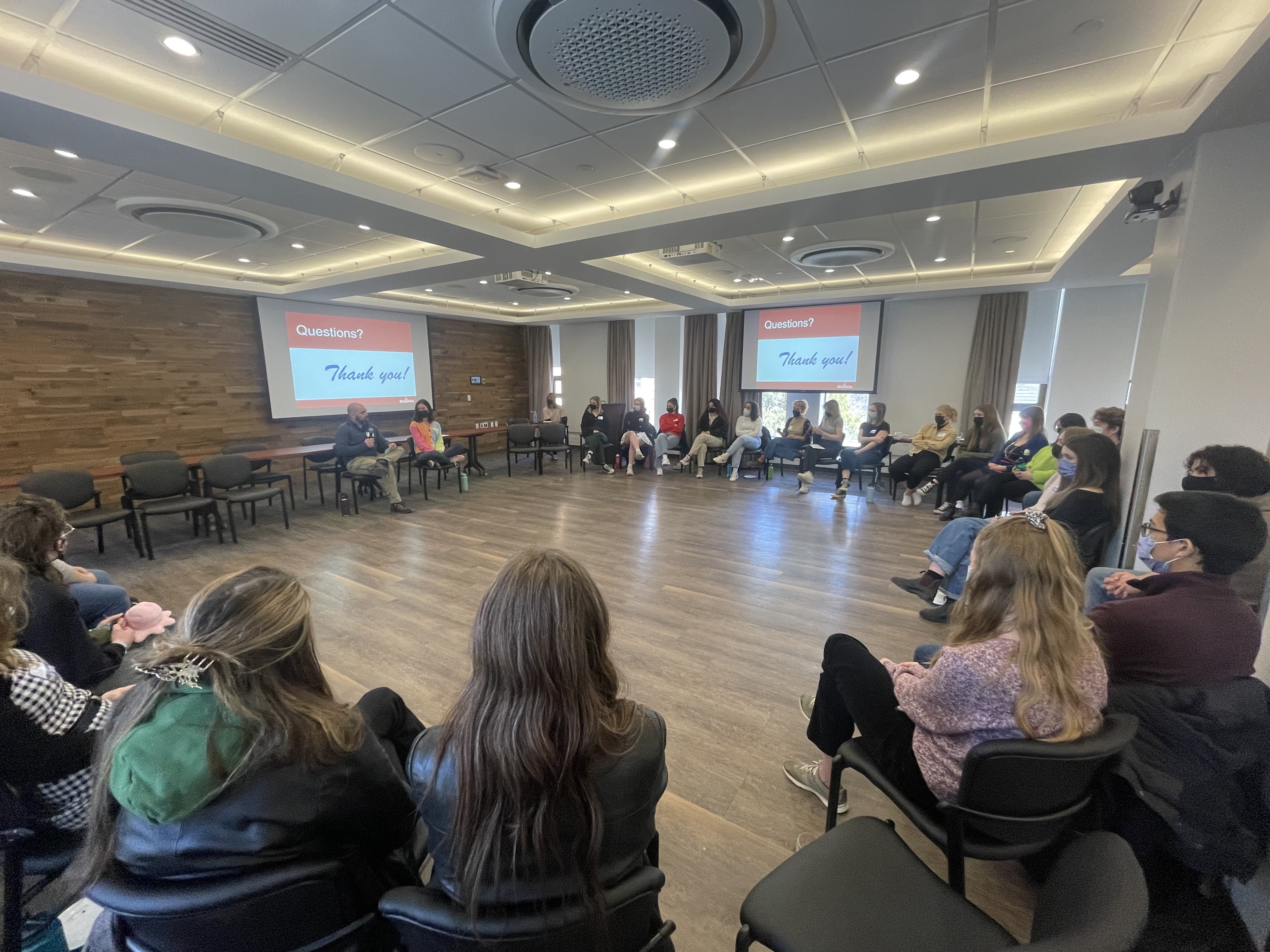 The course also included an online component for students unable to participate in person. Kristin McNaughton, a mature student from Toronto, ON, who recently returned to Mount Allison to complete her degree, was part of the group updating the website. She appreciated the opportunity to work more closely with her peers and the staff at the CRJS, even from a distance.
"It was nice to get involved and build relationships within the community," she says.
Although she has more practical work experience than most of her classmates, she still found value in the hands-on learning component, especially its focus on developing interpersonal skills.
"I hope to bring what I've learned about how to work with people differently to the corporate environment," says McNaughton. "As opposed to being strictly punitive or rules- and policies-based, I would like to encourage the building of just relationships so that everybody has a good experience working together."
Veinotte-Mackey, a Board member with the CRSJ, hopes to continue finding ways to build partnerships with the CRSJ and other local organizations. The Intro to Restorative Justice course will be offered again during the 2024-25 academic year. Her focus for next year will be on two other courses: Service Sociology and Cultural Competencies.