Mount Allison student, alumni garner ECMA nominations
Second-year student Tristan Grant nominated for Aboriginal Artist of the Year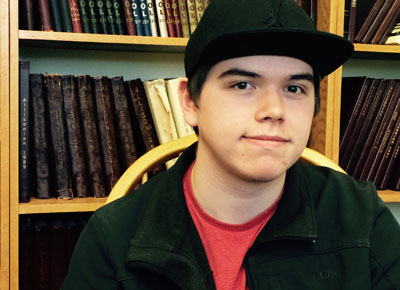 SACKVILLE, NB — Tristan Grant, a second-year Drama student at Mount Allison University, has been nominated for the Aboriginal Artist of the Year for the 2016 East Coast Music Awards (ECMAs). Grant is being recognized for his first album, TG-17, released in 2014. His second album, Exit Cranium, was just released in January. He wrote, arranged, and produced both albums independently, the first (and ECMA-nominated) record at the age of 17.

"The timing is really impeccable," says Grant. "I had just put out my second album and was honestly having some artistic doubts when I got the ECMA news. This has been my goal since I started making music. The support I've received from my family, friends, and community has been unreal."

Grant, who is from Pabineau First Nation, has been writing and producing his own music since 2011.

"I grew up in a musical family," he says. "My mom and uncle are both hip-hop artists as well. We would have family jams at my grandmother's house."

While making music independently has been successful for Grant, he says he was also encouraged to go to University at an early age, leading him and his two siblings to Mount Allison.

"Mount A teaches you how to think and allows you to grow into a more well-rounded person," he says. "I feel like I've already benefited from my time here and I'm only part-way through my degree."

Grant will be performing at the ECMA April festivities in Sydney, NS. The ECMA-nominated TG-17 is available on iTunes, while Exit Cranium is currently on SoundCloud and Bandcamp websites.

Several Mount Allison University alumni were also nominated for ECMAs this year including: John Mullane ('00) and Glen Nicholson ('03) with In-Flight Safety (Fans' Choice Video of the Year, Fans' Choice Entertainer of the Year); David Myles ('03) (Video of the Year, Fans' Choice Video of the Year); and Daniel Ledwell ('02) (Studio Engineer of the Year).