Mount Allison names 2017 Wilson Interns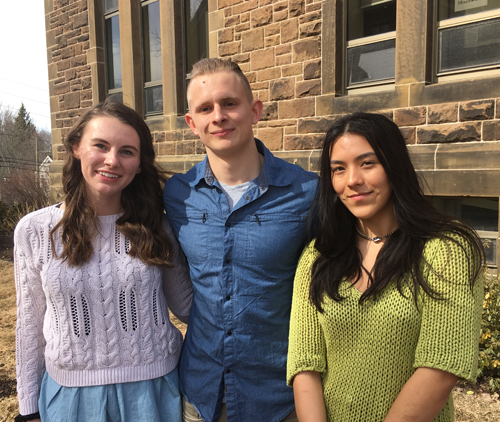 One of Mount Allison's most prestigious internship programs will support three students this summer. Third-year philosophy, politics, and economics (PPE) students Diane Ortiz-MacLeod, Tierra Stokes, and Grant Benjamin have been awarded the 2017 L.R. Wilson Internships in Public Service and Public Policy. The awards, valued at $10,000 each, seek to provide students with first-hand work experience in a public service and public policy setting.
The internships were established in 2015 by Lynton R. (Red) Wilson, retired Chairman, President and CEO of BCE Inc., Mount Allison honorary degree holder, and long-time champion of public service.
"The Wilson Internships provide an excellent opportunity for senior PPE students to expand their knowledge and understanding of public service and public policy while gaining practical work experience," says Dr. Jeff Ollerhead, Mount Allison provost and vice-president, academic and research. "I congratulate Diane, Tierra, and Grant on being awarded this year's internships to work in diverse organizations at the local, national, and international level."
Ortiz-MacLeod, who is from Toronto, ON, will be completing an internship with the New Brunswick Department of Social Development's Planning, Analytics and Initiative Management Unit.
"They oversee the programs that are funded by the province, evaluate how well programs are doing, and develop strategic planning processes," Ortiz-MacLeod explains. "As an intern, I will be supporting initiatives geared towards improving services in the province. Getting this exposure is exciting for me because it really pertains to my interests as I do a lot of volunteering with the communities with whom Social Development works."
In particular, Ortiz-MacLeod does art programming at the Open Sky Co-operative in Sackville, a local farm that provides home, community, and vocational support to adults who experience barriers due to social or mental health challenges.
Ortiz-MacLeod looks forward to furthering her commitment to social development and sees the internship as a way to explore the field, try out her skills, and learn new ones.
"It's an opportunity to grow academically as well as professionally," she says.
Stokes will be spending her internship working with Food Secure Canada in Montreal. The organization carries out research, policy work, and advocacy on food sovereignty and security in Canada, promoting education and awareness as well as making recommendations to the federal government on health and environmental issues.
"This summer is a good time to be working with them," says Stokes, who is from Spruce Grove, AB. "The federal government is creating a national food policy and they are a big stakeholder in that, so they are doing consultation and research around it, educating people, and motivating policy that aligns with Food Secure Canada's goals."
Stokes says the internship is also an opportunity to explore whether or not public policy is a career path she may want to pursue.
"I took Dr. (Mario) Levesque's Canadian Public Policy class and loved it, so this is a good way to see if this is an area I want to work in or do my Master's in," she says. "I think this internship will be a real game changer."
Benjamin is going the furthest afield, completing an internship with Laterite in Kigali, Rwanda. Laterite conducts research and data analysis on the economic and social development of Rwanda.
"Outside parties will pose policy recommendations to them and it allows them to see if it will fit and be an effective policy," Benjamin says. "My responsibilities will be a lot of data analysis and data cleaning."
Laterite already has a Mount Allison connection — Mallory Baxter ('08) is the organization's senior research associate and Benjamin was able to connect to them through her.
Benjamin, who is from Etobicoke, ON, hopes his internship will have a lasting impact.
"I want to make a large contribution to the research, whether the effect is immediate or if I only see its effect long term," he says. "I think it will also help me see if I am interested in a career in public policy and international development."
Each of the interns will be asked to do a presentation about their experiences for the campus community in the fall.
Photo caption: Tierra Stokes, Grant Benjamin, and Diane Ortiz-MacLeod