Mount Allison Mounties announce new Varsity Head Coaches
Women's Basketball and Women's Hockey teams name new leadership, starting May 1
SACKVILLE, NB — Mount Allison University is pleased to announce the appointment of two new varsity coaches. Tom Skabar is the new Head Coach for the Women's Basketball team and Addie Miles-Abbott is the new Head Coach for the Women's Hockey team.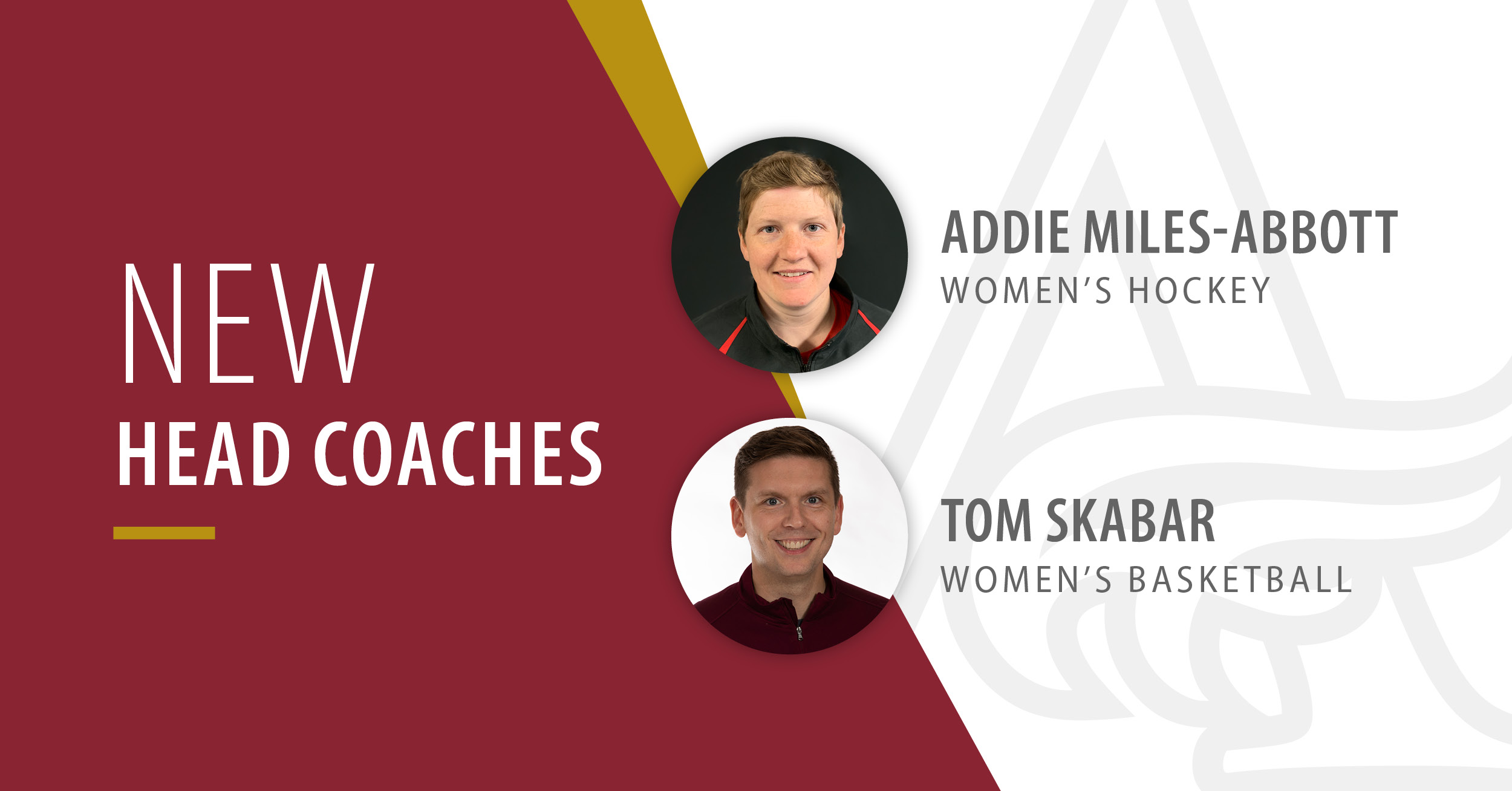 "We are thrilled to introduce Tom and Addie as the new head coaches," says Mount Allison Director of Athletics and Recreation Jacques Bellefleur. "Both Tom and Addie bring with them a wealth of experience and a passion for sports."
A Mount Allison alumnus, Skabar ('11) served as assistant coach with the Mounties Women's Basketball team for 10 years—the first five alongside former Head Coach Matt Gamblin and the last five under Head Coach Ryan Chase, who is stepping down to focus on other ventures.
"I'm extremely excited to take on this new challenge," says Skabar. "I have had the great fortune to work with some remarkable coaches over my time here, and I feel that has prepared me to step into this role. It is a great privilege to be able to help guide these outstanding athletes as they strive to reach their full potential."
In addition to his experience at Mount Allison, Skabar has 15 years coaching experience at the high school and club level. He helped lead his BNS U18 girls' club team to three championships and won four SSNSD2 boys' provincial championships as both assistant and head coach of Amherst Regional High. Skabar also co-founded and is president of the Junior Mounties Basketball Club, which provides athletic enrichment for female athletes from U14 to U18 levels in the Cumberland-Westmorland area.
"We are pleased that Tom has accepted to take on the responsibilities of Head Coach," says Jacques Bellefleur. "Having been part of our program for over a decade, he brings with him valuable experience and excellent communications skills."
Originally from Manitoba, Miles-Abbott comes to Mount Allison with 10 years of coaching experience.
"I'm thrilled to be joining the Mount Allison Women's Hockey team as Head coach," says Miles-Abbott. "It has never been a better time to be a female hockey player. The growth of the game over both my playing and professional career has been substantial."
Miles-Abbott played on the University of Manitoba's Women's Hockey team, where her skills earned her recognition as female athlete of the year in 2012. She was later inducted into the Bison Hall of Fame in 2015.
"Mounties Athletics and the Women's Hockey program are delighted to name Addie as our next Head Coach," says Jacques Bellefleur. "This was a long search, but we are confident that we have found the ideal candidate to lead the program into an exciting future."
Miles-Abbott obtained her HP1 coaching certification and is certified by Hockey Canada as a skills coach. In addition to working as an assistant and skills coach for the University of Manitoba, Miles-Abbott also served as head coach for the AAA Pembina Valley Hawks and as skills coach for Team Manitoba and RINK Hockey Academy (RHA).
"To feel I have played a role in young women pursuing their dreams is truly amazing," she says. "Helping female hockey players achieve their athletic success is truly the driving force behind why I love and chose coaching as a career."
Both Skabar and Miles-Abbott will commence their duties on May 1. Prospective student-athletes who are in the ongoing recruitment process can expect communication shortly.