Mount Allison, Horizon Health Network sign MOU for health-related research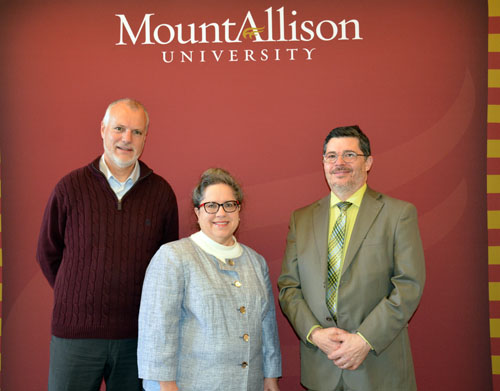 SACKVILLE, NB — A new partnership between Mount Allison University and Horizon Health Network will seek to expand and advance health-related research in New Brunswick. The two organizations recently signed a Memorandum of Understanding (MOU) that will allow for collaborative research in a number of health-related fields.

The agreement will see academic and clinical researchers working to share resources and expertise and provide opportunities for new approaches and studies in health research. Under the MOU, Mount Allison researchers will apply to be adjunct research scientists, working with physicians, medical students, and staff at Horizon as part of their research program.
"Mount Allison is pleased to join this new agreement with Horizon Health Network and help to drive health-related research in the region" says Dr. Jeff Ollerhead, Mount Allison University Provost and Vice-President, Academic and Research. "I look forward to hearing about and supporting the comprehensive, in-depth collaborations that will undoubtedly arise from this partnership."

"Horizon's office of Research Services plays an important role in facilitating and promoting health research activities throughout the region. We are proud to partner with the adjunct research scientists at Mount Allison University," said Dr. Edouard Hendriks, VP Medical, Academic and Research Affairs. Because of partnerships and agreements like this and similar to the one we have with Dalhousie Medicine New Brunswick, we will continue to see an increase in research activity within Horizon."
Dr. Odette Gould, Mount Allison University psychology professor, is the first adjunct research scientist under the new MOU. Gould's area of specialization is the psychology of aging, with a special focus on health care issues, particularly patient-physician interactions and medication adherence. She is one of Mount Allison's most accomplished researchers in the health field and was previously appointed as a research associate at Horizon's The Moncton Hospital, where she worked with clinicians and pharmacists on various studies.

Working with health care providers at Horizon and other researchers, Gould and her research partners will undertake studies in a number of areas, including exploring the knowledge and attitudes of hospital pharmacy staff in Canada around medical assistance in dying, and comparing different techniques for knee surgery using both objective and subjective measures.

About Mount Allison University
Mount Allison University is ranked the top undergraduate university in Canada by Maclean's magazine. With degrees in Arts, Science, Commerce, Fine Arts, and Music, the University provides a flexible liberal arts and sciences education that prepares students for any career path. Located in Sackville, New Brunswick on Canada's East Coast, Mount Allison prides itself on providing a high-quality academic experience, combined with a variety of hands-on learning opportunities in a close-knit community. Students come from more than 50 countries around the world to make up a diverse, creative, and talented student body of approximately 2,300 students.
About Horizon Health Network
Focused on patient and family-centred care, Horizon Health Network operates 12 hospitals and more than 100 medical facilities, clinics and offices, and provides services ranging from acute care to community-based health services. With a collaborative, team approach to offering services in English and French, Horizon leads the way in delivering sustainable, safe and quality health care services to residents of New Brunswick, as well as northern Nova Scotia and Prince Edward Island.
Photo caption (l-r): Dr. Jeff Ollerhead (Mount Allison University Provost and Vice-President, Academic and Research), Dr. Odette Gould, Mount Allison University psychology professor and first adjunct research scientist under the new MOU, and Barry Strack, Regional Director of Research Services, Horizon Health Network