Members of the Class of 2017 honoured at Last Lecture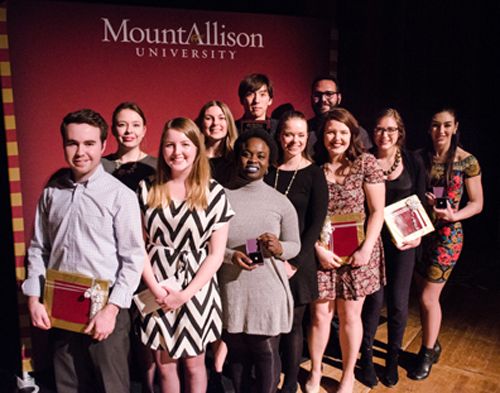 The fourth annual Last Lecture took place in Convocation Hall on March 28.
The Last Lecture is a recent tradition at Mount Allison that combines a grad awards night with a "last lecture" from a favourite professor. This year's Last Lecture was delivered by Dr. Mario Levesque, assistant professor of politics and international relations.
Levesque's lecture, entitled Life Happens, encouraged students to embrace change and continue to re-invent themselves throughout their lives.
"Don't force it, let life happen," he says. "Take chances. If you want to do something — do it. Don't be afraid to change, and for goodness sakes, do not be afraid to fail. If you're not happy with the direction you are going in, change directions."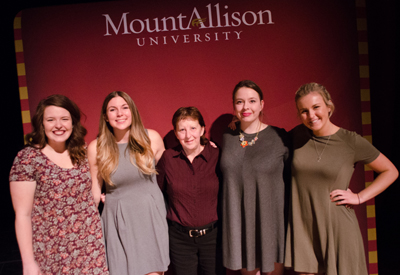 The Class of 2017 took the rare step of making Wanda Parsons, a much loved staff member at Gracie's Café, an honorary member of the class.
"(Wanda) represents the best of Sackville and the best of Mount Allison," says Cat Bannon, a member of the Grad Class executive. "She knows us by name, she makes us feel loved and welcomed, she cares about us. She is essential to our Mount Allison story."
The event was also an opportunity to present a number of major awards recognizing student contributions to Mount Allison and the community.
The Don Norton Memorial Award went to Stephen Buckley of Saint John, NB. The award honours the top graduating male student who, during his final year, makes the greatest overall contribution to University life. During his time at Mount Allison, Buckley was heavily involved in the Motyer-Fancy Theatre. A Bell Scholar and Bell Intern, he served as vice-president in Campbell Hall, as a host and announcer at the Ascars, and a contributing musician and executive producer for Conduct Becoming. He also volunteered with the MtA Homecoming Golf Tournament, was a play-by-play announcer for CHMA, was a member of the Enactus executive, and played intramural hockey, basketball, and flag football.
In an uncommon occurrence, the Frances S. Allison Award, the highest honour for a graduating female student, was awarded jointly to Meghan McCracken of Quispamsis, NB and Shaelyn Sampson of Fletchers Lake, NS. The award recognizes outstanding academic achievement, as well as achievement in areas such as sports, class projects, service to the University, development of character, and leadership. McCracken served as a residence assistant in Windsor Hall and as Orientation Chair. She is the grad class treasurer and has worked as a teaching assistant as well as a tutor and note taker for The Meighen Centre and took part in a number of Garnet and Gold productions. Sampson was also a residence assistant in Windsor Hall and a member of the Orientation Committee. She has been involved in Jack.org, was a presenter for Elephant in the Room, and a performer in the annual Vagina Monologues production.
The Charlie Hunter Award is presented to a student who has shown exemplary student leadership and demonstrated commitment to student involvement and engagement during their time at Mount Allison. This year's recipient is Mary Emma MacNeil of Beaver Cove, NS. MacNeil has served as vice-president, academic affairs on the Mount Allison Students' Union for the past two years. While at Mount Allison, she also served on the house executive for Campbell Hall, on the Orientation Committee, and as a judge for the Summer Undergraduate Research Fair. MacNeil also found time to work as a teaching assistant, pursue an internship in Canadian Studies, and attend the Feminist Leadership Conference as a delegate.
Brooke Cheeks of Hampton, NB was presented with the Gil Latter Memorial Award, which honours a student who has volunteered their time and demonstrated an outstanding contribution to the Sackville community. Cheeks, who is the Grad Class President, founded the Big Buddy Program, which pairs local children with a Mount Allison "buddy." She has been deeply involved in the Sackville community over the past four years, teaching dance at Perpetual Motion Dance Studio, serving as the Sackville Summer Program co-ordinator, and helping organize the Girls Empowerment Day Camp. Cheeks also served as social chair for Windsor Hall; was a member of the Orientation Committee; volunteered with the MASSIE program, the International Mentorship Program, and SMILE; worked as a teaching assistant and peer tutor; and was a member of the Varsity Dance Team.
Four Gold A Awards were also presented during the Last Lecture to recognize graduating students who have made outstanding contributions to the University community. This year's recipients are: Osama Al Nammary, Maureen Adegbidi, Cydney Kane, and Cat Bannon.
The inaugural Chris Metallic Prize in Indigenous Leadership was awarded to Emma Hassencahl and Sarah Murphy. The award was established last year by the Class of 2016 and recognizes a student who makes the greatest contribution to the indigenization of campus.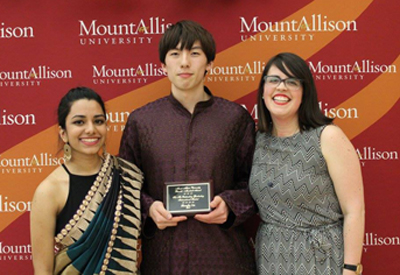 The 2017 Barritt-Marshall Award went to Shenghe Liu (Seiwa Yanagi) of Saitama, Japan. The award honours the graduating international student whose contributions to the internationalization of campus and the community have helped to promote cross-cultural understanding and co-operation. Liu, a member of the varsity soccer team, has gone out of his way to assist fellow international students with their transition to Mount Allison. He has participated in the International Mentorship Program, was involved in International Orientation, captained an intramural team, and served as a teaching assistant and as photographer for MOSAIC, Mount Allison's multicultural society.
Kweku Appiah-Menka and Saurabh Kulkarni received the Class of '33 Awards, which are presented to international students in recognition of their leadership, extracurricular involvement, and commitment to promoting cross-cultural awareness and understanding.
The international awards were presented during the MOSAIC banquet on March 25.
University Leadership Certificates, which are presented to graduating students in recognition of their extensive co-curricular leadership on campus or in the local Sackville community, were awarded to: Claire Murphy, Cydney Kane, Dylan Wooley-Berry, Grace McAvinue, Isaac Gazendam, Jacob McGavin, Jennifer Bell, Joshua Johnson, Kathryn Chamberlain, Lauren Campbell, Mara Ostafichuk, Olivia Auriat, Shin Yoshieda, Tierza Petersen, and Willa McCaffrey-Noviss.
Departmental awards were also presented during the Last Lecture. These awards recognize students with a high academic performance who contributed to their department in an extraordinary manner.
Departmental award winners: Ashley McKibbon (Biology), Garret Muir (Chemistry), Brooke Turner (Biochemistry), Thomas (Finn) Lidbetter (Mathematics and Computer Science), Kalli Hood (Physics), Adam Boyd (Psychology), Sam Prowse (Canadian Studies), Kaoru Yui (Classics), Victoria Vallière (Drama Studies), Kennedy Lundberg (English), Savannah Harris (Fine Arts), James Gorman (History), Elizabeth Bardeau (Modern Languages and Literatures), Benjamin Sellers (Music), Chris Arsenault (Philosophy), Christina Smith (Religious Studies), Rachel O'Brien (Women's and Gender Studies), Rebecca Stewart (Anthropology), Tristian Toumishey (Commerce), Meghan McCracken (management marketing), Shin Yoshieda (Economics), Anna Mairs (Geography), Caitlyn Brawn (Environmental Science), Edwin Lo (Environmental Studies), Joshua Johnson (Political Science), Claire Henderson-Hamilton (Philosophy, Politics, and Economics), Sophie Robidoux (International Relations), and Maggie McGraw (Sociology).
Photo captions
Front row, from left: Stephen Buckley, Mary Emma MacNeil, Maureen Adegbidi, Sarah Murphy, Meghan McCracken, Shaelyn Sampson, and Cydney Kane. Back row, from left: Cat Bannon, Brooke Cheeks, Shenghe Liu (Seiwa Yanagi), and Osama Al Nammary.
From left: Meghan McCracken, Brooke Cheeks, Wanda Parsons, Cat Bannon, and Keyanna Russell.
From left: MOSAIC President Saniya Korhalkar, Barritt-Marshall Award winner Shenghe Liu (Seiwa Yanagi), and Claire Kelly, international student advisor.