Meet Marcel – Mount Allison's manager of athletics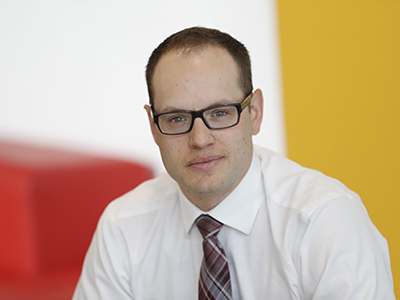 For Mount Allison's manager of athletics, Marcel Dupuis, Mountie Pride runs deep. Dupuis graduated from Mount Allison as a mature student in 2013 and returned to work at the University three years later.
"The first thing that comes to mind when I hear Mountie Pride is family," he says. "We are lucky to be on a tight-knit campus where our athletes from all different sports interact and support each other."
From Memramcook, NB, Dupuis didn't think university was an option for him. After high school he went to work and a year later attended CCNB in Dieppe to take a sales technique program. An internship he secured from that program created a connection that would make a long-standing impact on his life.
His internship with the Okotoks Dawgs Baseball Club of the Western Major Baseball League led to a summer job. After returning home and completing another program at CCNB in small business management, Dupuis would return to work with the baseball club, overseeing the final building stages of a new $12-million facility and acting as the organization's operations manager during their inaugural season in their new home.
"Working in baseball intermittently over seven seasons convinced me that I wanted to continue to work in sports," he says. "I also realized just how important it is to enjoy your time at work."
Dupuis then moved back to New Brunswick to pursue work in the healthcare field, but still had his eye on a career in sports. However, he realized that without a university degree, he wouldn't be able to achieve the career he wanted. That's when he decided to attend Mount Allison to take his Commerce degree.
During his time at the University he was involved heavily in athletics, working in football operations and other special projects. He was also a member of the Pond Deshpande Centre for Social Entrepreneurship based in Fredericton, which allowed him the opportunity to travel to MIT and to a conference in India.
"Having the opportunity to go to India was arguably the most special experience of my degree," he says.
In his final year he was one of the winners of the Wallace McCain Institute Top Talent program, which landed him a job after graduation with NB Power working on their SmartGrid Project. Then baseball came calling again. He returned to work with the Okotoks Dawgs as operations manager for a year before returning home to New Brunswick to be closer to an ailing family member.
"Working in baseball gave me so many growth experiences from the time I was 19 until I was 30," he says. "It gave me high-level exposure at a young age."
A year later, the opportunity came up to work close to home as the manager of athletics at Mount Allison. In his position, Dupuis is responsible for all team logistics, game day operations, purchasing, the fitness centre and recreation, and intramurals.
"I have a passion for university athletics," he says. "The best part of my job is working with our student-athletes."
Outside of his busy work schedule, Dupuis enjoys keeping an active lifestyle by playing hockey and going to the gym and being involved in community events, such as the Shediac Lobster Festival and helping out at the local Belliveau Orchard.