Gender in Science class aims to strengthen gender equity on Wikipedia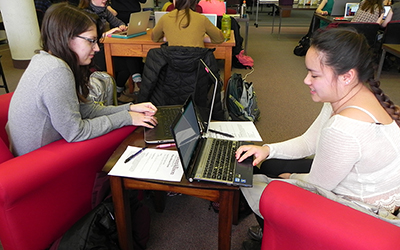 Many people turn to Wikipedia as their first stop for information online. What they may not realize is that certain groups, including women, are underrepresented on the site. A project at Mount Allison University is part of a movement to change this.
Mount Allison systems librarian Elizabeth Stregger and sociology and women's and gender studies (WGST) professor Christiana MacDougall had students in MacDougall's WGST course, Gender in Science, work on a major project that focused on creating or editing an item on Wikipedia.
"On Wikipedia, women as a group are underrepresented, especially women marginalized by race and class," says MacDougall. "We are specifically targeting folks from marginalized and underrepresented groups in the scientific community and adding them to the database. It is a small scale, tiny piece of social action to actually change the world a little bit."
Stregger says it is estimated that between 11 and 25 per cent of the editors of Wikipedia are female. One part of this project is also to increase the number of women editors.
Many of the women students are researching come from a list on Wikipedia called WikiProject Women Scientists, which is one of the social movements that started this important work.
"From a library point of view this is all about digital literacy, learning how to evaluate information, reuse it, and cite it properly. Much of it is from material online, from archives, scholarly journals, news sites. It is preferred that the information is from open access so that other people looking at the articles can link out without running into a barrier," says Stregger.
The students are enjoying the project.
"It is fun and doesn't actually feel like a project for class. I had never thought about editing Wikipedia or the work that goes into it or how biased it is, so it was interesting to look into that as well," explains biochemistry student Katrina Forrestall.
Forrestall and her partner chose a female astronomer called Hannah Steele Pettit who does not currently have a Wikipedia article. They found her in a book in the library on notable women in science.
"When we looked for her on Wikipedia, we found an article on her husband who did the same work as her, worked at the same observatory for pretty much their entire careers, and published together, but nothing on her," says physics student Veronica Dornan.
The project complements the themes that MacDougall is exploring in her course.
"We are looking at ideas around bias in science, where do they come from, how people are excluded from the scientific community through things like employment practices," says MacDougall. "Rather than writing a term paper, these students are able to contribute to the global knowledge of these scientists."