Courtney Pringle-Carver appointed as Mount Allison's Vice-President, University Advancement
SACKVILLE, NB — Courtney Pringle-Carver has been appointed as Mount Allison University's next Vice-President, University Advancement — leading the areas of development, alumni relations, and marketing and communications. Her appointment will begin on July 1, 2021 and is a five-year term.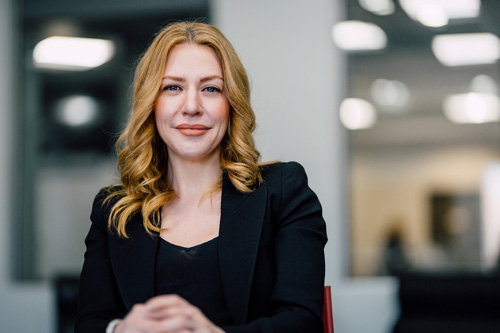 "University Advancement is a key area that actively supports our academic mission and students through fund raising initiatives, alumni relations, and both external and internal communications," says University President and Vice-Chancellor Dr. Jean-Paul Boudreau. "Courtney's proven leadership and experience in both the public and private sectors, as well as in the community, will be enormously beneficial to the University's current and future initiatives. We look forward to Courtney's contributions, and to officially welcoming her to the Mount Allison campus this summer."
A proud New Brunswicker, Pringle-Carver is a respected marketing, communications, and public affairs professional and community leader. Most recently, Courtney held progressively senior leadership positions Atlantic Lottery Corporation (ALC), in communications, stakeholder relations, and government relations. She was named Vice-President of External Affairs in 2018 and most recently served as Head, Brand and Communications.
"Mount Allison's strong academic reputation, commitment to inclusivity, and relationship-centered approach have made it one of the most well-respected institutions in Canada, and one I feel privileged to join," says Pringle-Carver. "I look forward to working with the passionate and diverse members of the Mount Allison community."
Pringle-Carver began her career as a fund raiser with the United Way and later worked as a consultant for the strategic communications agency Colour (CCL Group). Active in the community, she serves on the Board of Directors of Venn Innovation and is a member of the Banff Forum. She has successfully chaired numerous fund raising events for organizations including the Canadian Cancer Society and the New Brunswick Adoption Foundation.
She is a past member of the Order of New Brunswick Advisory Council, past Vice-Chair of the Board of Directors of the Codiac Regional RCMP, and served as a director on the Foundation of the Muriel McQueen Fergusson Foundation, UNB Centre for Family Violence Research. In recognition of her commitment to public service, she was honoured with a Canada 150 award, a YWCA Woman of Distinction for Outstanding Mentorship, and has been named a recipient of Canada's Top 40 Under 40.
Pringle-Carver holds a Master of Public Administration from Dalhousie University and has completed executive education programs at Harvard Law School and the Harvard T.H. Chan School of Public Health.
Pringle-Carver will succeed Vice-President and alumna Gloria Jollymore, who has been at Mount Allison for 25 years, the last 15 in the Vice-President's role, and will be retiring later this spring.
The search for the Vice-President, University Advancement drew international application response and included a search committee comprised of students, faculty, and staff members from across the University with the assistance of the executive search firm Royer Thompson.
The University Advancement Office engages with Mount Allison's external community including alumni, donors, media, and other stakeholders to attract resources to the University, advance the academic mission and student financial aid. It includes the offices of Development, Alumni Relations, and Marketing and Communications, who work collectively with departments across campus as well as external organizations.