Class of 2022 honoured at Last Lecture 
The eighth annual Last Lecture, recognizing graduates for their contributions to the Mount Allison and Sackville communities, was held on April 7, 2022. It was the first in-person awards ceremony since 2019.
 
The Class of 2022 was welcomed by University President and Vice-Chancellor Dr. Jean-Paul Boudreau while psychology professor Dr. Lisa Dawn Hamilton delivered the Last Lecture — Context Matters: How our biology and social world shape our perception.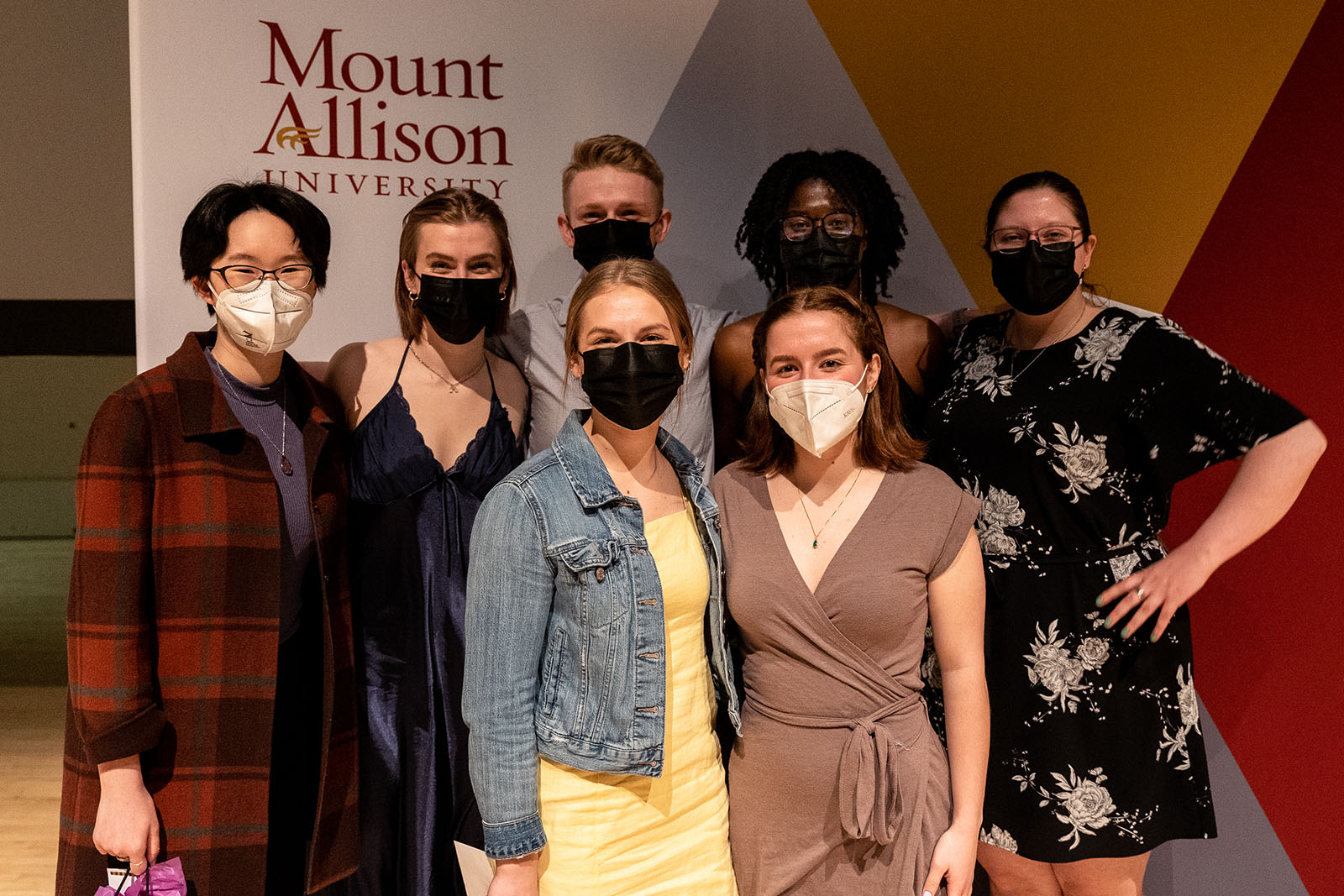 Several major graduating awards were handed out during the evening.
 
The Don Norton Memorial Award went to Hanna Fuzesi. The award honours a graduating student who, during their final year, makes the greatest overall contribution to University life.
An honours biology student, Fuzesi has worked to make an impact at Mount Allison and the wider community through her volunteer and advocacy work throughout her studies. As one of her nominators writes, "Through everything she does, the programs she has implemented, and the volunteer opportunities she chooses to pursue, it is clear that Hanna deeply values the University community and strives to improve it in any way she can. MtA has become a better place over the last four years, thanks in large part to her."
 
Traditionally the Don Norton Memorial Award was given to the top male graduating student and the Frances S. Allison Award to the top female graduating student. In 2020, the award criteria for these two awards were amended to be more inclusive and now may recognize any graduating student who meet the other criteria of the awards.
 
The Frances S. Allison Award was awarded to Hannah Crouse. The award recognizes any graduating student whose record combines high academic achievement, extensive extracurricular involvement, and outstanding service to their peers and the community. Crouse will be graduating with an honours degree, major in sociology, minors in community engaged learning and psychology. A varsity volleyball player, Crouse has been involved in several groups and societies throughout her time at Mount Allison including the Mount Allison Students' Union (MASU), Catalyst, the University Senate, and the judicial panel. In 2020, as the Loewen Health Intern at the Port Elgin Health Centre, Crouse established Community Connect, a program linking isolated seniors in the community with students, providing them with food to prepare together to build community and reduce both isolation and food insecurity. The program recently received $25,000 in funding from the New Horizons for Seniors Program through Employment and Social Development Canada (ESDC) to allow the program to grow and continue once Crouse graduates.
 
The Charlie Hunter Award is presented to a student who has shown exemplary student leadership and demonstrated commitment to student involvement and engagement during their time at Mount Allison. This year's recipient was Venna Penney. A biochemistry, chemistry, and psychology student, Penney has served in many roles at Mount Allison, including two years as the vice-president, student life with the MASU and most recently as the MASU's entertainment director. A Bell Scholarship recipient, Penney was also the Bell Scholar Intern and held several student leadership positions in residence. As her nominator writes, "She has contributed to several projects surrounding mental health, indigenization, and harms reduction… I cannot emphasize enough how this nominee has made significant contributions to student life at Mount Allison."
 
The Gil Latter Memorial Award, which honours a student who has volunteered their time and demonstrated an outstanding contribution to the Sackville community, was presented to Nadine Robinson. An honours English student, Robinson has worked as a tutor and teaching assistant. She has also been involved as a mentor, with SMILE, the MASU — most recently as their vice-president, communications — University Senate, and worked as the Tantramar community food smart intern. She has served as a volunteer in Sackville schools and worked in co-ordinating local educational and recreational programming for children.
 
Four Gold A Awards were also presented during the Last Lecture to recognize graduating students who have made outstanding contributions to the University community. This year's recipients are: Khandra Barrett, Charlie Burke, Michael Nolan, and Helen Yao.
Recipients of the Frances S. Allison, Don Norton, and Gold A Awards also received the A. Jane Avard Eaton Student Leadership Award for their contributions to student life and the community.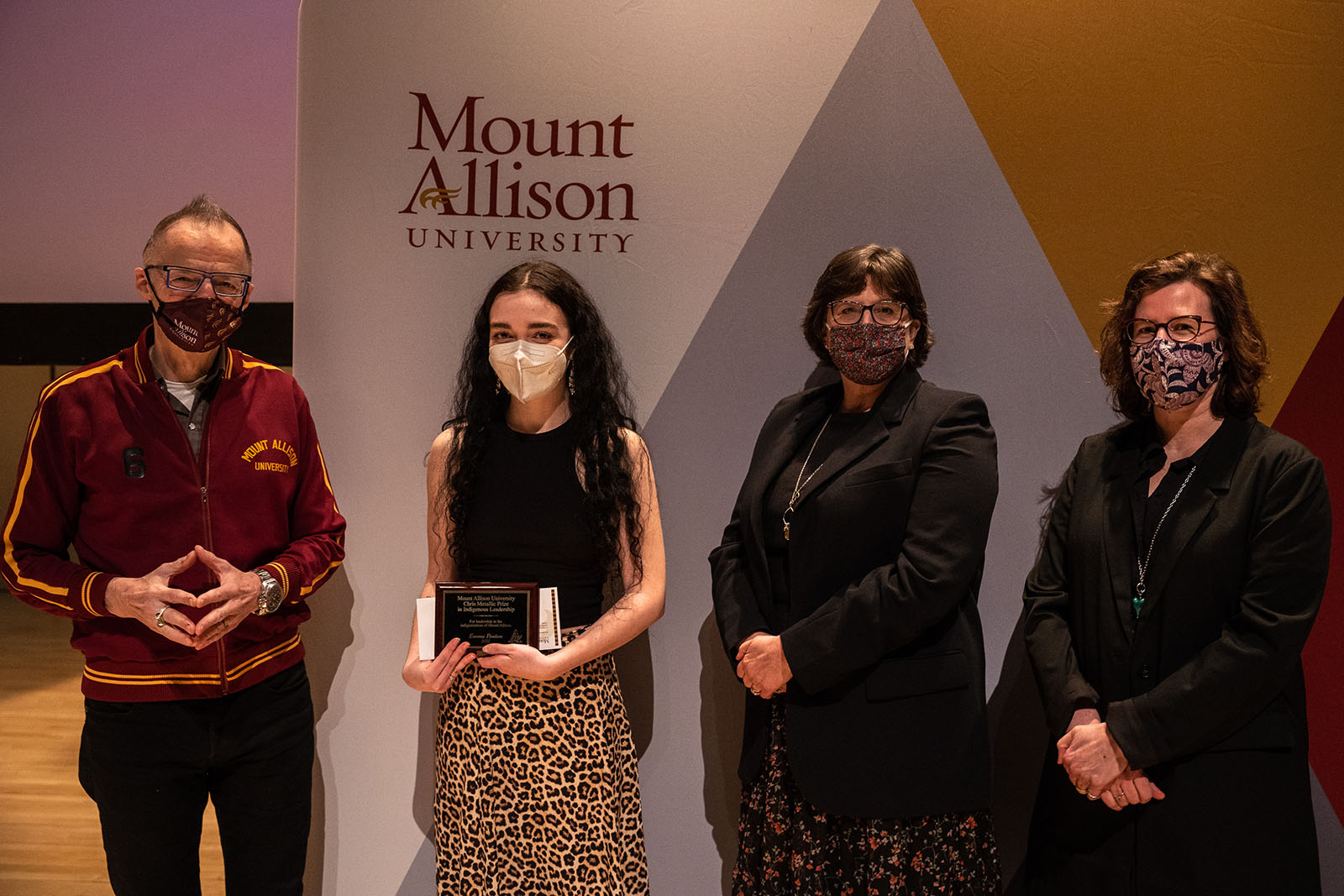 The Chris Metallic Prize in Indigenous Leadership was awarded to Emma Penton. The award was established by the Class of 2016 and recognizes a student who makes the greatest contribution to the indigenization of campus. Penton is a Mi'kmaw student from Newfoundland. Majoring in psychology and minoring in Canadian studies, Penton has been involved in many groups and activities at Mount Allison, including but not limited to the Indigenous Student Support Group, Habitat for Humanity, Transitioning for Life, residence health, wellness and academic mentorship, Change Your Mind, and previously the Human Resources Manager at MASU and most recently as the MASU's Indigenous Senator. She is also the manager of the campus pub. In 2020, she was the recipient of a grant from FutureNB's Design-Your-Own Internship Fund, working at Daybreak, a non-profit organization providing mental help supports for adults in the Tantramar region.
 
The 2022 Barritt-Marshall Award went to Khandra Barrett. The award honours the graduating international student whose contributions to the internationalization of campus and the community have helped to promote cross-cultural understanding and co-operation. Barrett has been a dedicated member of Mount Allison's Anti-Racism Education and Response team and the International Mentorship and Orientation programs. She also served as a teaching assistant for international students in the student success course and the Department of Chemistry and Biochemistry, a member of the University's residence staff, and as a tutor in the Meighen Centre. Co-president of the Black Students Union, Barrett also serves on this year's Grad Class Exec and helped to organize the 2020 Black Lives Matter protest in Sackville. She has also volunteered at community COVID-19 vaccination clinics throughout the pandemic.
 
New for 2022, the Hibberts Meekins Award, which honours a first-generation student, was awarded to Brittany Snow. Snow began her studies in 2008 but stepped away from university to manage other responsibilities, including raising and providing for her young family. With the move to more hybrid and online learning options during the pandemic, Snow returned to Mount Allison and is set to graduate this spring. This fall she will pursue her Master's in Community Development at the University of Victoria.
 
University Leadership Pins were presented to graduating students in recognition of their extensive co-curricular leadership on campus or in the local Sackville community. Recipients include: Brandon Blakney; Caleb Melanson; Carson Rafuse; Christina Acton; Danielle Dickson; Erin Yaung; Hannah Hawkes; Hope Salmonson; Ian Richardson; Julia Beddell; Julie Dessureault; Lucy Poole; Mihya Baker; Muhammad Tayyab Sohail; Oluwalopeye (Lopsii) Olagoke; Oorja Gonepavaram; Padmapriya Srinivasan; Riley Nixon; Thor McKenzie; and Truman Wood.
 
Departmental Award recipients for 2022 include: Muhammad Hassan (aviation); Julie Dessureault (biology); Sophie Ngo (chemistry); Charlotte Hache (biochemistry); Alicia Postuma (physics); Danielle Dickson, Julia Kaufmann, and Amy Thompson (psychology); Amanda Porter (mathematics/computer science); Lucy Poole (economics); Lisa Rioux (geography); Annie Martel (environmental studies); Hannah Zettel (environmental science); Celina Aalder (political science Michael Tucker Award); Graeme Stevens (MASU POLS, academic and engagement); Gabrielle Dagenais (international relations Frank Strain Award); Ian Richardson (MASU IR, academic and engagement); Martha Pitre (philosophy, politics, and economics and PPE politics emphasis); Michael Nolan (MASU PPE, academic and engagement); Ania Kolbuszewska (sociology); Sungmin Chun (Commerce, accounting/finance); Adrienne Smith (Commerce, management/marketing); Alice Liu (art history and classics); Emma Penton (Canadian studies); Carson Rafuse (drama studies); Ellen Hatfield (English); Chloe Mantrom (Fine Arts); Tori Fraser (history); Emily Ahmadvand (modern languages and literatures, academic excellence); Natalie Comfort (modern languages and literatures, leadership); Caitlin Strong (Music); Jonah Walker-Sherman (philosophy); Joshua Cormier (religious studies); Aude Gazzano (women's and gender studies).
Banner photo caption— University Leadership Pin Recipients. Back row (L-R): Carson Rafuse, Erin Yaung, Caleb Melanson, Hannah Hawkes, Julia Bedell, Thorique McKenzie, Oorja Gonepavaram. Front row (L-R): Riley Nixon, Lucy Poole, Julie Dessureault, Mihya Baker, Danielle Dickson, Truman Wood.