Anne Comfort appointed as Vice-President, International and Student Affairs at Mount Allison University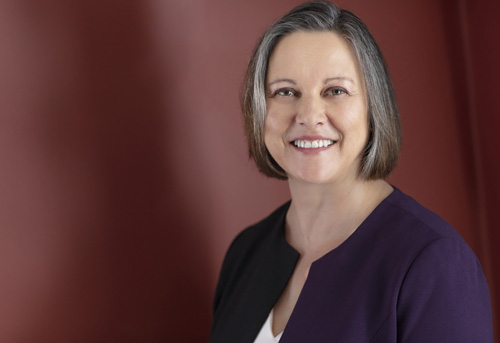 SACKVILLE, NB – Mount Allison alumna Anne Comfort is the University's next Vice-President, International and Student Affairs, following an international search for the student-focused role.
"I am humbled to be offered the opportunity to take on this new role," says Comfort. "I look forward to continuing to enhance the Mount Allison student experience and supporting the University's academic mission."
University President and Vice-Chancellor Dr. Jean-Paul Boudreau says Comfort's experience and leadership, both at Mount Allison and in the high school system, as well as educational research, make her ideal for the vice-president's role.
"The student experience and related supports are at the forefront of everything we do at Mount Allison, and Anne has been a major contributor to the evolution of our student-centric approach for many years," says Boudreau. "On behalf of the search committee colleagues, the executive search consultants, and the entire University community, I congratulate Anne on this new role and look forward to continuing to work with her on the leadership team."
Originally from Dalhousie, NB, Comfort holds a BA and BEd from Mount Allison and a MEd from the University of New Brunswick. Having worked at Mount Allison since 2004, she brings an impressive record of accomplishment to the vice-presidency role, most notably as the Director of Accessibility and Student Wellness, Chair of the Student of Concern Case Team, and, since November 2020, Acting Vice-President, International and Student Affairs. She has collaborated with faculty, staff, and students on research projects, most recently in the use of a mental health literacy intervention for post-secondary students (submitted for publication).
The search for the Vice-President, International and Student Affairs role drew international application response and included a search committee comprised of students, faculty, and staff members from across the University with the assistance of the executive search firm Boyden.
Comfort has been appointed for a five-year term, beginning July 1, 2021. She will succeed Kim Meade who served as Vice-President, International and Student Affairs from 2015 to 2020 and retired last fall.
The Vice-President, International & Student Affairs oversees all services that support students and aims to enhance and enrich the student experience. These include: Academic Support Services; Athletics & Recreation; Experiential Learning; Indigenous Affairs; International Affairs; Meighen Centre and Wellness Centre; Recruitment & Admission; and Student Life.